Recipe For Gold Alchemy: The Venture Capital Boom And Bust, China And Brexit
Fixed income market hasn't been attractive for investors during the zero interest rate period. The alternative was the stock market, but the end of QE3, in late 2014, brought fears about the sustainability of the valuations. In an old-fashioned self-fulfilling prophecy, investors fled and the stock market froze.
Graph 1 – S&P 500 performance from September 2014 until June 2016 (Source: google finance)
(Click on image to enlarge)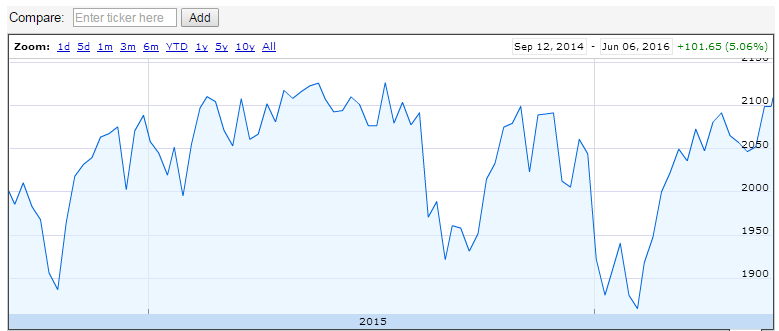 Where did the funds go?
Investment funds flow in the direction of the most rewarding opportunities, that's how gluts are created. During the last few years, Unicorns' apparent ease to create billion dollar valuations amazed investors. The skyrocketing valuations seemed unstoppable, promising profits not available elsewhere.
The apparent huge returns attracted new types of investors. Mutual funds are one example of financial institutions that recently have turned to start-ups in order to improve returns.
Traditionally, Mutual funds invest in baskets of traded securities that are easily marked to market at any time. However, the fears concerning the stock market, made investors look for opportunities elsewhere and the venture capital camp seemed tempting. The fact that these securities are not traded might have also influenced mutual funds to get onboard. The misleading idea that the price of the latest VC round is the one that stands and a context of low scrutiny, might have been too tempting. This led to an increasing demand for start-up investment opportunities.
Graph 2 – Number of investments made by Mutual funds in late stage VC (Source: CBInsights)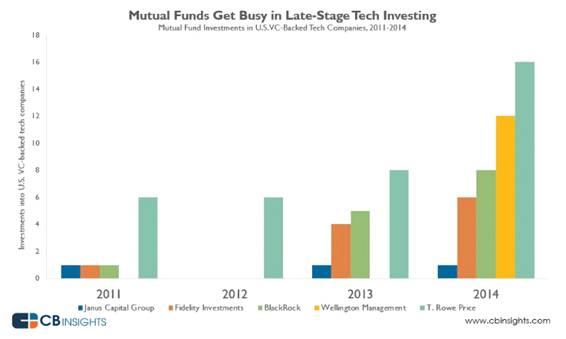 One of the most efficient features of financial markets is the ability to give investors what they want. Suddenly, everyone wants their own unicorn, so let's give them. Even if it's just a donkey with a horn (no offense meant for donkeys). In this scenario, the number of unicorns soared.