Real US Investment Grade Yields Hit A Record Negative 35Bps
In late December, we showed a stunning chart which perhaps best summarized the "insanity unleashed by central banks." The chart in question showed that a record-high number of European IG (investment grade) bonds were trading with negative yields. To wit, as of Dec. 15, 41% of the EUR IG iBoxx index yields are in sub-zero territory; a level that matches the previous record in August 2019.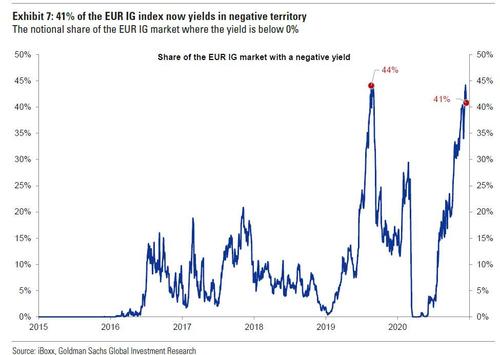 Even more impressive: more than 10% of the index now yields below -0.25%, and as Goldman concluded, "negative yields are likely remain a fixture of the EUR IG corporate bond market in 2021, even if bund bond yields back up in response to solid growth next year. Combined with the decent demand tailwind from ECB purchases, this would keep search for yield motives strong."
Then, a few weeks later, we learned that it wasn't just the EU that saw the corporate bond market trading at absurd levels. Specifically, Goldman's credit strategists noted one month ago that real yields on USD IG corporate bonds had turned negative for the first time in history against a backdrop of all-time high duration.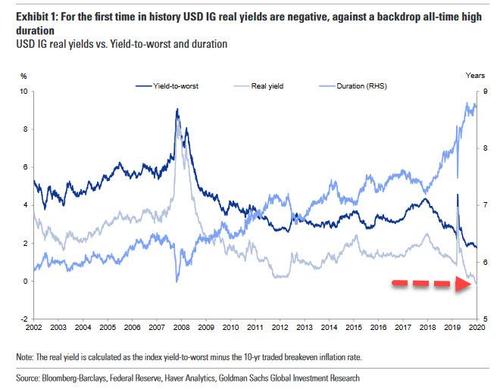 As Goldman elaborated at the time, the relentless march lower of real yields to negative territory "reflects the combined effects of the material decline in nominal corporate bond yields and the back-up in inflation expectations." The next chart showed how widespread negative real yielding corporate debt in the USD market is, with more than 25% of issues, representing more than 30% of index-eligible par value, priced with a real yield below -0.5%.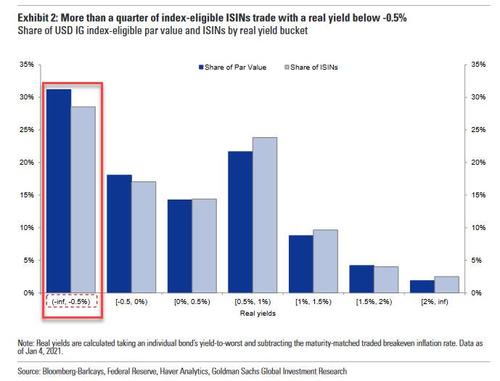 Fast forward to today, when in its latest credit update, Goldman writes that the move in credit has extended further to new absurd levels and IG real yields across the US corporate sector just made new (negative) lows. Earlier this week, US breakeven inflation rates made new multi-year highs, pushing real yields in the USD IG market further into negative territory, at a staggering -35bps.
Disclosure: Copyright ©2009-2021 ZeroHedge.com/ABC Media, LTD; All Rights Reserved. Zero Hedge is intended for Mature Audiences. Familiarize yourself with our legal and use policies every ...
more