Rapidly Falling Oil Prices First Guts Tar Sands, Then Shale Oil
As we can see the Western Canadian Select oil price has fallen to a new low compared the previous lows set at the beginning of 2016. When the U.S. oil price was trading at $30 a barrel in January 2016, the Western Canadian Select spot price was higher at $15. However, with the U.S. oil price now at $53, the Western Canadian Select tar sands oil is trading at nearly a $40 a barrel discount: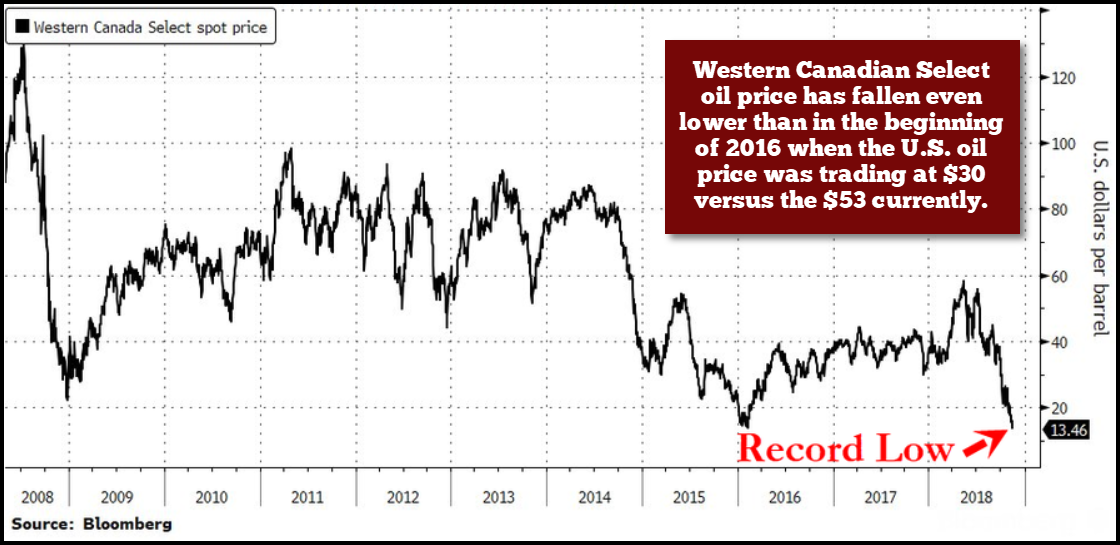 (chart courtesy of Zerohedge in the article linked above)
Now, while lower oil prices have prompted the Canadian government to issue a mandatory oil production cut, market forces will likely be the primary factor reducing U.S. shale oil supply. Why? Well, the prices paid for oil from the various shale fields and regions have also traded at a steeper discount to the standard U.S. WTI oil price. For example, Bakken oil (Williston sweet crude) fell to a low of $39.55 a barrel from its peak of $66.50 in October.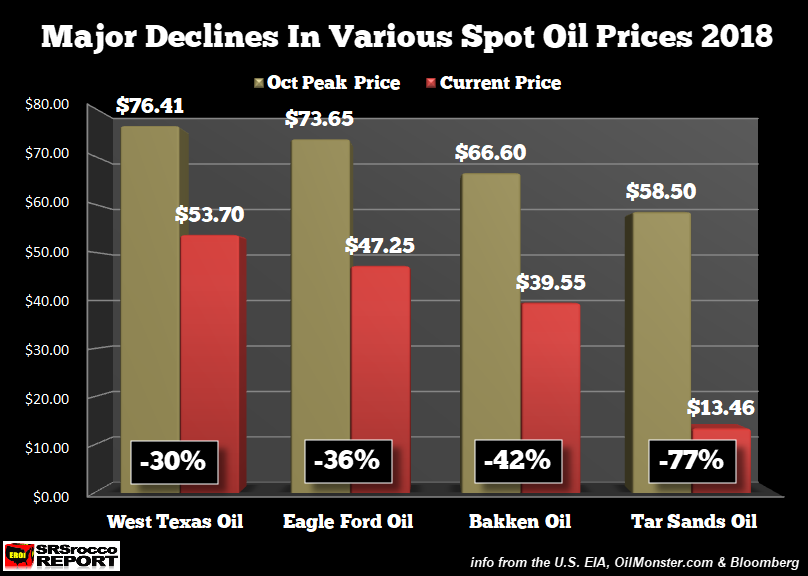 Furthermore, the price paid for oil coming from the second largest shale field in the United States, the Eagle Ford, has fallen 36% from its peak in October. All of these benchmarks are trading at a much larger discount to the standard West Texas Oil price, which is down 30% from its high of $76.41. So, as we can see, the higher cost unconventional oil supply sources are suffering the lowest prices. No doubt, a double-edged sword.
The U.S. shale oil industry is in deep trouble as 75% of the companies are still suffering from negative free cash flow. While I have written about this many times, one of my readers sent me the following article by Rystad Energy, MORE THAN 75% OF DEDICATED US SHALE OIL COMPANIES KEEP REPORTING CAPEX IN EXCESS OF CFO:
Essentially, the market is still not convinced that a typical shale oil E&P is able to grow in a self-sourced manner as more than 75% of dedicated US shale oil companies keep reporting capex figures in excess of cash flow from operating activities.
What is important to understand is that even with higher oil prices this year, three-quarters of the shale companies are still spending more than they are making. Moreover, the U.S. shale energy industry has racked up nearly $300 billion in debt. What happens if the oil price continues to slide during the winter months? I have heard from someone in the industry that energy companies are already laying off workers.