Rally Ends: Global Stocks Break 6-Week Winning Streak; Iron Ore Soars
One day after the post-Christmas rally appeared to finally reverse, when the S&P posted its 3rd biggest loss of 2019, overnight US equity futures and Asian markets continued to sink as concerns over economic growth and the lack of any sign of a resolution to the U.S.-China trade row pushed global stock markets toward their first weekly loss since December, even as European stocks were steady.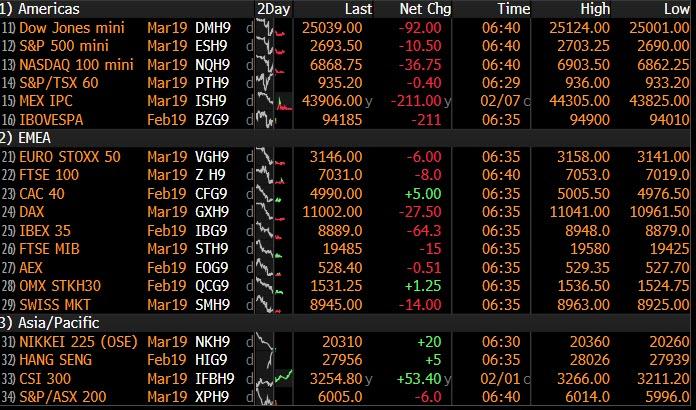 As a result, global shares fell for a third straight day on Friday and were set to post their first weekly loss in seven. The MSCI All-Country World Index was down 0.3% on the day. It was down for a third straight day and was set to break a six-week streak of gains.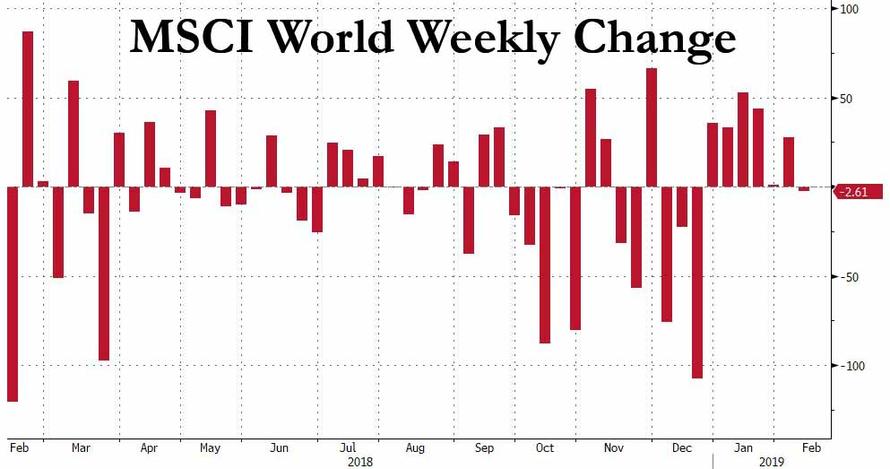 Treasuries and bunds edged higher, with the German 10-year bund yield falling closer towards the zero percent mark and the U.S. 10-year Treasury yield hitting its lowest point in a week, while the Bloomberg Dollar Index headed for its best week since August as traders rushed to havens amid a broader risk-off mood. The Australian dollar fell as traders positioned for an interest-rate cut, while the pound slid as U.K. Prime Minister Theresa May looked to break an impasse over her Brexit plan.
The Stoxx Europe 600 Index was mixed, with drops in automakers offsetting increases in chemicals and media shares. Weak earnings saw a subdued open for European stocks although most major indices climbed into the black for the day, putting the pan-European STOXX 600 in positive territory before fading -0.3% at publication time. Autos were the worst-performer sector in the broader index, declining for a third day amid growing China trade war fears. Valeo (-3.8%), Faurecia (-2.3%), Hella (-1.9%) among leading fallers; Fiat drops 1.4% as sector gauge retreats 1.1%. Spain's IBEX fell half a percent. As usual, there was fresh dismal economic news out of Europe, which today came from Italy, where Industrial Output plunged -5.5% Y/Y, and the Netherlands, whose Industrial Production plunged 4.2%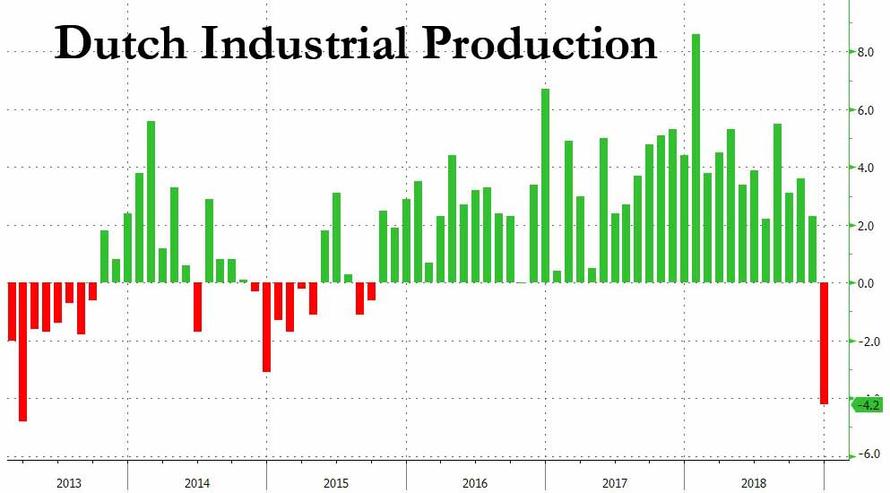 Following the latest Industrial Production data out of Europe, there can be no doubt the continent is now in a recession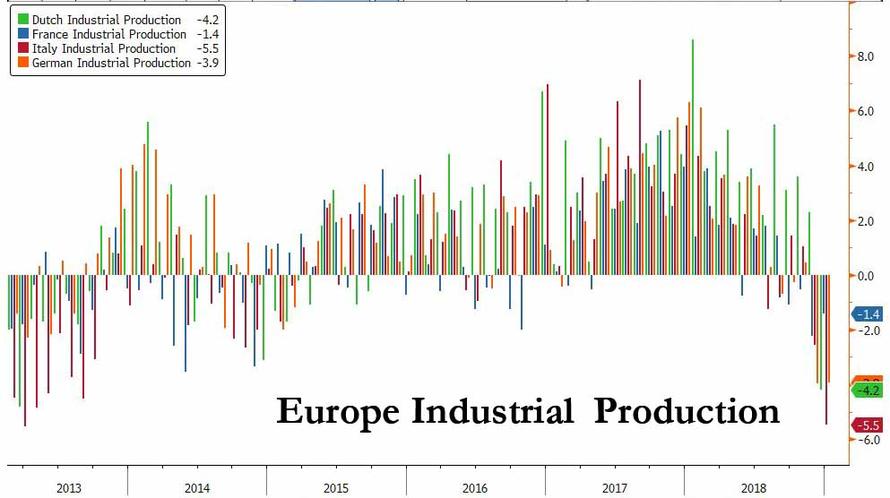 Earlier, Asian markets dropped, with MSCI's index of Asia-Pacific shares ex-Japan shedding 0.5%, easing back from a four-month peak touched the previous day.
The European Commission on Thursday slashed its forecasts for eurozone economic growth this year and next, stoking concern that a global slowdown is spreading to Europe as businesses and investors grapple with trade friction.
Contracts on the S&P 500, Dow and Nasdaq Composite all declined alongside shares in Asia following news that President Donald Trump is unlikely to meet Chinese President Xi Jinping before the March 1 deadline for more tariffs. The renewed fears over further protectionist measures also pushed emerging market equities lower. China's markets remain shut for Lunar New Year
Meanwhile, the global economic picture is becoming gloomier by the day: central banks and governments from Brussels to Sydney cut growth forecasts. As Bloomberg notes, hours after the European Commission slashed forecasts for the euro region's major economies Thursday, the Bank of England said the U.K. may grow at its slowest pace in a decade. Then Reserve Bank of Australia lowered its growth and inflation forecasts Friday, while expectations have dimmed for the Bank of Japan to edge toward normalizing its monetary stimulus, joining the U.S. Federal Reserve and the European Central Bank in signaling policy shifts. The Fed has all but abandoned plans for further rate hikes, while the ECB also sounded less certain that it will start tightening policy this year.
"If there was a single takeaway from the last few days it would appear to be this - ever since the Fed started to backtrack on its growth expectations for the U.S. economy, the global economic skies, to coin an aphorism from the recent World Bank report, have started to darken further," said Michael Hewson, chief markets analyst at CMC Markets in London. Hewson added that the tone in markets on the day wasn't helped by remarks from U.S. President Donald Trump's chief economic adviser Larry Kudlow, that U.S.-China trade talks still had sizable differences to overcome.
In a report last month titled 'Darkening Skies', the World Bank said global economic growth is expected to slow to 2.9 percent in 2019, compared with 3 percent in 2018.
"Many of the central banks are reacting to the fact that the global economic situation has worsened," Komal Sri-Kumar, founder and president at Sri-Kumar Global Strategies told Bloomberg TV.
Adding to the dovish tide wrapping the world, overnight the Fed's uberdove Jim Bullard said FOMC has moved in a more dovish direction and needs to tread carefully moving forward amid weak inflation and other signals the economy is facing greater risks than had expected. Bullard also stated the Fed is likely to end up with a larger than anticipated balance sheet and that he considers current level of rates as restrictive, while he sees growth this year at 2.5% and considerably weaker than the prior year, with risks for an even sharper slowdown.
Elsewhere, Treasury Secretary Steven Mnuchin and Robert Lighthizer are expected to kick off another round of trade talks in Beijing next week to push for a deal to protect American intellectual property and avert a March 2 increase in U.S. tariffs on Chinese goods. However, as reported last night, Trump is expected to sign an executive order just prior to the deadline, banning the use of Chinese telecom equipment in the US.
In rates, the flight to safety trade prevailed, with 10-year Treasury yields extended overnight declines to a one-week low of 2.6393%. The 20-year Japanese government bond yield dropped to a 27-month trough of 0.400 percent, while the New Zealand 10Y yield dropped to a record low. In Europe, the 10-year German bund yield fell to 0.105 percent on Thursday, its lowest since November 2016 after the European Commission's sharp cuts to growth and inflation forecasts.
In currencies, the Bloomberg dollar index rose as much as 0.1%; set for 0.9% increase this week while the euro dropped a fifth day, its longest losing streak since October and on course for its biggest weekly loss in more than four months against the dollar, though traders seemed to be puzzled that it was finding support. The single currency was 0.1 percent lower on the day at $1.13240 after dropping to a two-week low of $1.1325 the previous day. It was on track for a 1% weekly loss, its steepest weekly decline since September.