Q1 GDP Unexpectedly Misses Despite Stimmy-Funded Spending Surge
With the US economy overheating in virtually every aspect, with inflation scorching hot and with retail spending at record highs, all funded of course by trillions in fiscal stimulus, it was actually a surprise to see that annualized Q1 GDP was reported at "only" 6.4%, which while an improvement to the 4.3% in Q4 missed consensus expectations of 6.6%, and certainly missed the whisper numbers some of which were even in the double-digit range. Is this all the growth that $2 trillion in stimulus can buy?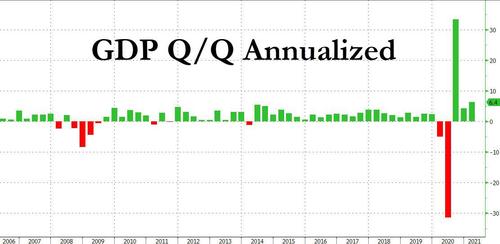 The highlight of the report is surely that personal consumption soared 10.7% in 1Q after rising 2.3% prior quarter, and contributed more than 100% of the final GDP print. This was the 2nd biggest jump in consumption since the 1950s with just the stimulus-frenzy fueled Q3 2020 coming in higher.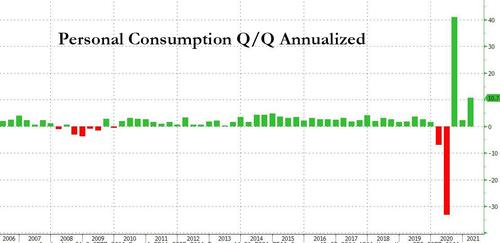 Final sales to private domestic purchasers q/q rose 10.6% in 1Q after rising 5.5% prior quarter, while nonresidential fixed investment or spending on equipment, structures, and intellectual property rose 9.9% in 1Q after rising 13.1% prior quarter.
According to the BEA, the jump in Q1 growth reflected the "continued economic recovery, reopening of establishments, and continued government response related to the COVID-19 pandemic. In the first quarter, government assistance payments, such as direct economic impact payments, expanded unemployment benefits, and Paycheck Protection Program loans were distributed to households and businesses through the Coronavirus Response and Relief Supplemental Appropriations Act and the American Rescue Plan Act. In the fourth quarter of 2020, real GDP increased 4.3 percent."
Here are the highlights from the report:
The increase in consumer spending reflected increases in goods (led by motor vehicles and parts) and services (led by food services and accommodations).
The increase in business investment reflected increases in equipment (led by information processing equipment) and intellectual property products (led by software).
The increase in government spending primarily reflected an increase in federal spending related to payments made to banks for processing and administering the Paycheck Protection Program loan applications as well as purchases of COVID-19 vaccines for distribution to the public.
The decrease in inventory investment primarily reflected a decrease in retail trade inventories.
Disclosure: Copyright ©2009-2021 ZeroHedge.com/ABC Media, LTD; All Rights Reserved. Zero Hedge is intended for Mature Audiences. Familiarize yourself with our legal and use policies ...
more