Putting Gold Miners Into Proper Perspective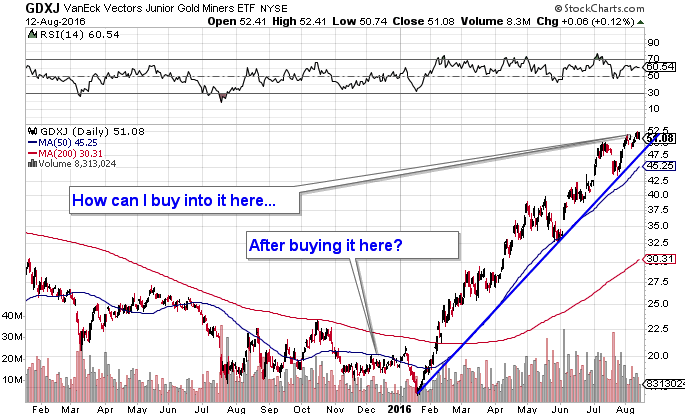 With the summer of 2016 passing by at an alarming pace, I think it is important to take a few moments away from the enchanting beauty of Georgian Bay and review a number of the key elements that have characterized 2016's breathtaking advance in gold, silver and the associated mining, development and exploration stocks. While gold bullion is ahead 26.6% year-to-date, the gold mining stocks have demonstrated their incredible contained leverage and why, when the market operates properly, they are vastly more rewarding than the physical metals themselves. However, the 2016 advance has had many analysts questioning the integrity of this latest move as the HUI (NYSE Arca Gold BUGS Index) and the XAU (Philadelphia Gold and Silver Index) have defied gravity, the laws of physics, the Law of Diminishing Returns, and just about every other law that historically pertains to the behavior of stocks.
Every single one of my colleagues in the business of precious metals investment has been bucked off this rampaging bull at least once or twice this year while the quality of portfolio content is doing what it always does as the advance occurs: the Barrick Gold Corps (ABX) and Newmont Mining Corps (NEM) of the world are being replaced by Foo Foo Mines and No Name Resources on the assumption that the leverage in owning a 20-cent penny explorer is superior to owning a company actually producing and selling gold and silver. This dangerous tendency is referred to as "trickle down," where one takes a premature profit on a large-cap name and realizing the error, replaces it with a mid-cap that also gets turfed too early, being again replaced with a small-cap, and so on and so forth until you wake up one morning and realize that your entire net worth has wound up in the hands of 10 or 15 masterful Vancouver promoters. And that is a nightmare scenario because the primary corporate objective of the typical Vancouver promoter lies not in the realm of a new gold discovery or near-term cash flow or added reserves, but rather in the novel concept of "distribution" and by that I don't refer to the "distribution" of profits to shareholders by way of dividends but rather the distribution of the one-cent paper they manufactured when they put the shell together.