'Prepare For Breakout': Assault On SPX's 3025 All-Time High May Succeed On Second Attempt
Assault on the all-time highs ((ATH)) of SPX at 3020 - 3025 is probably on course over the next two to three trading days. Looks like the consolidation pattern for the 10yr yield has been completed, or is about to, and risk assets are again ready to test the mettle of the risk asset bears. Many market analysts say that the behavior of risk assets during the long awaited test of the S&P 500 Index ATH will likely determine the near-term course for equities and bond yields, as well as Gold, the US Dollar and Crude Oil. We agree.
We discuss the likely behavior of these risk assets, at the all-time highs, with guidance from our various risk asset models. This article continues the themes discussed in an earlier Seeking Alpha article, published on October 13, 2019: 'We Have Lift-Off`: Yields Lead The Charge Higher; Load Up On Equities, Exit Gold, Sell The U.S. Dollar
`Prepare for breakout'.
SPX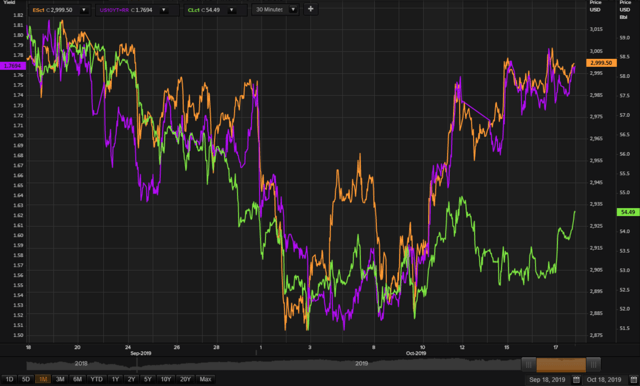 We expect initial setbacks during the first test of the SPX all time highs. We see that being flagged by the High Frequency models shown below. That means that if we see a test of the ATH early this week, (could be Tuesday or Wednesday), the rest of the week could be lower (green line).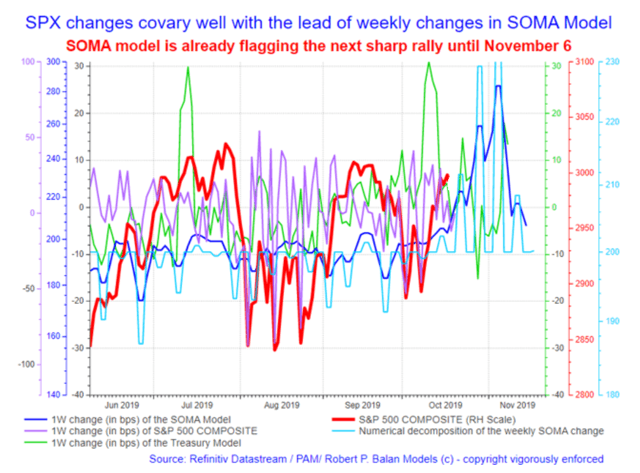 But the more important point is that after a couple of days of pullback, the assault resumes, and will likely go through at the second attempt. That is what the HF models, juxtaposed with the historical models (shown below), are telling us as well.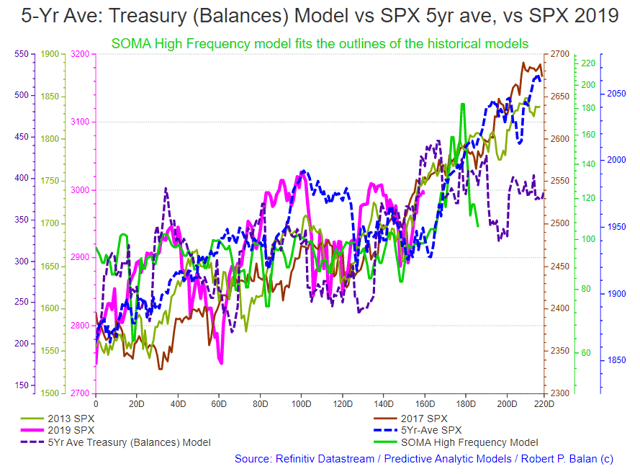 The breakout trajectory in detail: a probe of the 3025 ATH peaks early this week (Tuesday or Wednesday) will likely fail; it would be followed by two to three days of pullback. Then the attack on the SPX ATH continues, and next time, the assault should go through. It may trigger a humongous number of stoploss orders along the way, and that could impart a slingshot effect on the SPX price upwards (see illustrated effect in the chart below).
A rally after a breakthrough should go up all the way up until circa November 6 (dates provided by the SOMA High ((HF)) Frequency model), and crests at just below SPX 3100 levels.
The information provided by the HF model is fully supported by the broad outlook we get from the historical models (illustrations of all the models shown in the chart above). We are already past a dangerous inflection point shown in the 5yr average of the SPX, so it looks like the 2019 SPX trajectory will be similar to those in earlier years (2017 and 2013).
Disclosure: I am/we are long OIL, EUROS, EQUITIES. I wrote this article myself, and it expresses my own opinions. I am not receiving compensation for it. I have no business relationship ...
more