Predicting Market Prices Is Simply Trying To Predict Market Phycology
(Click on image to enlarge)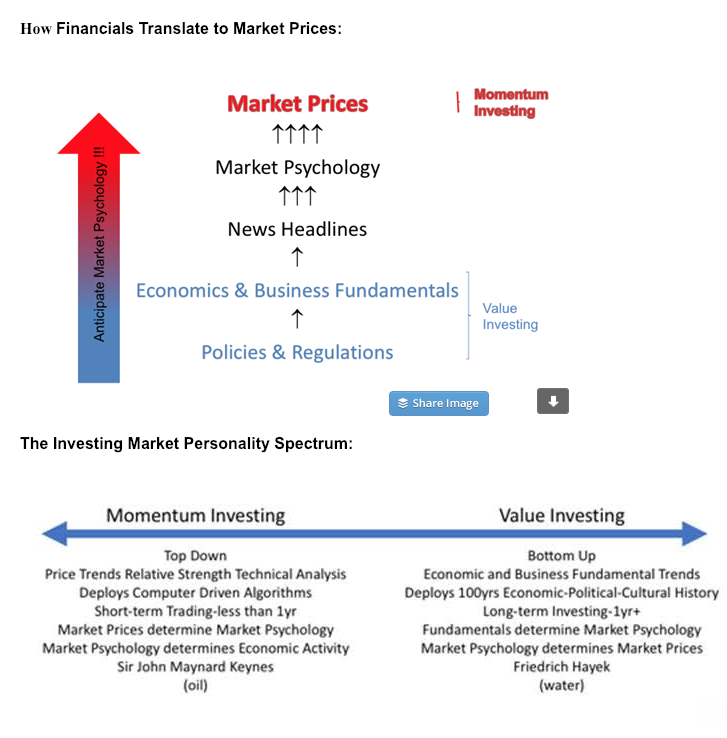 Anticipate changes in Market Psychology by Monitoring Fundamentals
By closely monitoring fundamentals, one can anticipate the financial direction of headlines, which in turn changes market psychology. which in turn drives market prices. Two basic types of investors operate in the market place, Momentum Investors who invest with headlines and Value Investors who invest using fundamentals. The differences between the perception of these investment styles can be simply described as the same as the differences between 'oil' vs. 'water'. Value Investors are the "Bottom Fishers' who ramp up their buying activity during recessions forming the major market lows with their long-term multi-cycle economic and market cycle perspective. It is Value Investor market psychology which creates major cycle lows. This is the basis behind the SP500 Value Investor Index. Value Investors make comparisons between economic/corporate financials and market prices to make investment decisions. Low prices are seen as favorable investment opportunities. Their research encompasses historical business fundamentals, economic trends, government policies, and geopolitical perceptions. They anticipate how prices are likely to change with anticipated economic shifts domestically and globally once trends they monitor become media headlines. Their perspective is typically longer term, 3yr-5yr not being unusual. Momentum Investors are selling while Value Investors are buying. One comes to understand these behaviors by reading their views published in the media. Momentum Investors do not turn positive till price trends begun by Value Investors have developed sufficiently into up-trends. This is how investment cycles begin. As headlines confirm an economic recovery, the media goes back and forth between Value vs. Momentum Investors questioning which is correct with many ebbs and flows of Momentum Investor commentary as prices ebb and flow. Value Investors remain steady till they believe prices are too high. At this point, Momentum Investors, not being concerned with fundamentals, promote investing with price-trends and drive prices much higher. This where companies with a string of net income losses such as NFLX and TSLA find strong Momentum Investor support if the headlines are deemed 'good'. There is no fundamental analysis in Momentum Investing. It is Momentum Investor market psychology which drives markets to excess and creates major market tops. This is where the 'oil' vs 'water' perception becomes most obvious. One needs to recognize these factors if one is to invest across the full investment cycle. Value Investors do not and often exit equities well before a market top occurs.
My approach is to recognize the inputs from both Value Investors and Momentum Investors and how each contributes to market pricing over time. One wants to invest early, but not overstay the market cycle. To this end, I use one series of indicators near market lows based on valuation parameters and another series for market tops indicating momentum behavior. As a cycle progresses one also must be alert to policy changes which may impact the cycle or separate sectors within the cycle. These can range to the impact of geopolitics on the value of the US$(US Dollar) as global capital ebbs and flows in response to risks/rewards perceived globally or changes in Domestic tax law, regulations or government initiatives that can have a direct impact on specific business sectors. Let's also add to this mix the unexpected innovation occurring every cycle that can have a dramatic long-term impact. This cycle saw an impact from Apple's iPhone which while introduced in 2007 was responsible for the 'Arab Spring' in 2010, the conquering of Aids(HIV) virus (not the issue devastating health cost expected), a cure for Hepatitis C which came from HIV research and soon to arrive 5G wireless communications. Each of these provided an unexpected standard of living and economic benefits that were unanticipated. Every cycle has unique unpredictable advances which require monitoring to assess the importance to investments in the cycle. History shows we have never exited a cycle worse off than when we began prior to the last. Human society is relentlessly moving forward.
Disclosure: The information in this blog post represents my own opinions and does not contain a recommendation for any particular security or investment. I or my affiliates may hold positions or ...
more