Precarious Optimism As The Downgrades Confirm Infection
According to IMF, "global growth remains subdued." Since it was supposed to be roaring by now, this qualifies as a substantial downgrade. Financial positions were staked out on the premise there wouldn't be one, certainly not a disappointment coming this soon long before the breakout could actually happen.
That's why there are downside risks in the financial system. Risk-taking wasn't uniform and ubiquitous in the way it was in, say, the middle 2000's, but there were plenty willing to put up significant enough sums and take significant enough risks (both Eurobonds) on the premise globally synchronized growth would pay off (significantly).
To the organization's credit, the IMF acknowledges, "Risks to the forecast are mainly to the downside." As usual, the reasons for this wrong way tilt are mostly the familiar conventions: trade tensions, "protracted risk aversion" which is something like fears of asset bubbles reversing, lack of growth (disinflation) making debt loads more daunting, and central banks with limited capacities to offset any or all because of R*.
As is standard practice, the latest projections show the global economy coming back next year though not quite at the same rate interpretations of 2017 had promised. Having gone through this all before, the IMF acknowledges how the "projected growth pickup in 2020 is precarious."
While forecasts for US GDP in 2019 were raised (bring on the second-half rebound in the latest figures, they were reduced at the world level (by only 0.1 pts compared to April's estimates). The biggest contributor to growing weakness is emerging market economies. And the piece of the global economy forcing them lower is global trade (the very place where a disruptive global reserve currency disrupts the most and the most directly).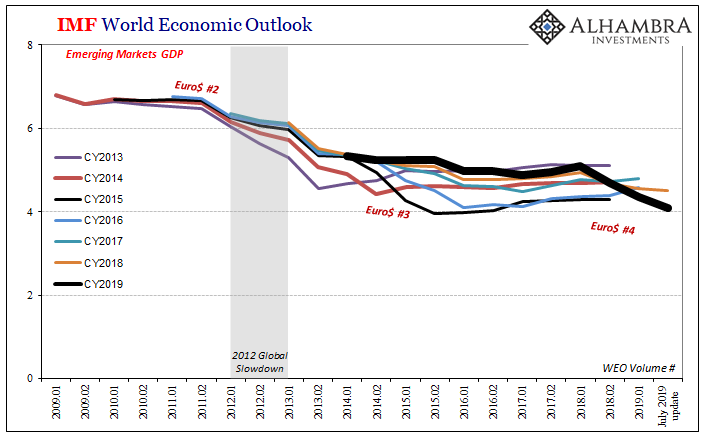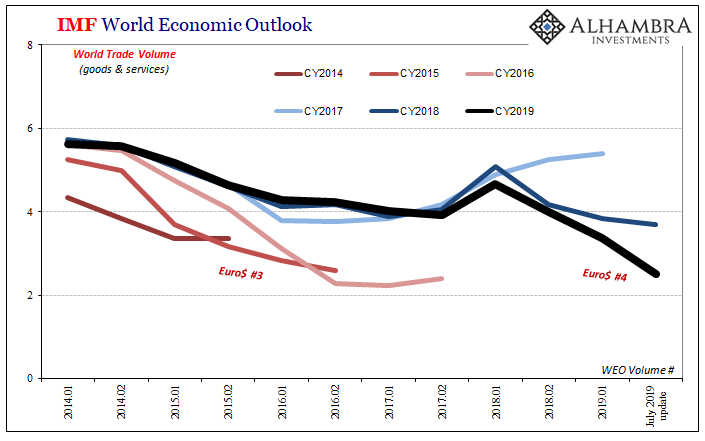 Before Euro$ #3 hit in 2014, the IMF had thought that by 2019 world trade volume would get back up to near 6% growth. This would not have represented full recovery, but at least something resembling the process. The global downturn in 2015-16 corrected the view, thereafter growth projections have been noticeably more reserved.
Disclosure: This material has been distributed for informational purposes only. It is the opinion of the author and should not be considered as investment advice or a recommendation of any ...
more