Power Of Narratives And Gold
Great, but how does it relate to investment? The narratives are of great importance in the financial markets. As King points out, "under radical uncertainty, market prices are determined not by objective fundamentals but by narratives about fundamentals." Wow, that's a strong statement! However, we are not convinced whether it is really the case in the long run, but it sounds cogently as a description of the short or medium term.
If stories about fundamentals, or stories that market consensus at any one moment judges true, are the powerful driver of asset prices, they are even more forceful in the gold market. Why? The fundamental value of equities are unknowable (as we do not know what will be the cash flows generated by the given company in 50 years), but we can at least estimate that somewhat. But what is the fundamental value of gold - an asset which does not generate any yield? It's truly unknown.
It does not mean that there are no fundamental factors in the precious metals - there are, and we provided many times evidence for the importance of the U.S. dollar or the real interest rates. But they affect the gold market through the narratives or market sentiment. The chart below presents the history of the gold market shaped by four such powerful narratives.
Chart 1: Gold prices (London P.M. Fix, in $) and four narratives in the gold market from 1971 to 2019.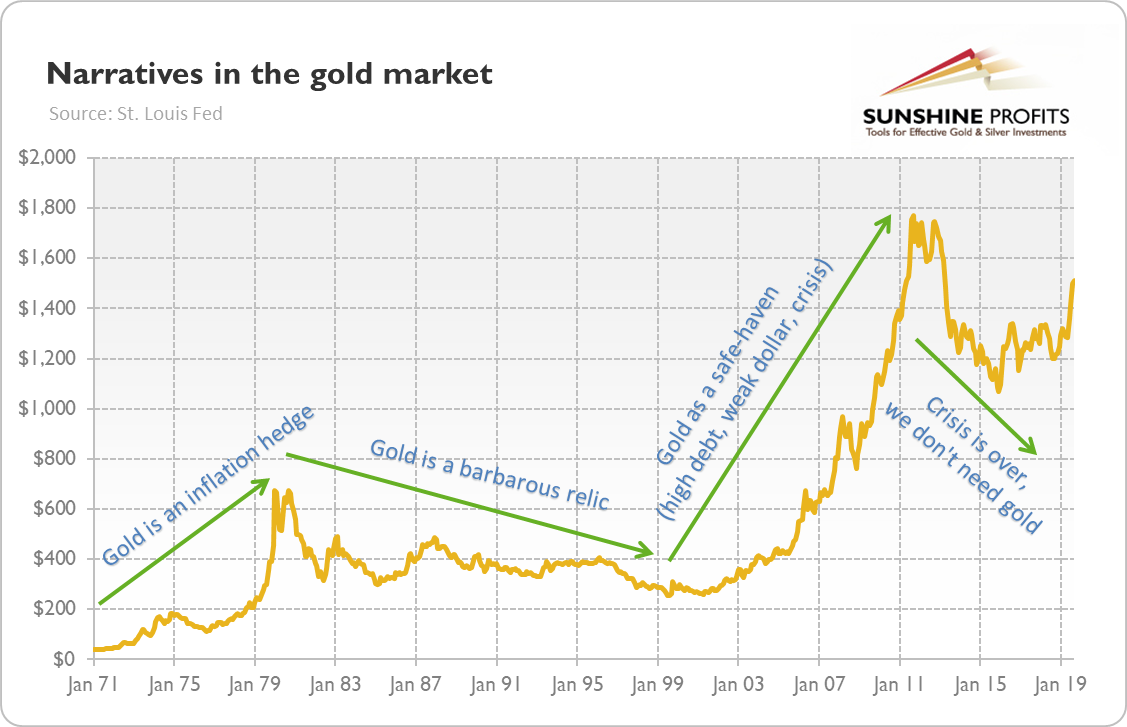 Have you ever wondered why gold - although it is generally negatively correlated with the greenback and real rates - sometimes moves in tandem with the dollar and yields? Or, why some rounds of quantitative easing were positive, while others were harmful to the gold prices? The answer lies in narratives.
When the U.S. dollar strengthens because of the increased demand for safe havens, as it seems to be the case today, it fits the narrative of elevated uncertainty, which is positive for the yellow metal. The first two rounds of QE were positive for the yellow metal because the dominant narrative was that the economy was in the toilet and at best, QE would not change it, or at worst, it would generate high inflation. But in time of QE3 the narrative changed, people stopped worrying about inflation and started believing in the economic recovery and that the Fed regained control over the economy. Hence, gold prices started to decline.
If you enjoyed the above analysis and would you like to know more about the most important macroeconomic factors influencing the U.S. dollar value and the price of gold, we invite you to read the ...
more