EC

Powell's Hawk Loses Its Lift Even Before Oil
That's largely where we are now, everyone trying to come to grips with the WTI fakeout. And it wasn't really oil that was the matter, it was the hysteria written into it because the media, like policymakers, puts together its narrative on emotion instead of data and honest analysis. They are all in the tank for the idea of a technocracy, and if the economy fails in 2018, which it already has, then the lack of growth and recovery over more than a decade drives a stake right through the heart of that ideal.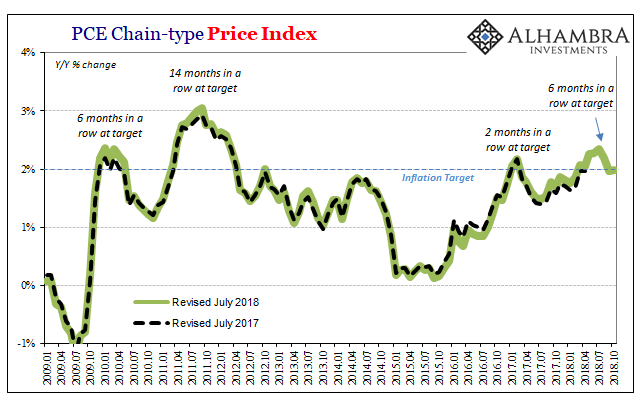 The PCE Deflator in October 2018, the latest data released last week, showed consumer prices rising on the wrong side of the 2% target again. After a string of six months, owing to the last benchmark revisions using the 2012 reference dollar, in October the direction of inflation was already lower.
The core rate dropped to 1.78% year-over-year, the lowest since February and the Verizon scare. As part of the narrative about inflation, in 2017 the frustrating levels of especially core inflation were explained via the one wireless data provider's entry into unlimited data plans. It created an inverted bubble, supposedly, where the annual comparisons would be skewed by this one "transitory" factor. There was real inflation out there in the economy being distorted by Verizon.
In early 2018, these had moved past wireless telephony so that the core rate would more accurately reflect the underlying wage-driven price pressures. Inflation would clearly accelerate beyond just WTI and Jay Powell would be justified in his "hawkish" stance. So they said.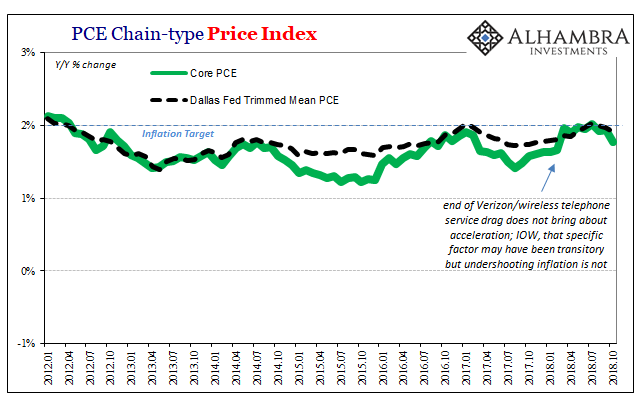 Only now core rates as the headline are moving the wrong way. And that's just in October. The big WTI reverse isn't even in these figures yet. That means next month when November's headline comes out it is likely to be significantly less than 2% with core inflation probably confirming for another month the lack of everything 2018 was supposed to be.
Disclaimer: All data and information provided on this site is strictly the author's opinion and does not constitute any financial, legal or other type of advice. GradMoney, nor Jennifer N. ...
more