Post-RBA AUD/USD Weakness To Persist As Bearish Trend Remains Intact
AUSTRALIAN DOLLAR TALKING POINTS
AUD/USD is under pressure following the Reserve Bank of Australia (RBA) meeting as the central bank keeps the official cash rate (OCR) at the record-low, and the rebound from the 2018-low (0.7085) may continue to unravel as Fed Chairman Jerome Powell strikes a hawkish outlook for monetary policy.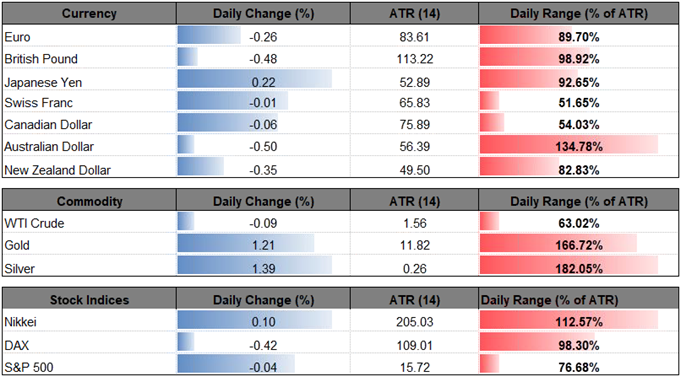 POST-RBA AUD/USD WEAKNESS TO PERSIST AS BEARISH TREND REMAINS INTACT

The RBA appears to be in no rush to alter the forward-guidance for monetary policy as the board sticks to the same script, and Governor Philip Lowe & Co. may continue to buy time at the next meeting on November 6 as 'the low level of interest rates is continuing to support the Australian economy'.
(Click on image to enlarge)

It seems as though the RBA will retain its accommodative stance throughout the remainder of the year as Australian households and businesses face rising mortgage costs, and the lack of urgency to start normalizing monetary policy may continue to drag on AUD/USD as the Federal Reserve shows no signs of slowing down.
A recent speech by Chairman Powell suggests the Federal Open Market Committee (FOMC) will continue to embark on its hiking-cycle as 'the economy is strong, unemployment is near 50-year lows, and inflation is roughly at our 2 percent objective,' and it seems as though the central bank is on course to deliver four rate-hikes in 2018 as updates to the U.S. Non-Farm Payrolls (NFP) report are anticipated to show employment increasing another 184K in September.
As a result, there appears to be little in the way to deter the FOMC from implementing higher interest rates as the committee largely achieves its dual mandate for full employment and price stability, and the RBA's wait-and-see approach is likely to keep AUD/USD under pressure over the near-term as Governor Lowe & Co. look poised to carry the record-low cash rate into 2018.