Position Close Update: Yelp, Inc. (YELP)
Yelp, Inc. (YELP: $36/share) – Closing Short Position – down 4% vs. S&P up 20%
Yelp was originally selected as a Danger Zone Idea on 8/22/16. At the time of the initial report, the stock received an Unattractive rating. Our short thesis highlighted declining economic earnings, slowing user growth, and lack of competitive differentiation.
During the 876-day holding period, YELP outperformed as a short position, declining 4% compared to a 20% gain for the S&P 500.
In December 2018, longtime shareholder SQN Investors sent a letter to the board calling for changes to reverse this underperformance. On January 16, SQN followed up with an investor presentation calling for the board to "immediately evaluate strategic alternatives including a possible sale of Yelp."
In our original article, we deemed a potential acquisition of Yelp unlikely due to its declining profitability and significant hidden liabilities. However, we have enough experience with Stupid Money Risk to know that companies overpay for acquisitions all the time.
In addition, YELP's fundamentals have improved enough over the past two and a half years that it may be slightly more palatable for a potential acquirer. Return on invested capital (ROIC) has improved from -3% when we wrote our article to 5% TTM, and free cash flow has been positive for each of the past two fiscal years.
YELP continues to earn our Very Unattractive rating. However, the combination of improved fundamentals, cheaper valuation, and activist pressure increases the possibility of an acquisition. As a result, we are closing our position.
Figure 1: YELP vs. S&P 500 – Price Return – Successful Short Call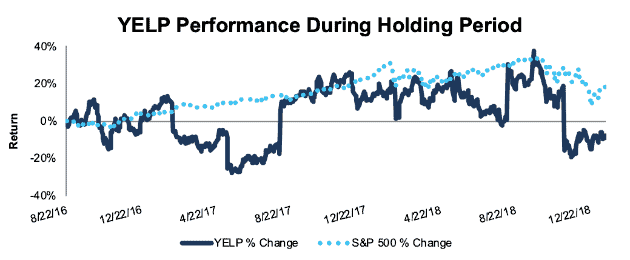 Sources: New Constructs, LLC and company filings
Note: Gain/Decline performance analysis excludes transaction costs and dividends.
Disclosure: David Trainer, Kyle Guske II, and Sam McBride receive no compensation to write about any specific stock, style, or theme.