Peak Optimism? S&P Futures Hit After Too Much "Stimulus Optimism" Sends 10Y Yields Surging
There was a curious twist in the traditional "stimulus is good" market narrative this morning.
In early overnight trading, futures initially ticked higher on Wednesday as investors pressed bets for a fiscal stimulus deal after Nancy Pelosi said she is hopeful for a stimulus this week, even though negotiations blew past her own self-imposed Tuesday deadline for agreeing on a pre-election deal. Her enthusiasm was echoed by White House Chief of Staff Mark Meadows who said everyone is "working really hard" to get a package agreed by the weekend, adding that there are still outstanding issues, while Mitch McConnell warned the Trump administration not to agree to anything like Pelosi's proposal ahead of the election (McConnell plans to seek a vote on the Republican scaled-down package in the Senate today). In any event, this initial "optimism" was enough to get futures to ramp sharply higher in early overnight trading...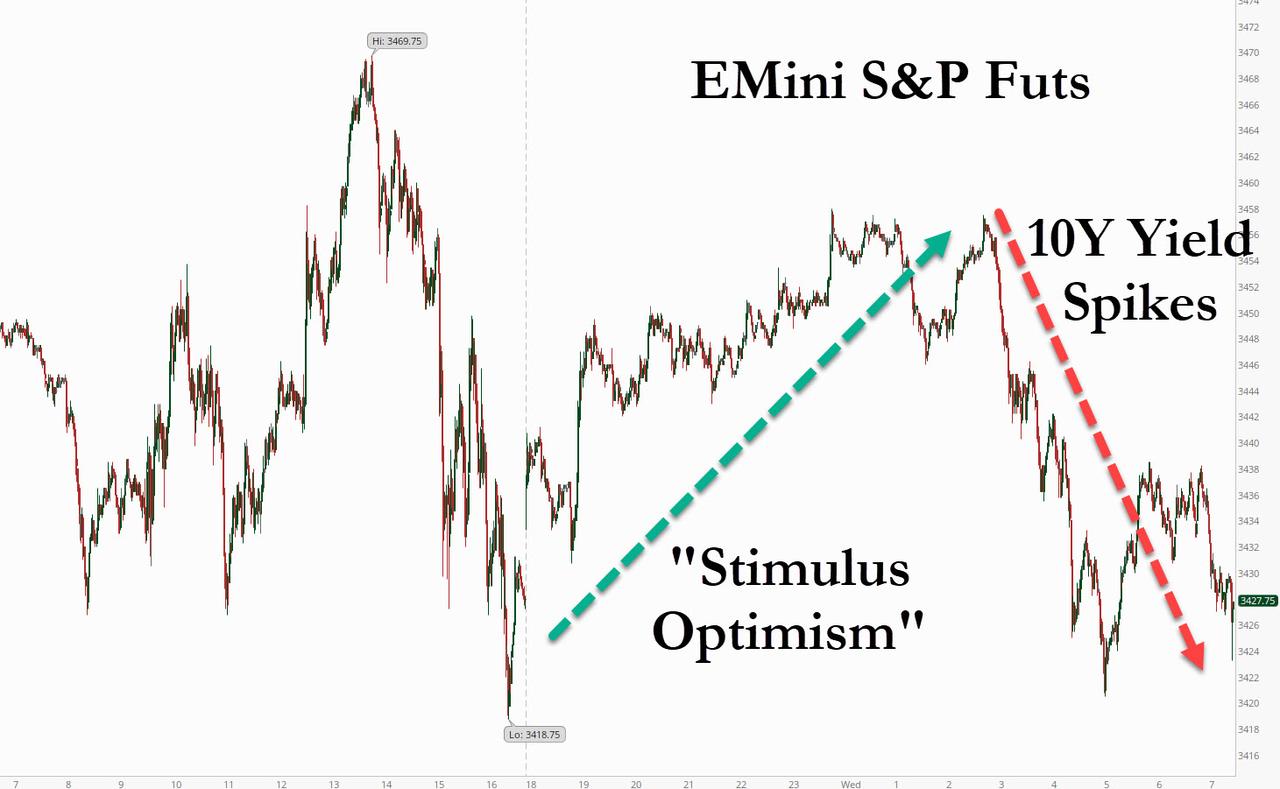 ... before reversing sharply after 10Y yield spiked above 0.8% for the first time since early June on too much reflationary stimulus deal optimism!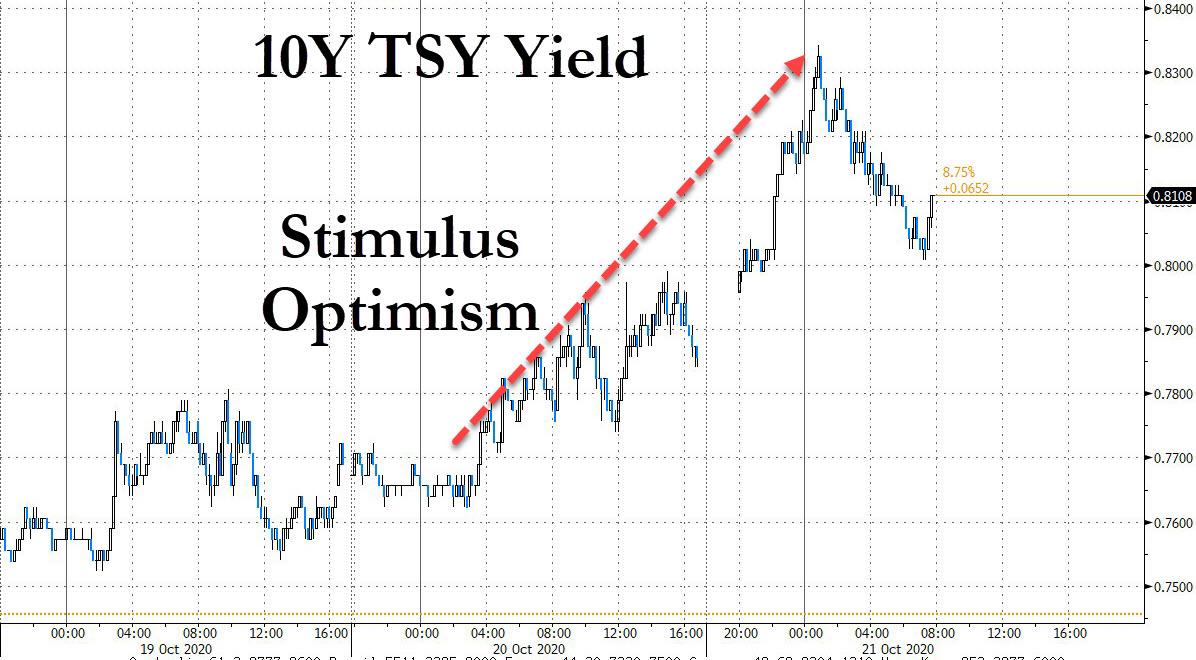 As a result of the overnight yield spike, we saw the 10Y yield rise to 4-month highs...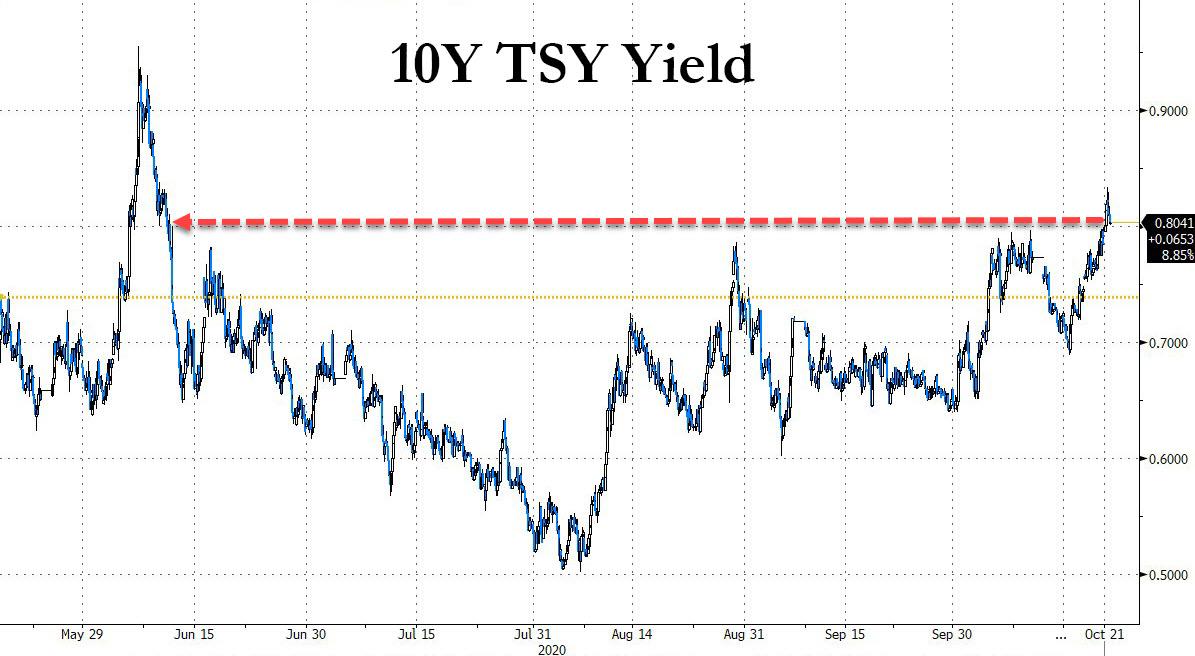 ... while the 5s30s curve blew out to 4 year high.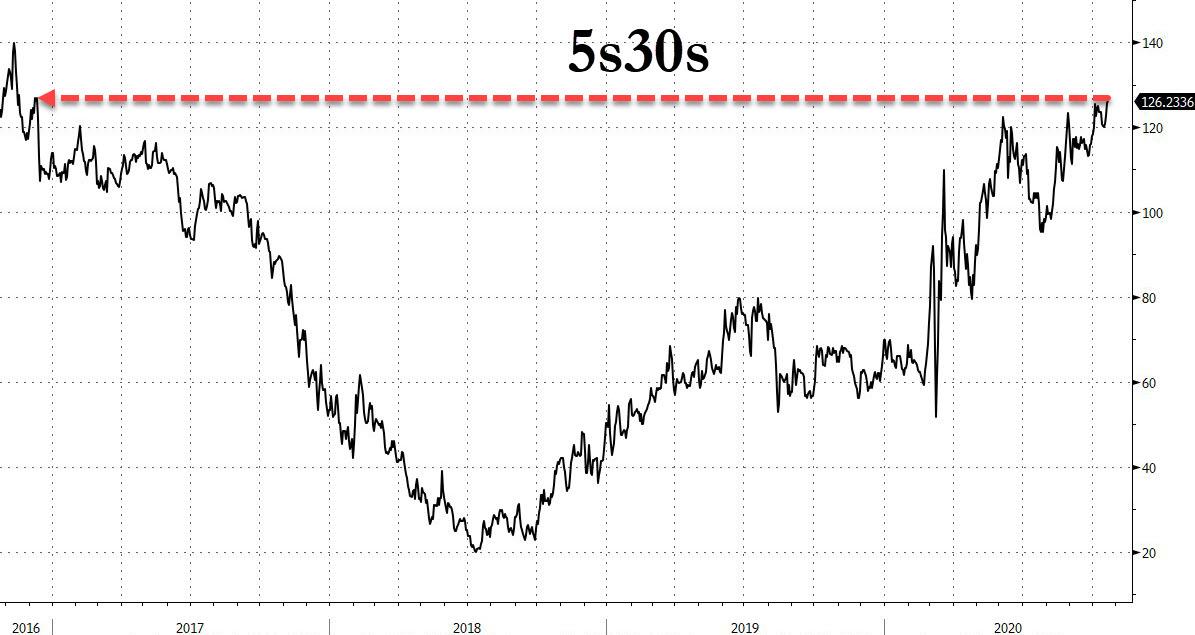 In other words, we may have finally hit the natural ceiling to where more fiscal stimulus starts hitting risk assets instead of helping them.
"The rise in yields suggests that the market thinks a stimulus deal will be forthcoming and that the Democrats are set to take both the presidency and the Senate at the Nov. 3 election," said John Hardy, chief foreign-exchange strategist at Saxo Bank.
Elsewhere, Netflix kicked off earnings from the Big Tech club and was down 5.2% premarket after it missed expectations for subscriber growth as streaming competition increased, and live sports returned to television. Tesla fluctuated before financial results later Wednesday, and social media company Snap soared surged 24.4% after the messaging app owner beat user growth and revenue forecasts, as more people signed up to chat with friends and family during the COVID-19 pandemic. Shares of other social media companies Facebook and Twitter Inc rose 2.6% and 5.7%, while image sharing company Pinterest Inc gained 6.7%.
European stocks slumped for a third day, with the Stoxx 600 Index falling 0.7%, dragged lower by U.K. stocks after the European Union's chief Brexit negotiator said an agreement was within reach. The construction sector led losses as Assa Abloy AB and Vinci SA declined after third-quarter updates, while telecoms was the only subgroup to gain as Ericsson rallied on better-than-estimated profit. Gold miners Fresnillo and Centamin dropped after cutting their production guidance. Telecom equipment maker Ericsson was a bright spot, climbing after a profit beat.
Earlier in the session, Asia-Pac equities were mixed for most of the session. The ASX 200 (+0.1%) was caged in a tight range with no real standout performers or interesting sector action. Nikkei 225 (+0.3%) was buoyed by its industrial sector, however, Softbank shares erased all gains after sources suggested Huawei and Chinese firms are said to be seeking curbs on Nvidia's acquisition of Softbank's ARM. KOSPI (+0.5%) swung between gains and losses and traded with no clear direction for most of the session. Hang Seng (+0.8%) initially extended on its opening gains before waning off best levels, with upside led by some of the large-cap names including Alibaba, HSBC, and CNOOC.
In FX, the dollar weakened against all of its Group-of-10 peers; the pound led gains, followed by the New Zealand dollar, while the yen headed for its best day versus the dollar since August. The pound jumped after European Union chief Brexit negotiator Michel Barnier said a deal is within reach. Copper rose close to a two-year high on supply disruptions in Chile. The euro rallied the fourth day to touch a 1-month high of 1.1870 per dollar. Australian and New Zealand dollars posted relief rallies as the greenback eased and a wave of dollar sales also benefited the yen.
Meanwhile, the yuan's ongoing surge has taken it to the highest in more than two years, and further gains are likely. The onshore yuan rose as much as 0.55% to 6.6400 a dollar on Wednesday. The advance takes the currency's rally from a low in May to 7.7%. The gains are due to China's economic rebound from the virus pandemic, a wide interest-rate premium over the rest of the world, the prospects of a victory by Joe Biden over Donald Trump in the U.S. presidential election, and a weak dollar. "There is still room for the yuan to strengthen further," said Tommy Xie, an economist at Oversea Chinese Banking Corp. in Singapore. "It's possible for the yuan to strengthen past 6.60 quite soon, and by end of this year it may even go lower to around 6.55." The yuan's gains have investors watching to see whether Chinese policy makers will take steps to impede the advance, such as by setting weaker-than-expected daily fixings, relaxing capital controls, or having state-backed banks sell the yuan.
In rates, treasuries are off cheapest levels of the session, reached during the Asia session amid signs of progress toward a fiscal agreement, and which in turn hammered risk assets. Ten- and 30-year yields rose 5bp-6bp to highest levels since June, with the long facing sustained pressure into $22b 20-year bond reopening at 1pm. Yields remain higher by less than 2bp across the curve with 10- year around 0.805% after touching 0.834%; curve spreads are also in retreat after 5s30s touched 128.5bp, within 2bp of its YTD high. The initial selloff was sparked by House Speaker Pelosi's comments that she remains hopeful of a pre-election stimulus deal. German, Italian bonds also fell, while hedging costs in the major currencies over two weeks shift higher as the tenor now captures the U.S. presidential election's immediate aftermath
In commodities, oil dropped toward $41 a barrel in New York after an industry report pointed to a surprise increase in American crude stockpiles. Gold continued to rise above $1900 as the dollar fell, although rising real rates constrained gold upside.
As we progress through earnings season, of the 66 S&P 500 firms that have reported third-quarter results, 86.4% have topped expectations for earnings, according to IBES data. Tesla, Verizon., Biogen, Chipotle, Baker Hughes, and Abbott Laboratories among the companies reporting. The Federal Reserve publishes the Beige Book at 2:00 p.m. Five regional Fed presidents and Fed Vice Chair for Supervision Randal Quarles speak at various events.
Market Snapshot
S&P 500 futures down 0.1% to 3,429.50
MXAP up 0.6% to 176.59
MXAPJ up 0.3% to 585.94
Nikkei up 0.3% to 23,639.46
STOXX Europe 600 down 1% to 361.95
Topix up 0.7% to 1,637.60
Hang Seng Index up 0.8% to 24,754.42
Shanghai Composite down 0.09% to 3,325.03
Sensex down 0.6% to 40,287.60
Australia S&P/ASX 200 up 0.1% to 6,191.80
Kospi up 0.5% to 2,370.86
Brent Futures down 1.4% to $42.54/bbl
Gold spot up 0.6% to $1,919.09
U.S. Dollar Index down 0.3% to 92.78
German 10Y yield rose 2.2 bps to -0.584%
Euro up 0.3% to $1.1853
Brent Futures down 1.4% to $42.54/bbl
Italian 10Y yield rose 0.7 bps to 0.525%
Spanish 10Y yield rose 0.3 bps to 0.186%
Disclaimer: Copyright ©2009-2020 ZeroHedge.com/ABC Media, LTD; All Rights Reserved. Zero Hedge is intended for Mature Audiences. Familiarize yourself with our legal and use policies every ...
more