Passive Investing Won't End The World
Whenever a new investing strategy becomes popular or an economic change occurs, there is always fear from those who claim it will end in disaster. It's very easy to spread fear about something new because there isn't history to refute the claims. The biggest trend in money management is the passive movement. With the knowledge that most money managers don't beat the market when you include the fees they charge, many people are switching to index funds. Index funds are diversified, inexpensive, tax efficient, have a lot of capacity, have performed well over the long run, and have been used well by investors. If you don't have the time to manage your investments and aren't supremely confident that your manager will beat the market, index funds are great.
The big fear about index funds is that when enough investment capital goes into them, firms will be able to do whatever they want because the managers are passive. Firstly, passive investing has a limit. If there was a scenario where most investments were passive, it would be easier to find alpha. Passive funds make it easier to find winning trades because passive funds just buy the index without doing individual company analysis. Active managers criticize passive funds because they provide competition. Their bias distorts the debate.
If passive funds owned a larger chunk of the stock market than they do now, it probably wouldn't end in disaster. Voting for directors and changes to firms' charters is actually more critical to passive funds than active ones because passive ones can't sell their shares. Active investors want the firm to do well when they own it, but if the situation goes awry, they can just sell it and buy a different stock.
Passive Managers Vote Actively
(Click on image to enlarge)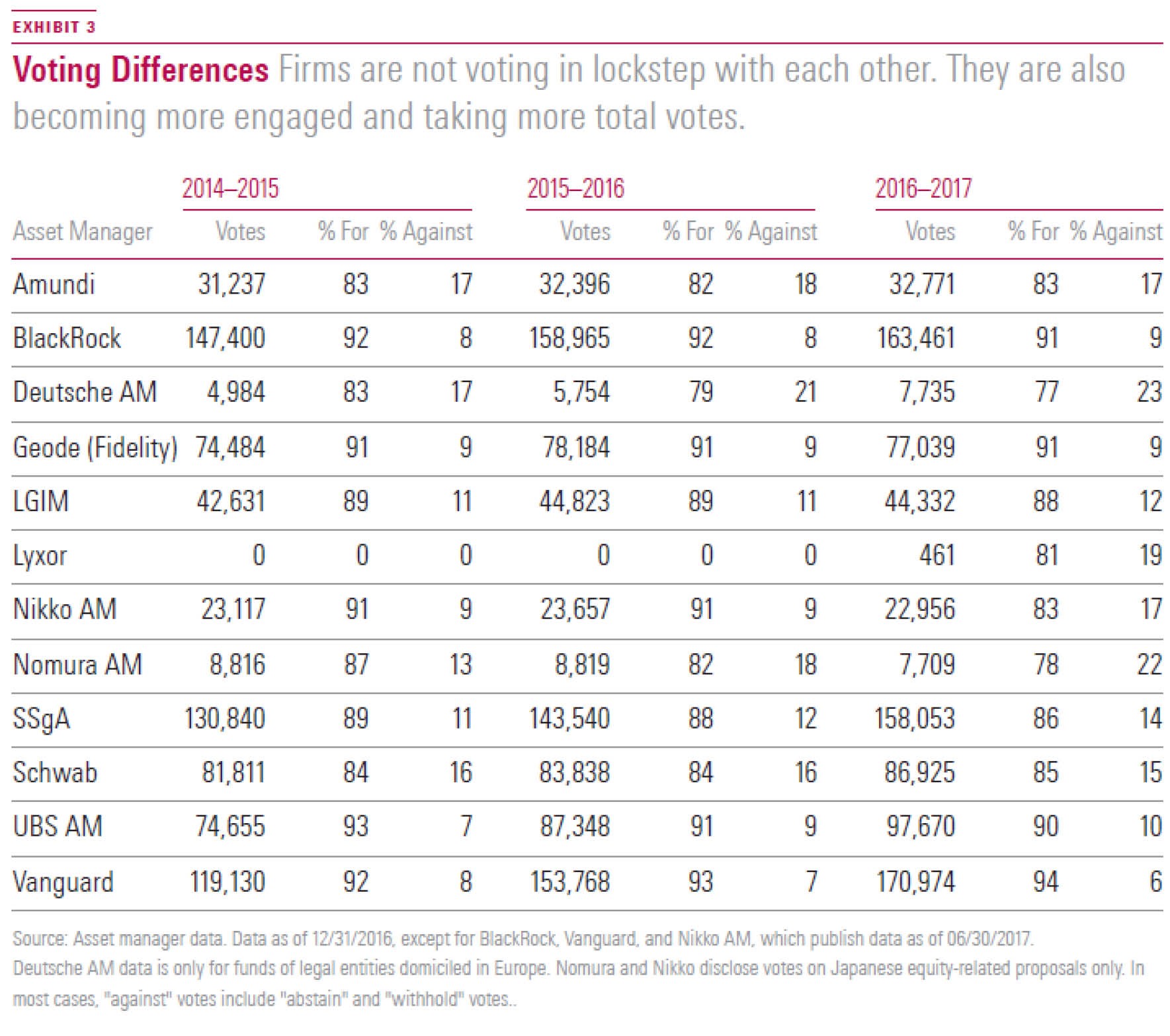 Source: Harvard Law School Forum
As you can see from the table above, passive firms aren't voting in lockstep with each other and are becoming more engaged. The fear that passive funds are going to let firms do whatever they want should be put to rest by this table. Some say an individual passive investment firm can gain too much power which could hurt the economy. However, if a passive manager gained too much control and made poor decisions, investors in the fund would leave.
Disclaimer: Please familiarize yourself with our full disclaimer here.