Only Two S&P 500 Sectors Have A Rising ROIC Through 3Q20
This report analyzes the drivers[1] of economic earnings [return on invested capital (ROIC), NOPAT margin, invested capital turns, and weighted average cost of capital (WACC)] for the S&P 500 and each of its sectors.
For reference, we analyze the Core Earnings for the entire S&P 500 in "S&P 500 Valuation Remains Over Its Skis" and for each S&P 500 sector in "Only Three S&P 500 Sector's Core Earnings Improved in 2020."
These reports leverage cutting-edge technology to provide clients with a cleaner and more comprehensive view of corporate performance[2]. Investors armed with our measures of profitability enjoy a differentiated and more informed view of the fundamentals of companies and sectors.
Only the Consumer Non-cyclicals sector and the Technology sector have seen an improvement in return on invested capital (ROIC) since the end of 2019.
S&P 500 ROIC Falls Significantly Thus Far in 2020
ROIC for the S&P 500 began to decline in 2019 before falling significantly this year. The S&P 500's ROIC fell from 8.2% at the end of 2019 to 7.1% through 11/17/20 (the earliest date updated 10-Qs for the S&P 500 constituents were available), per Figure 1. All S&P 500 sectors except for two saw a drop in ROIC, though some more than others, as we'll show below. We expect these trends to continue at the overall market and sector levels. Nevertheless, at the individual stock level, we see excellent long and short opportunities in the companies whose performances diverge materially from their sector and the overall market. For details, see our reports: "See Through the Dip Stocks Remain Attractive Part 2" and " The Most Dangerous Stocks for Fiduciaries."
Figure 1: TTM ROIC and WACC for the S&P 500 From December 2004 – 11/17/20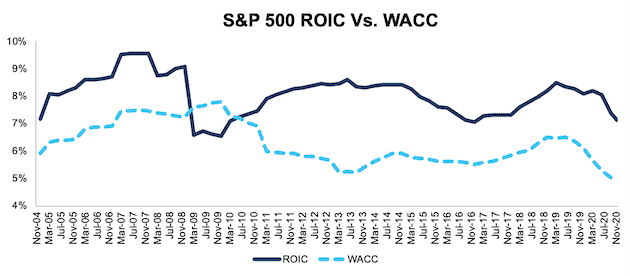 Sources: New Constructs, LLC and company filings.
Ranking the S&P 500 Sectors by Change in ROIC
Figure 2 ranks all 11 S&P 500 sectors by the change in ROIC from the end of 2019 through 11/17/20.
Figure 2: TTM ROIC as of 11/17/20 vs. 2019 by Sector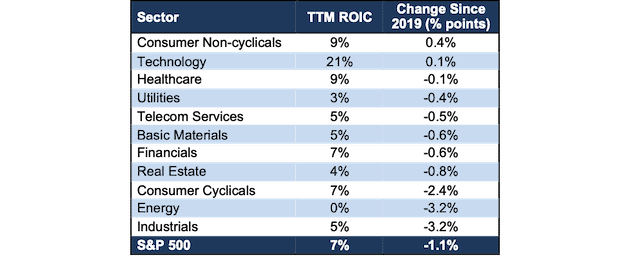 Sources: New Constructs, LLC and company filings.
The Consumer Non-cyclicals sector has performed best through the COVID-19 pandemic, as measured by change in ROIC, since the end of 2019. This trend is not surprising, given that the global shutdowns impacted travel, infrastructure, leisure, and other discretionary spending while providing a boost to many Consumer Non-cyclicals firms.
Disclosure: David Trainer, Kyle Guske II, and Matt Shuler receive no compensation to write about any specific stock, style, or theme.