Oil's Bullish Breakaway Leads Into Pivotal OPEC Meeting
This hastening of strength in Oil prices has helped to contribute to what's already been a fairly significant run. WTI has moved-up by more than 39% since setting a low at 42.08 in June. Prices have broken above a number of key resistance hurdles in the process, including the 38.2% retracement of the 2014-2016 bearish run, as well as the prior 2017 group of swing highs around the psychological level of $55. If OPEC and Russia announce an extension of cuts at next week's meeting in Vienna, prices could foreseeably continue to run; perhaps even as high as the 2015 swing high at 62.56. If that level is traded through, the 50% retracement of the 2014-2016 move becomes operable at 66.87.
WTI Monthly: Fresh Two-Year Highs Fast Approaching 2015 High at 62.56
(Click on image to enlarge)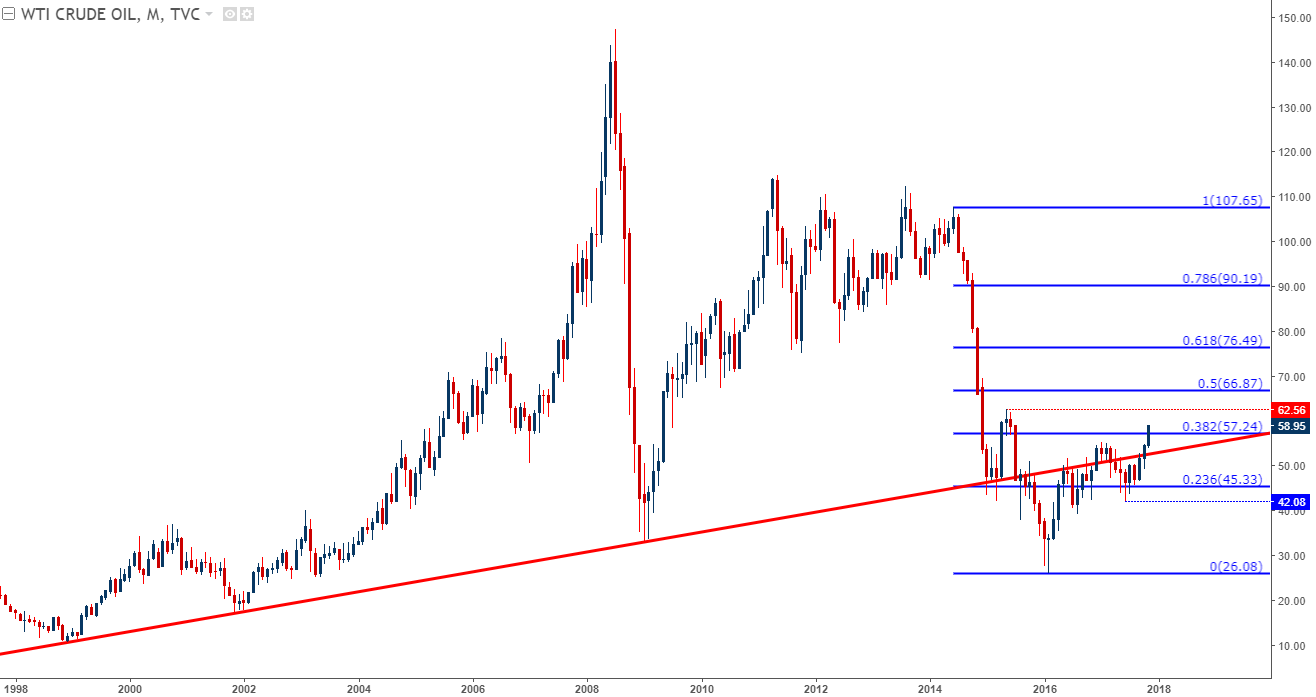 The one complication to continued upside in Oil prices is just how incredibly one-sided the market has become. My colleague Paul Robinson discussed this earlier in the week when analyzing the COT report, and this showed a massive increase in long positions across futures market participants; likely driven by the expectation for an extension of production cuts. This also highlights how further gains could become increasingly challenged as an already one-sided market wrestles to pull new buyers in at elevated, higher prices.
This will likely become more of a concern after the dust clears following next week's meeting. For now, the focus appears to be squarely on Thursday in Vienna, with the expectation for Oil producers to come together in agreement on capping production well into next year.