Oil Prices Initiate Bullish Series Even As OPEC Warns Of Waning Demand
Oil pares the decline from the previous week even as the Organization of the Petroleum Exporting Countries (OPEC) continue to reduce the outlook for crude consumption, and recent price action raises the risk for a larger rebound as it initiates a series of higher highs & low.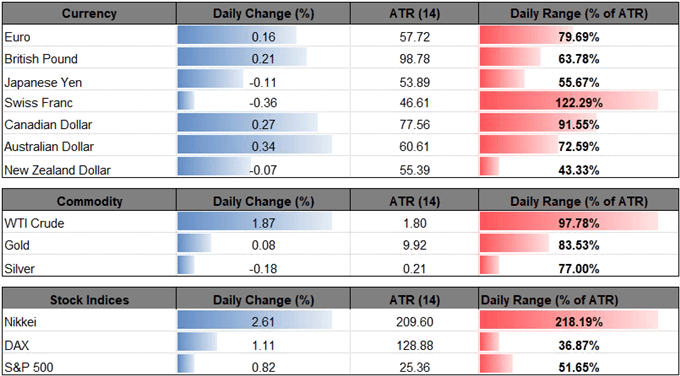 OIL PRICES INITIATE BULLISH SERIES EVEN AS OPEC WARNS OF WANING DEMAND

In OPEC's most recent Monthly Oil Market Report (MOMR), the group once again lowered its 2019 outlook, with oil demand growth forecasted 'at around 1.24 mb/d, slightly lower than the previous month's assessment by 0.05 mb/d to reach an average of 100.00 mb/d.'
(Click on image to enlarge)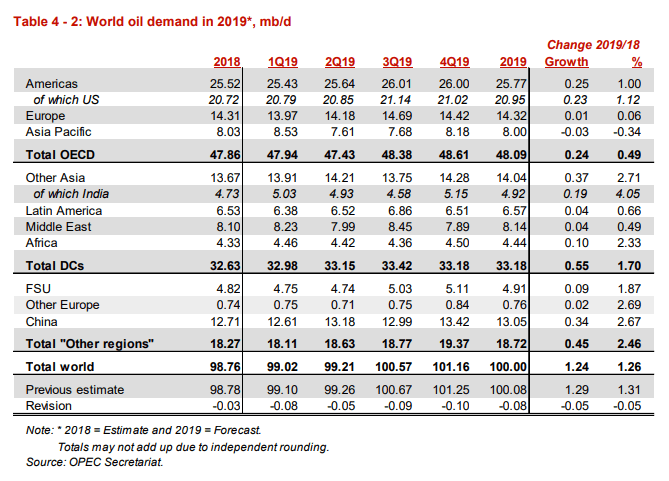 A deeper look at the report shows 'China's oil demand is expected to grow by 0.34 mb/d in 2019, compared to a 0.39 mb/d increase seen in 2018,' and OPEC and its allies may continue to respond to the weakening outlook for consumption especially as 'the non-OPEC oil supply growth forecast for 2019 was also revised up by 0.08 mb/d to 2.18 mb/d.'
Record-output in the United States may put pressure on OPEC and its allies to extend the production-cutting measures beyond the six-month agreement even as the U.S. imposes sanctions against Petróleos de Venezuela, S.A. (PDV S.A.), but fresh updates from the Energy Information Administration (EIA) may offer the group some relief amid the recent slowdown in non-OPEC output.
(Click on image to enlarge)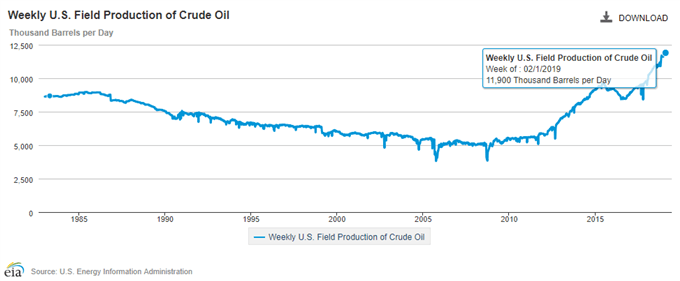 Keep in mind, the latest EIA figures showed weekly field production holding steady at 11,900K for the fourth consecutive week, and signs of subdued growth may keep crude prices afloat over the near-term especially as Rosneft, the third-largest producer in Russia, plans to reduce oil output by roughly 90,000b/d until July 1.
With that said, the current environment may raise the risk for higher oil prices as an inverse head-and-shoulders formation appears to be taking shape, with the Relative Strength Index (RSI) highlighting a similar dynamic as the oscillator extends the bullish formation from late-2018.