Oil Outlook Supported By Waning OPEC Output & Stagnant Non-OPEC Supply
Oil pulls back from a fresh yearly-high ($55.75) despite a smaller-than-expected rise in U.S. Crude Inventories, but the current environment is likely to keep oil prices afloat amid the weakening outlook for supply.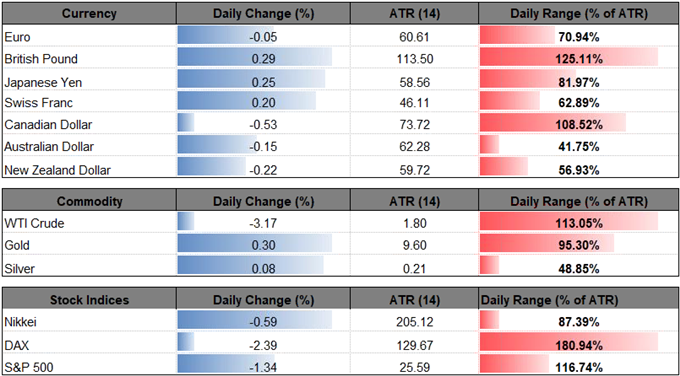 OIL OUTLOOK SUPPORTED BY WANING OPEC OUTPUT & STAGNANT NON-OPEC SUPPLY

It seems as though the advance from the 2018-low ($42.36) is starting to unravel as President Donald Trump notes that 'the United States is now the number one producer of oil and natural gas in the world' while delivering the State of the Union Address, and the Organization of the Petroleum Exporting Countries (OPEC) may have little choice but to curb production throughout 2019 as the group pledges to rebalance the energy market.
It remains to be seen if OPEC and its allies will extend the six-month agreement at the next meeting in April as Rosneft, the third-largest producer in Russia, plans to reduce oil output by roughly 90,000b/d until July 1, and the group may continue to respond to the expansion in non-OPEC production even as the U.S. imposes sanctions against Petróleos de Venezuela, S.A. (PDV S.A.).
(Click on image to enlarge)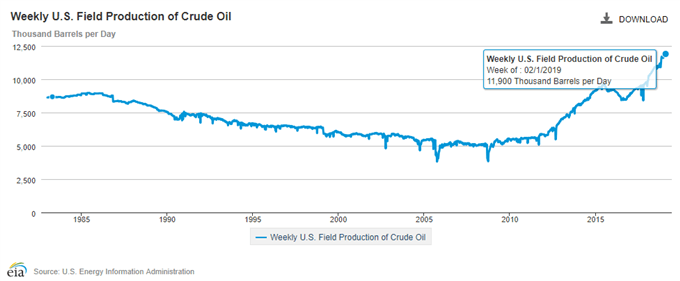 Keep in mind, updates from the U.S. Energy Information Administration showed Crude Inventories increasing 1263K the week ending February 1 versus projections for a 1850K rise, while weekly field production held steady at 11,900K for the fourth consecutive week. Subdued growth in non-OPEC output should keep crude afloat over the near-term, and the current environment may raise the risk for higher oil prices especially as Russia Minister of Energy, Alexander Novak¸ endorses a price range of $55-65bbl.
In turn, the recent pullback in crude may be short-lived, with oil more at risk of facing range-bound prices rather than a marked selloff as an inverse head-and-shoulders formation appears to be taking shape. At the same time, the Relative Strength Index (RSI) instills a constructive outlook for crude as the oscillator extends the bullish formation from November.