Oh Canada! A Cold Wind Blows From The Great White North
I am rushing this to you ahead of publication schedule as the message is both urgent and important. The great risk to the world's economic system is that of a credit contraction. Western and Asian economies are ill, equipped to absorb economic shocks as a result of their level of debt saturation. No one knows where such a shock will come from, but we have postulated China or even Canada. Recently Home Capital Group of Canada has suffered a full-blown bank run and is in financial duress. Is this significant? Most would say no, however when we look at the charts of Canada's biggest banks we see smoke billowing out. Something is wrong here.
Gold Silver Ratio-Metalic Credit Spread
The gold silver ratio has recently triggered an early warning signal. It is indicating financial stress in the future, most likely coming in the fall of 2017. By spiking and exceeding its trend high it is indicating credit troubles ahead. Note the clear break out of its consolidation triangle and the 30 EMA. Credit problems clear themselves in the fall and the GSR is indicating there is trouble ahead in the form of a credit contraction.
(Click on image to enlarge)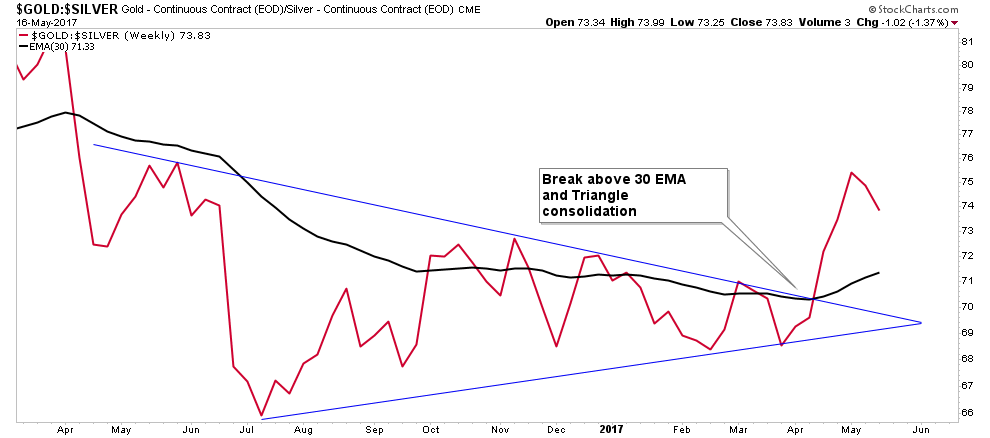 Note how the GSR provided an early warning of the market top in Oct 2007 and the credit crunch which started before that. We will see that financial stocks began falling 7 months before the market peaked which is what the GSR was signaling.
(Click on image to enlarge)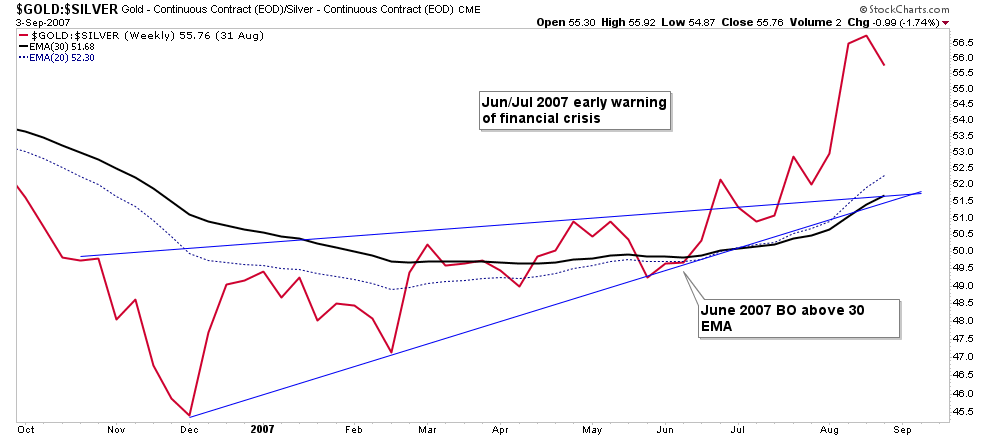 Financials vs General Index- Divergence at the top.
Back in 2007 the banks stock index peaked 7 months before the general indexes. This is what the GSR was indicating. We see it here in the below chart of the banks vs the SPX
(Click on image to enlarge)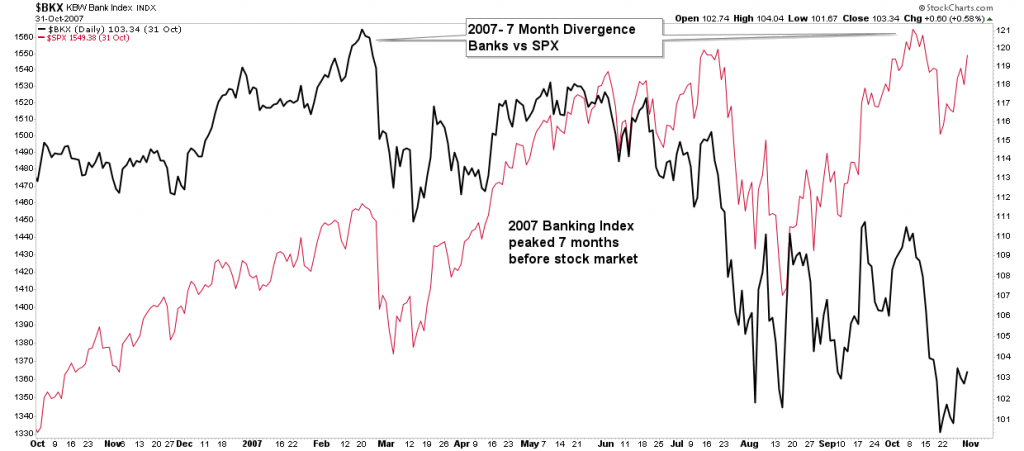 Today we see that the bank stocks appear to have peaked 3 months ago and are putting in a divergence to the SPX. Is this what the GSR today is forecasting?
(Click on image to enlarge)