NQ Emini Continues To Climb The Wall Of Worry Towards 14,000
(Click on image to enlarge)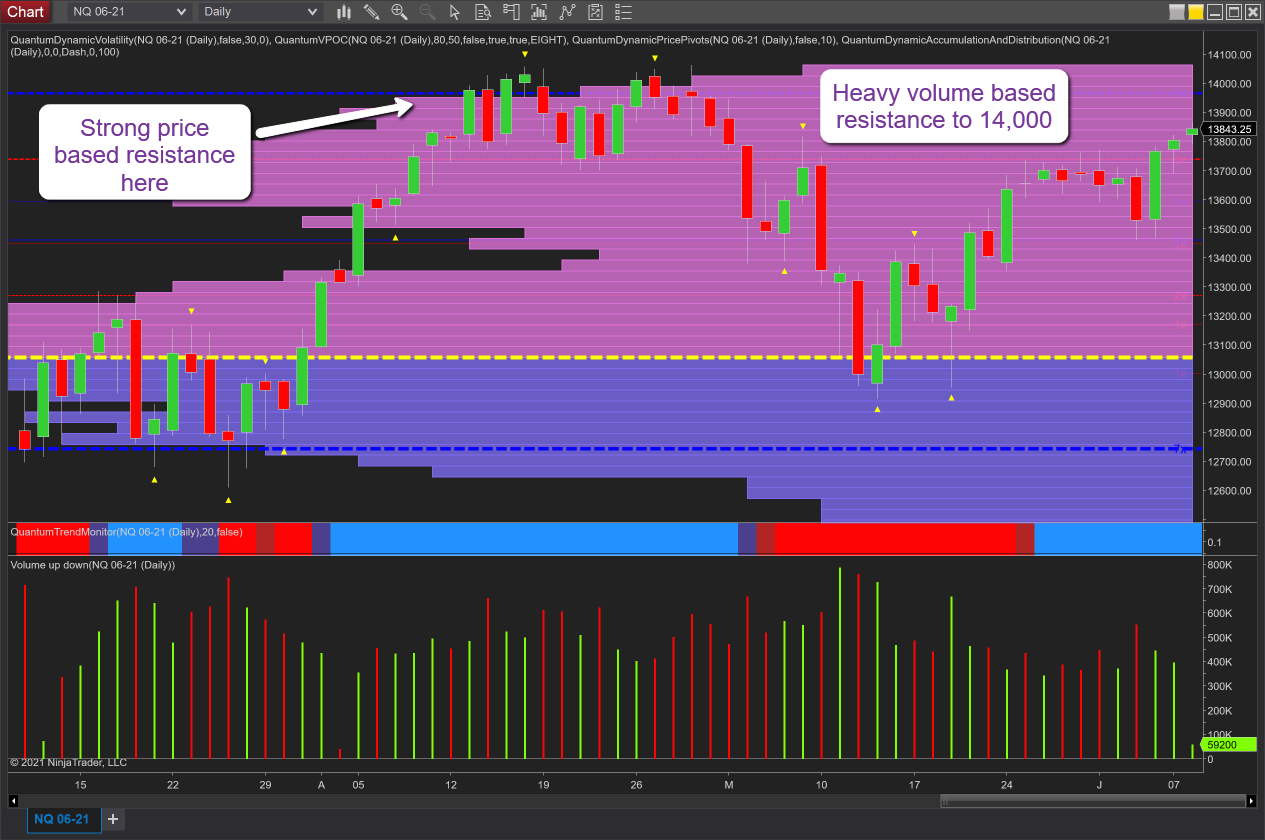 The Nasdaq NQ Emini continues to climb the wall of worry and in contrast to the YM Emini and the ES Emini which have both paused and remain fragile, the NQ pushes on higher on the daily chart. So what's in store for equity markets in general and for the Nasdaq 100 in particular?
Friday's candle ahead of the weekend was certainly positive with supportive volume, so price and volume in agreement and took the index through minor resistance at 13,740 denoted with the red dashed line of the accumulation and distribution indicator. However, it is not price-based resistance that is the issue at this level, it is the volume associated with the VPOC histogram which is dense, and only begins to fall away as we approach the 14,000 area, where we have a second and equally important price based resistance as can be seen on the daily chart where the thick blue dashed line defines this region and one which combines with the decline of the volume-based resistance.
So an important area in every sense, since a breach here coupled with a break and hold above the $14,000 will then combine in a powerful platform of support opening the way to further gains for the index. But, and it is a BIG but, we have to get there first, and so far the start of the week has been marked with lower volume. However, despite this, Monday's candle closed in positive territory with a deep wick to the lower body as the buyers moved in once more helping to retain the positive sentiment for the index. So far today we have seen a gapped-up open at the start of the session with the index creeping higher through 13,800 and on towards the elusive 14,000 level and caveat emptor comes to mind.
Disclaimer: Futures, stocks, and spot currency trading have large potential rewards, but also large potential risk. You must be aware of the risks and be willing to accept them in order to invest in ...
more