Non-GAAP Earnings Boost Executive Pay At The Expense Of Shareholders
Figure 1: Adjusted OIBDA Allows Executives To Constantly Hit Bonus Targets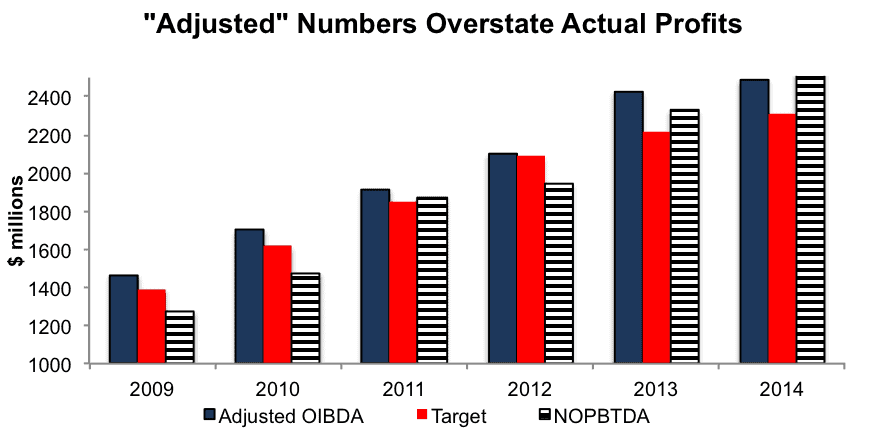 Sources: New Constructs, LLC and company filings.
As Figure 1 shows, DISCA just barely managed to hit its adjusted OIBDA target in each of the past six years, including 2012 when it surpassed the target by just $5 million. On the other hand, our own measure of Net Operating Profit Before Taxes, Depreciation, and Amortization (NOPBTDA) shows that DISCA missed its target in three out of the past six years.
The difference between the company's "adjusted" results and our measure? Well, it turns out adjusted OIBDA excludes stock-based compensation, so the executives get to exclude their bonuses from prior year when calculating their bonuses for this year. It also excludes ambiguous expenses such as "restructuring and other charges" and "certain inter-segment eliminations", which allows the company to bundle expenses into those line items and get their numbers where they want.
Executives Face No Accountability From Board of Directors
In theory, the Board of Directors should serve as oversight for the executives and make sure their compensation is tied to actual performance. In reality, the board tends to be either tightly tied to executives or even comprised of the executives themselves.
For instance, Jarden Corporation (JAH) uses an adjusted EPS that excludes items such as costs "primarily associated with rationalization of manufacturing and distribution facilities" in order to determine cash bonuses to executives. The three largest recipients of these bonuses in 2014 were Executive Chairman Martin Franklin, President Ian Ashken, and CEO James Lillie. Our Danger Zone report on JAH has more details.
Franklin, Ashken, and Lillie also hold seats on Jarden's Board of Directors. The group that's supposed to be protecting the interests of shareholders is instead comprised to a large extent of executives that can vote to give themselves bigger bonuses.