Nomura Has Just One Word As Treasurys Tumble
After going almost nowhere for 2 months, bond yields are sharply higher again after decisively breaking out of the descending triangle two days ago, having jumped 12bps in just the past 2 days (for a variety of reasons discussed most recently last night)...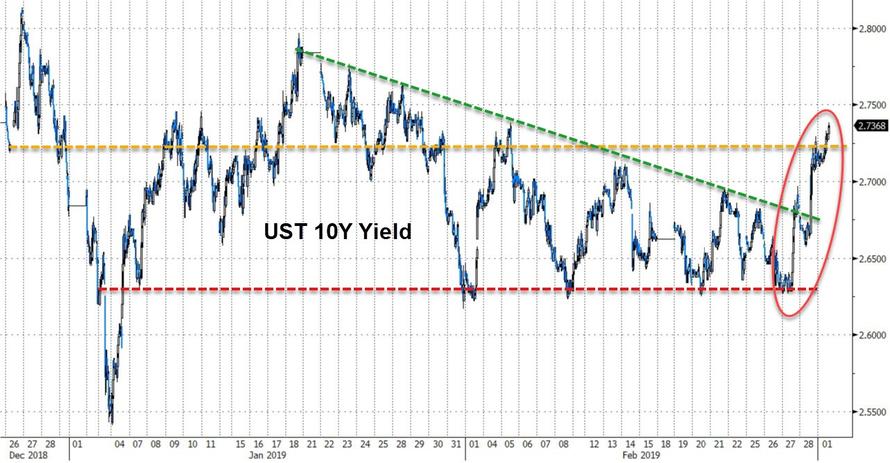 ... and this is great news to Nomura's Charlie McElligott who has been predicting the sharp curve steepening we are observing for the past 2 months, most recently two days ago when he doubled down his call for a resurgence in the "reflation trade".
Commenting on the latest sharp move higher in yields which is taking place alongside the "risk-on" rally in stocks together with the ongoing bonds bear-steepening, McElligott attributes it to two key drivers:
Bloomberg reported at 1:37am EST overnight that U.S. officials are preparing a final trade deal that President Trump and Chinese counterpart Xi Jinping could sign in weeks (with a summit as soon as mid-March);
At 6:30am EST, MNI came out with an exclusive story from government advisor "sources" stating that "China is set to announce further fiscal stimulus to boost a slowing economy, with measures likely to include raising the budget deficit, increasing quotas for local government debt and further cutting taxes and fees"
Having emerged as a key driver of the "reflation" narrative largely thanks to its record credit injection in January, China next week could see the announcement of reduced tax burdens, with policymakers and politicians gathering for the annual "Two Sessions" meetings, with "lower employer social insurance payments, value-added tax rate cuts and even corporate income tax (cuts)" all as possibilities according to Nomura. Additionally, Charlie adds that according to reports, the targeted budget deficit ratio will increase this year from 2.6% of gross GDP seen in 2018—and that even though "above 3% remains taboo," Jia Kang—the former head of a Finance Ministry research institute, told MNI that authorities should consider a budget deficit of 3% if not higher, noting the level was only a psychological threshold.