Next Recession: Turning Zero Percent Interest Rates Into A 21% Yield
If there is a new recession in the next few years, then it is highly likely that the Federal Reserve will take extreme measures in response, with the primary response being to swiftly knock short term interest rates back down to zero percent.
For many investors - the combination of recession, heavy-handed Fed interventions, and the return of zero percent interest rate policies (ZIRP) is likely to produce devastating results for their portfolios, and possibly their standard of living in retirement.
At the same time - some quite attractive profit opportunities will also exist, once we learn how to see them. This analysis explores one reasonably simple and practical alternative for turning zero percent interest rates into a 21% annual return.
This analysis is part of a series of related analyses, an overview of the rest of the series is linked here.
Turning Heavy-Handed Fed Interventions Into Cash
Many people fear that another recession could be on the way. As covered in previous analyses, we have a number of indicators are now warning of a possible 35th iteration of the business cycle (since 1854) - and a 35th recession - within the next one to two years.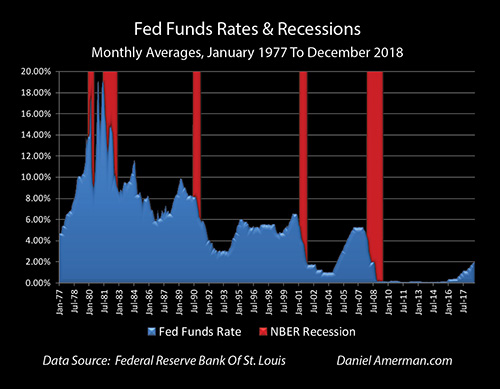 As shown in the graphic above, which is developed in a previous analysis linked here, we have a long history of how the Federal Reserve has responded to recessions. The red areas are the five recessions over the last 40 years, and as can be seen with the blue areas - Fed Funds rates plunge every time there is a recession.
This perfect correlation is not coincidence, but policy. Slashing interest rates is the primary tool that the Fed uses to try to jolt the economy out of recession. Because interest rates started at such a low level going into the 2007 recession, following this policy was why rates were forced to the extraordinary place of zero percent for what would end up being seven years afterwards.
It is visually obvious just how low the top of the blue area currently is, when compared to the starting points with the previous five iterations of the business cycle. With the Fed having possibly paused its cycle of increasing interest rates, this rate level or something only moderately higher may be the starting "peak" before a potential new recession.
So, if a recession does hit within the next one to two years then, as developed in previous analyses (and as can also be determined by studying the minutes for Federal Open Market Committee meetings) the almost certain response of the Fed will be to slam interest rates straight back down to zero percent.
That combination of recession and a return to zero percent interest rates would create financial hardships for many millions of people while likely dramatically changing prices and returns in virtually all investment markets, including 1) bonds, 2) stocks, 3) real estate and 4) precious metals.
It would also create some unusually good profit opportunities - that can be identified in advance.
We will start with a particularly simple investment - the 10 year U.S. Treasury bond - and use it to practically illustrate one real-world investment strategy, with much broader implications.
Core Valuation Of Cash Flows
The core principle that underlies almost all securities pricing is that of profits and the time value of money. We spend money now, and we get money back in the future. How much money we get back and when we get it back - relative to what we put in - is what determines our profits and our return on investment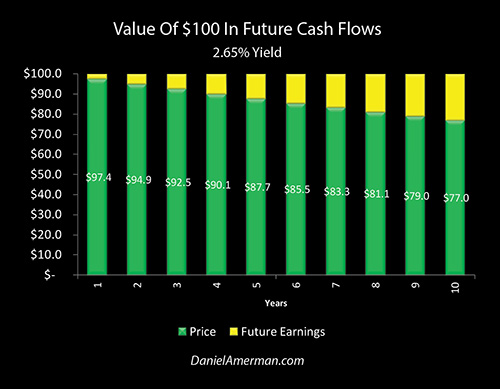 The graph above shows how much $100 in the future is worth today, for years 1 to 10 and at a 2.65% yield. The 2.65% yield is not random, but is the approximate yield on 10 year U.S. Treasury bonds at the time this analysis was originally prepared.
Disclosure: This analysis contains the ideas and opinions of the author. It is a conceptual and educational exploration of financial and general economic principles. As with any ...
more