Newsletter - Weekending September 24
Why it matters: Treasury has almost unlimited financial power.
Treasury secretaries seen as being friendly to Wall Street — think Robert Rubin, Larry Summers or Tim Geithner — invariably exit to multimillion-dollar salaries in the financial sector. Steven Mnuchin has managed to do even better for himself.
Driving the news: Mnuchin has raised $2.5 billion so far for a private equity fund, including from Saudi Arabia, a country toward whom he was notably friendly while in office. If the fund is structured with a standard 2% management fee, that's $50 million per year right there for Mnuchin and his colleagues, before they make a single penny from investment returns.
What we're reading: The New York Times has an in-depth story about how accountants cycle into Treasury, do a tour of duty there that often involves enforcing the law in business-friendly ways, and then cycle straight back out to their own firms "with loftier titles and higher pay."
The bottom line: As Summers himself says, "The real scandal is not the illegal things people do, rather it's what is legal."
5. Coming up: Warby Parker goes public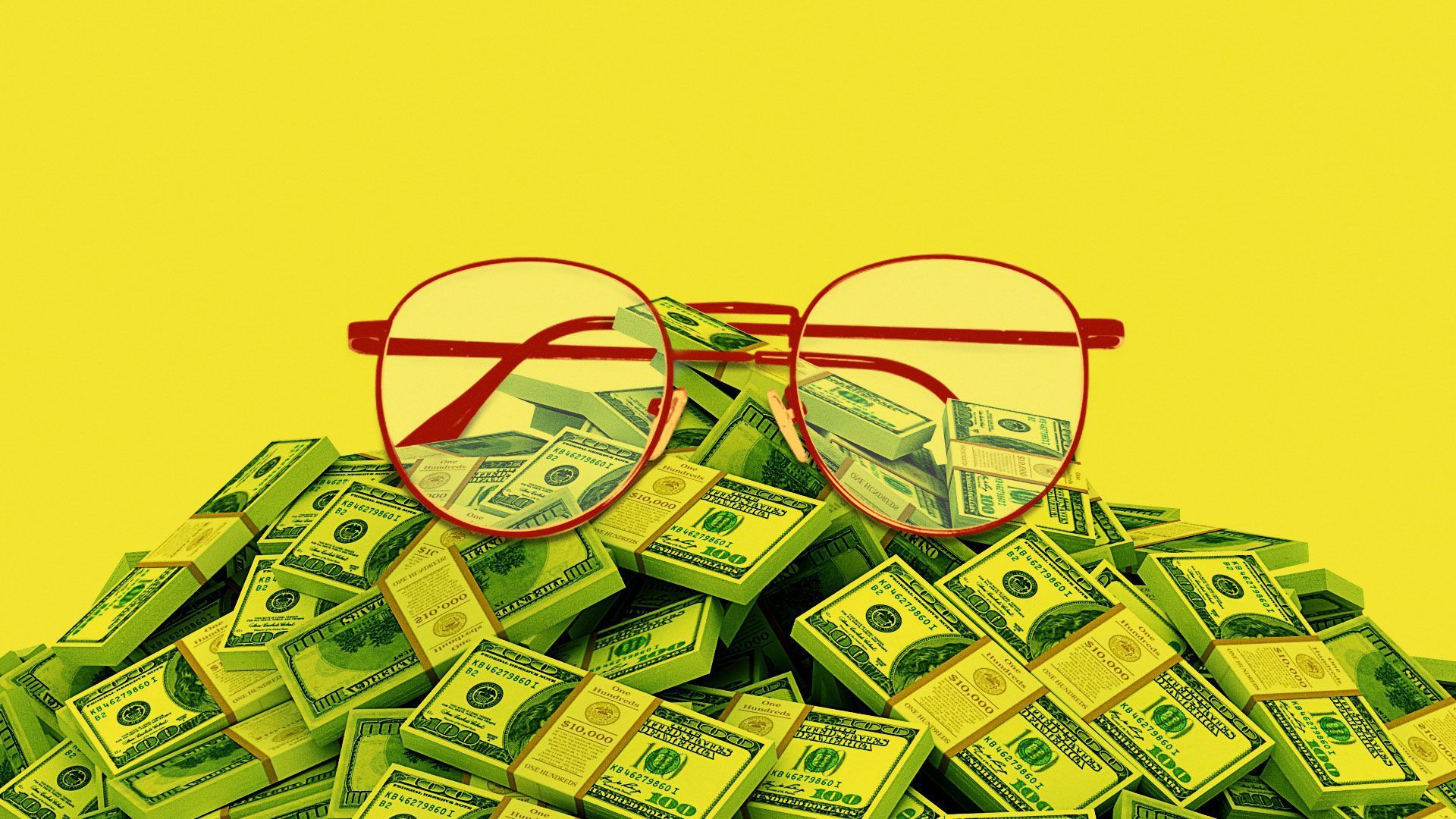 Illustration: Eniola Odetunde/Axios
Shares of Warby Parker are set to begin trading on the New York Stock Exchange next Wednesday, Axios' Hope King writes.
Why it matters: The direct-to-consumer eyewear maker is going public via a direct listing, which means there's not going to be an IPO price.
Its shares have traded privately this year at $24.53 each; if the company trades on the public markets at that level, it would be worth roughly $2.7 billion.
6. Building of the week: L'Arc de Triomphe, wrapped
The posthumous triumph of Christo and Jeanne-Claude, their L'Arc de Triomphe, Wrapped, was first conceived in 1961.
What they're saying: "Seen up close, the wrapped arch is an almost nonsensical sight. The monument is more than 160 feet tall and nearly as wide; rippling fabric doesn't make sense for a structure of this scale," writes CityLab's Kriston Capps.
French president Emmanuel Macron called it "a crazy dream come true".
The arch will be unwrapped and restored to its former state on Oct. 3.