Newsletter - Weekending September 24
The bottom line: Congress often waits to see market panic before acting. In a weird way, the worst outcome for the United States might be that the country defaults and the market barely wobbles. That could push the brinkmanship — and individual hardship — to even more ludicrous extremes.
3. The world's biggest no-big-deal default
Data: FactSet; Chart: Axios Visuals
The monster debt crisis that utterly failed to cause any catastrophe this week was that of Evergrande, the Chinese property giant.
Why it matters: Evergrande's share price has collapsed to pennies, its bonds are pricing in a default with very limited recovery, and even its customers are demonstrating across China. But so far the broader repercussions have been minimal.
Driving the news: Global markets fell on Monday on fears that Chinese markets would collapse on Wednesday morning, when they reopened after a two-day holiday for the Mid Autumn Festival. When Shanghai did reopen on Wednesday, it closed the day up rather than down.
Between the lines: A deal with domestic bondholders, combined with the company's deep political connections at both the national and local levels, have combined to reassure investors that the Chinese government will contain any fallout.
Why it matters: Evergrande is the first big test of the global financial system — and especially the Chinese financial system — since the pandemic-induced chaos of March 2020, when central banks around the world were forced to take unprecedented measures to prevent total collapse. So far, world markets seem to be coping just fine.
Context: By any measure, an Evergrande debt default is likely to be one of the largest in history of the world.
To put its $305 billion debt load in perspective, Argentina's massive foreign-debt default in 2001 was about $93 billion; Greece's restructuring in 2012 was about $200 billion; and Lehman Brothers had about $600 billion in debts when it filed for bankruptcy.
Those defaults shook entire economies. Evergrande, by contrast, seems to have been successfully contained.
Between the lines: Evergrande debt has always carried a low junk rating, and the company was being described as "the biggest pyramid scheme the world has yet seen" as long ago as 2017. As a result, investors in Evergrande (EGRNF), much like investors in bitcoin or GameStop (GME), were acutely aware that they were taking a big risk.
Financial crises generally happen when (seemingly) safe assets unexpectedly default, not when risky assets do something that was largely foreseen.
The bottom line: It's normal and healthy for markets to fall when giant companies fail. The fact that Chinese markets have been so sanguine this week implies the existence of some kind of "Xi put" — and the idea that Evergrande is, ultimately, too big to fail.
4. The Treasury Department's lucrative revolving door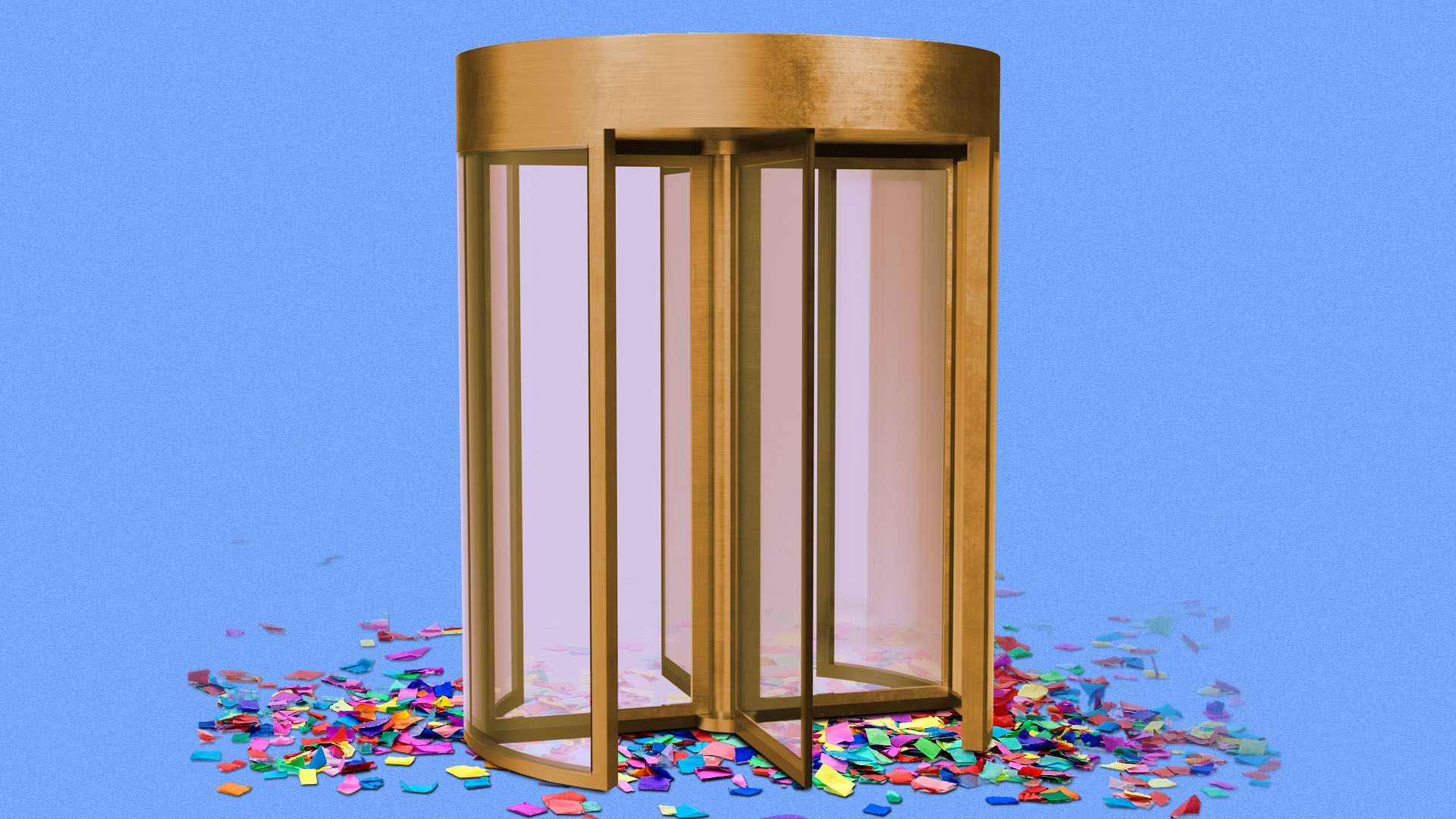 Illustration: Sarah Grillo/Axios
A lot of government agencies can propel their public-sector employees into high-paying private-sector gigs. Sitting squarely at the top of the list is the Treasury Department.