Natural Gas Is November's Winner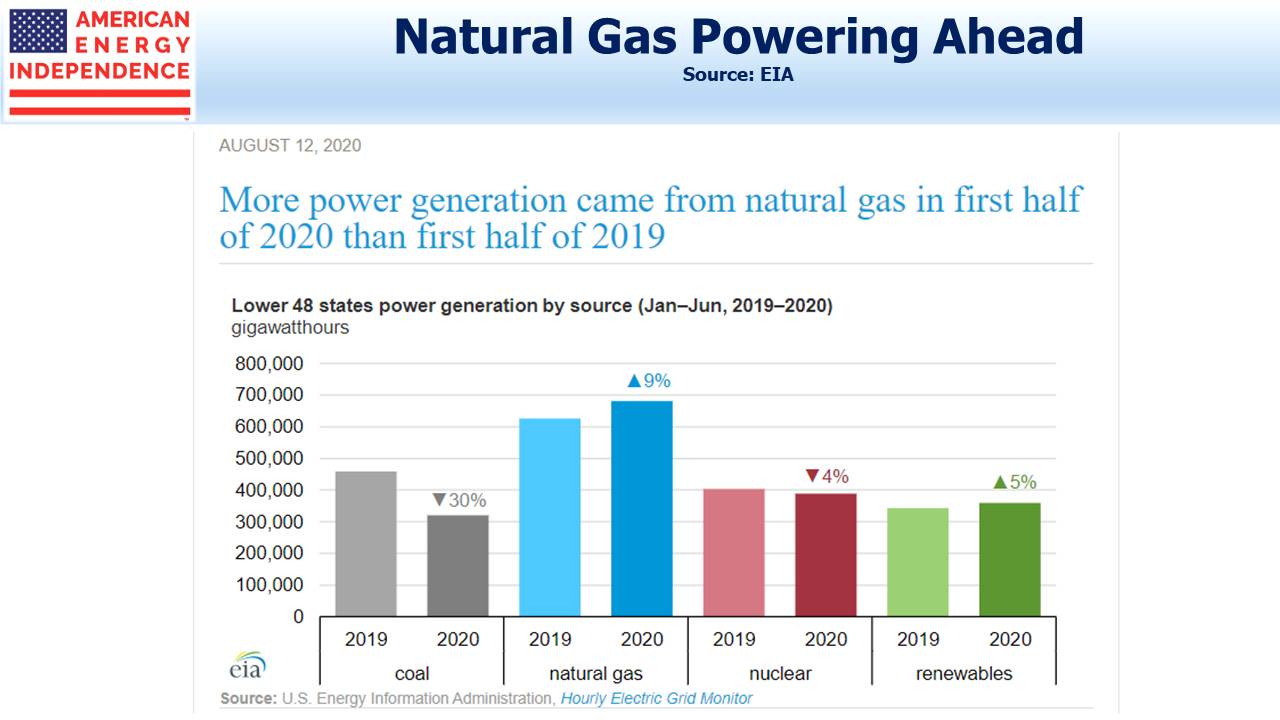 Citi Research calculates that retiring the nation's coal plants at a uniform rate would take approximately 10 Gigawatts (GW) of power offline annually. Assuming these plants are running at 48% capacity, as was the case last year, the country would need to add 4.8 GW of new natural gas power every year, requiring about 1 Billion Cubic Feet per Day (BCF/D).
Foreign demand is also increasing — both China and India have long term plans to use more natural gas. Nord Stream 2, which is being built to supply more Russian gas to Europe, continues to draw U.S. sanctions which may yet impede its ultimate completion.
Last year, the U.S. produced 92 BCF/D of natural gas, consuming 85 BCF/D domestically with the difference made up by exports (5BCF/D) and withdrawals from storage (1.4 BCF/D). Decommissioning coal plants could increase domestic demand by 1% or so annually.
So far, cheap natural gas has motivated the switch away from coal. Citi expects higher prices to reduce the economic advantage, but also believes this will stimulate increased production by 2022.
Although Trump's election victory was welcomed by energy executives, their enthusiasm for a Republican administration freed their animal spirits in recent years, and investors have borne the cost. A pro-fossil fuel administration has been an excuse for many upstream and a few midstream companies to dump financial discipline and allocate capital with overly optimistic assumptions.
It may seem perverse, but a Biden victory could be good for pipeline investors, because it would impose a more cautious assessment of new projects. An industry held responsible for climate change by extremists in the president's party would more likely be parsimonious in spending its cash.
New greenfield pipeline projects are already a non-starter because of relentless legal challenges, which many investors have welcomed (see Environmental Activists Raise Values on Existing Pipelines). Solar and wind projects are just as vulnerable to the same delaying tactics using the court system. New England is famously opposed to new pipelines (see An Expensive, Greenish Energy Strategy). But in 2017 an offshore wind project also fell victim to interminable delays, from property owners defending their ocean view (see After 16 Years, Hopes for Cape Cod Wind Farm Float Away).
The information provided is for informational purposes only and investors should determine for themselves whether a particular service or product is suitable for their investment needs. Graphs and ...
more