MSG Networks May Be Up For Sale
MSG Networks Inc. (MSGN) is engaged in production and content development which comprised of sports and entertainment networks, MSG Network and MSG+ as well as MSGNetworks.com and MSG GO. MSG Networks Inc., formerly known as Madison Square Garden Company, is based in New York.
These days many assert that "content is king" and, in the case of Madison Square Garden networks, we may be seeing a test of that maxim. Media reports starting last week indicate that entity is being shopped around as owner James Dolan seeks to raise cash in order to fund a bid for Madison Square Garden itself.

MSG Networks receives a high rate for every subscriber to its content, which includes the games of the NY Knicks, Islanders, and Rangers, the New Jersey Devils, and other big-market franchises. While ESPN, a national network, receives @7/subscriber from cable providers, Dolan charges them $5/subscriber.

MSG Networks is relatively new, and this move is not unexpected given the fact that many predicted this course of action when the spin-off occurred less than two years ago.

Verizon, AT&T, and other telecom giants are the expected suitors, but regulatory issues apply here and some of the giants may avoid the purchase at a time when they are under increased scrutiny from the FCC and other regulatory bodies.

The stock has been up of late, and it is highly rated by our models. We have had a BUY or STRONG BUY on the stock for much of the past six months. We calculate the stock to be undervalued, and that is a good sign for an impending purchase since the offer may more approximate value represented by the fundamentals than the current market price.

Below is today's data on MSG Networks Inc. (MSGN):

VALUENGINE RECOMMENDATION: ValuEngine continues its STRONG BUY recommendation on MSG Networks Inc. for 2017-04-07. Based on the information we have gathered and our resulting research, we feel that MSG Networks Inc. has the probability to OUTPERFORM average market performance for the next year. The company exhibits ATTRACTIVE P/E Ratio and Momentum.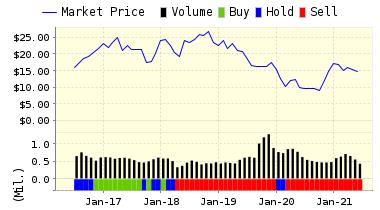 ValuEngine Forecast

Target
Price*

Expected
Return

1-Month

24.54
1.39%

3-Month

24.03
-0.71%

6-Month

24.03
-0.71%

1-Year

28.25
16.75%

2-Year

21.02
-13.14%

3-Year

18.16
-24.96%
Valuation & Rankings

Valuation

49.03% undervalued

Valuation Rank(?)

95

1-M Forecast Return

1.39%

1-M Forecast Return Rank

100

12-M Return

47.65%

Momentum Rank(?)

82

Sharpe Ratio

-0.12

Sharpe Ratio Rank(?)

38

5-Y Avg Annual Return

-7.63%

5-Y Avg Annual Rtn Rank

33

Volatility

61.28%

Volatility Rank(?)

27

Expected EPS Growth

-6.11%

EPS Growth Rank(?)

15

Market Cap (billions)

1.88

Size Rank

71

Trailing P/E Ratio

10.57

Trailing P/E Rank(?)

92

Forward P/E Ratio

11.26

Forward P/E Ratio Rank

80

PEG Ratio

n/a

PEG Ratio Rank

n/a

Price/Sales

2.80

Price/Sales Rank(?)

38

Market/Book

n/a

Market/Book Rank(?)

n/a

Beta

-1.07

Beta Rank

95

Alpha

0.45

Alpha Rank

90