More Fluctuations - Bottom Or Just Pause Before Another Sell-Off?
The U.S. stock market indexes were mixed between -0.5% and +0.3% on Friday, extending their short-term fluctuations, as investors continued to hesitate ahead of the quarterly corporate earnings releases, among other factors. The S&P 500 index is currently 5.9% below its September the 21st record high of 2,940.91. The Dow Jones Industrial Average gained 0.3% and the Nasdaq Composite lost 0.5% on Friday.
The nearest important level of resistance of the S&P 500 index remains at around 2,780-2,800, marked by the recent fluctuations. The next resistance level is at 2,825-2,830. On the other hand, the nearest important level of support is at 2,750, marked by the recent local lows. The support level is also at 2,710-2,730, marked by October the 11th local low and the long-term trend line.
The broad stock market continued retracing its medium-term advance recently, as it got closer to 2,700 mark. Then it retraced some of the short-term decline. On Tuesday a week ago the index broke above the resistance level of around 2,800. On Wednesday we saw a short-term consolidation. Then stocks sold off again on Thursday. Will the market resume its downtrend and break below the long-term trend line? The support level remains slightly above 2,700 mark: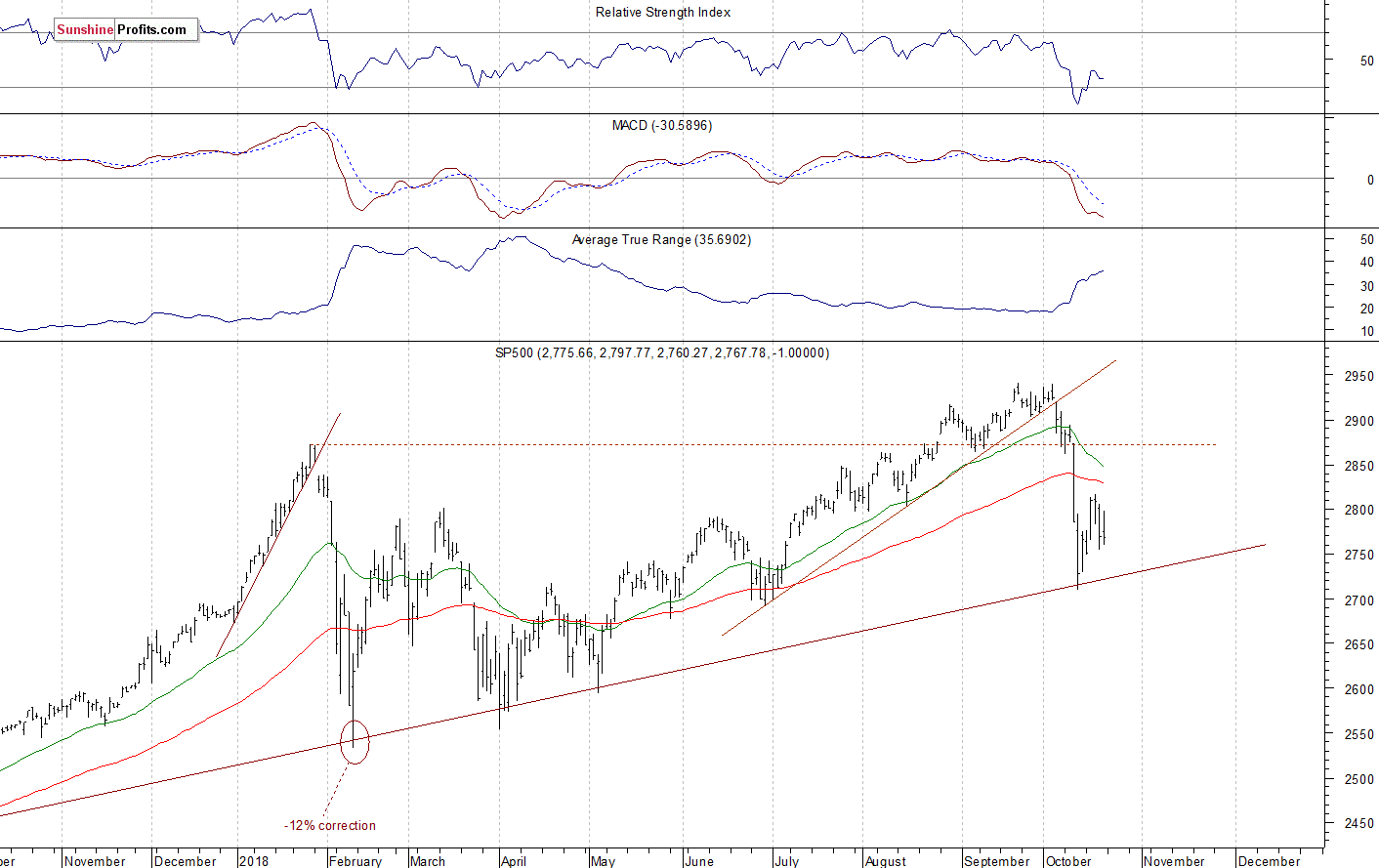 Positive Expectations
Expectations before the opening of today's trading session are positive, because the index futures contracts trade between +0.3% and +0.5% vs. their Friday's closing prices. The European stock market indexes have gained 0.3-0.6% so far. There will be no new important economic data announcements today. The broad stock market will likely extend its short-term consolidation. For now, it looks like a consolidation following the recent sell-off. If the S&P 500 breaks below the support level of 2,700, we could see more selling pressure.
The S&P 500 futures contract trades within an intraday consolidation following an overnight advance after opening lower. The nearest important level of support is now at 2,750-2,760. The support level is also at 2,735-2,745, marked by some recent local lows. On the other hand, the resistance level is at 2,780-2,785. The next resistance level is at 2,800. The futures contract trades below its almost week-long downward trend line, as we can see on the 15-minute chart: