EC

Mindbody IPO Lockup Expiration Warrants Your Attention
Mindbody, Inc. (NASDAQ:MB)
Sell or Short Recommendation
$17.25 Price Target
December 16, 2015, concludes the 180-day lockup period on Mindbody, Inc.
When the lockup period ends for Mindbody, its pre-IPO shareholders, directors and executives will have the chance to sell their ~30 million shares.
(Click on image to enlarge)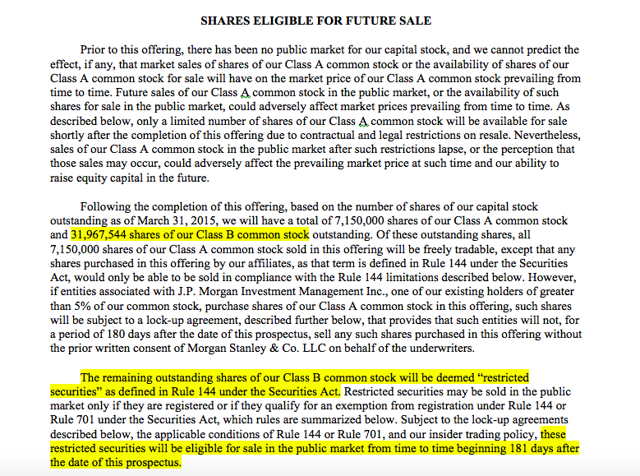 We previewed MB on our IPO Insights platform.
The potential for a sudden increase in stock available in the open market may cause a significant decrease in Mindbody shares.
Business Summary: Cloud-based platform that offers management and payment tools focused on the wellness service provider sector
Cloud-based software that provides management and payment tools for specific industries remains popular, and Mindbody software focuses on the wellness service provider sector. The company has over 50,000 local business subscribers across 130 countries. These subscribers provide wellness services to more than 27 million consumers via 250,000 wellness practitioners.
The integrated management and payments platform streamlines a variety of tasks for SMBs, which in turn allows entrepreneurs to focus on building their client base, growing sales revenue, and offering services to clients that allow them to evaluate and improve their overall health and wellness. CurrentlyMindbody is the largest online platform that focuses primarily on the wellness services sector.
The Mindbody platform offers a wide range of typical business tasks such as managing staff members, class and appointment schedules, online bookings, client data, payroll, inventory, and sales for such endeavors as yoga, Pilates, martial arts, dance exercise, indoor cycling, personal training, barre, in addition to integrative health facilities, dance studios, children's activity centers, spas, and salons.
The software is designed specifically for SMBs, and its supported on Android, iPhone, iPad, Mac, Windows, Web-based, and Mobile Web App for mobile devices. It is supported across the United States, United Kingdom, Latin America, Germany, Europe, Canada and Australia for English, French, German and Spanish languages.