Mexican Peso Fundamental Forecast: Dependent On Presidential Election Outcome
USD/MXN FUNDAMENTAL FORECAST: NEUTRAL
This past week we've seen uncertainty return to the markets and the Mexican Peso losing its winning streak against the US Dollar as US stimulus hopes fade given political impasse in Congress. The safe-haven Dollar managed to regain some upside momentum as traders fled from riskier assets in another intense selling spectacle in equity markets. USD/MXN managed to regain the 21.50 mark on Thursday but solid selling pressure continue to keep upside momentum capped.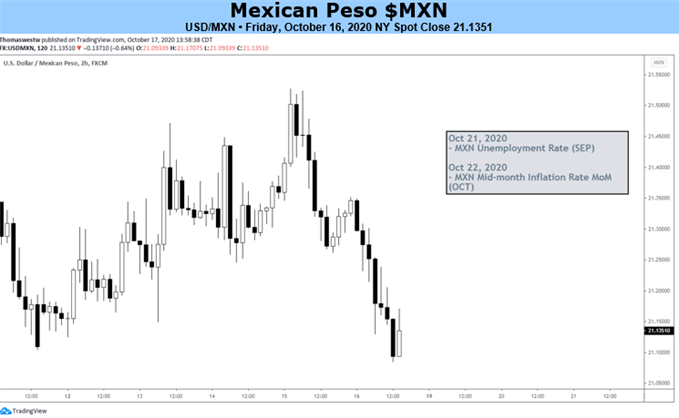 Fundamentally, the Mexican Peso isn't predicted to perform too well in the lead up to November 3rd as a contested election is likely, and the Mexican currency performs best when there is political stability an market optimism. Despite Biden having a lead in the polls, Donald Trump has already stated he will not offer an easy transition of power if he is seen as the loser, given he believes that mail-in voting is inefficient. This uncertainty is likely to keep a solid bid in the Dollar even if the Democrats continue to hold a solid advantage.
US Dollar (USD) Presidential Election Performance May Prove Anything but Typical
That said, the long-term effect of the elections on the Mexican economy are somewhat unclear. This is likely to depend on the future of the commercial relationship between the North American countries. Despite the US and Mexico having a largely stable relationship over the last few years, this situation depended mostly on Donald Trump's mood swings and sudden bursts of protectionist measures. Analysts predict that a Biden presidency will bring more stability to commercial relationships, whilst promoting transparency, which would be a big boost for the Mexican Peso.
A lot is also going to depend on the stimulus efforts unveiled by the next President, as the Mexican economy is largely dependent on the recovery of the US economy, and some analysts believe that Biden is unable to offer the kind of support the economy needs right now. Also, let us remind ourselves that Kamala Harris was one of the 10 senators that voted against the creation of the US, Mexico and Canada trade agreement (USMCA) which passed congressed in January this year as the new ratification of the North American Free Trade Agreement (NAFTA).
Disclosure: See the full disclosure for DailyFX here.