Markets Mixed Ahead Of Barrage Of News As Gold Hits 6 Month High
In a session that has seen global markets drift around ahead of a barrage of key events and gold climb to a seven-month high...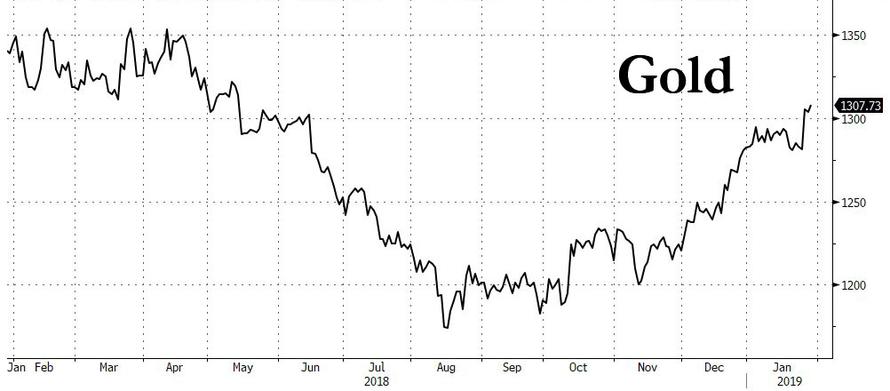 ... European stocks reversed modest early losses to trade 0.8% higher, with UK's FTSE 100 rising 1.4% as cable fluctuated ahead of today's "Plan B" Brexit vote, with S&P futures erasing early losses in Asia to trade flat, some 12 points off sessions low as markets opted for caution before three major macro events and a blizzard of big tech company earnings in the coming days.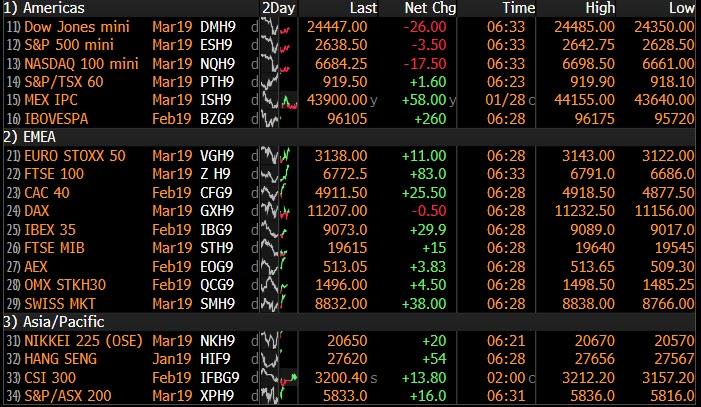 Despite the upcoming action - a key Brexit vote in the UK, Wednesday's Fed decision, Thursday's conclusion of the latest Sino-U.S. trade talks and Friday's payrolls - European and Asian stocks held up relatively well, however news that the U.S had leveled charges against China's telecom giant Huawei days before the next round of trade talks between Washington and Beijing knocked sentiment. That, however, was offset by promises of more economic stimulus from China, which had berated Washington on Monday for blocking the appointment of judges for its World Trade Organisation appeal against U.S. tariffs.
As SocGen's Kit Juckes writes overnight, traders are puzzled by various market inconsistencies, with more questions about what's NOT happening in markets than about what is going on, such as: "Why didn't Mario Draghi's admission of downside economic surprises weaken the euro? And why didn't the end of the US government shutdown give Treasury yields a nudge higher?"
In short, markets are in limbo, waiting for new news and with the FOMC and the payroll data due later this week.
"Investors are very cautious with many uncertainties on U.S.-China trade talks and Brexit. Huawei is at the center of dispute, creating very noisy background for the trade talks," said Margaret Yang, a market analyst at CMC Markets. "All these are making it more difficult for investors to judge the market's direction. Money is fleeing into assets such as gold, seeking safety."
Indeed, as noted above it was a mixed picture across global stock markets on Tuesday, with European shares climbing, U.S. futures trimming a drop and Asian equities slipping as investors juggled concerns about the fallout from America's trade war with China against hopes for progress in this week's talks offset by yesterday's criminal charges against Huawei and formally seeking the extradition of its CFO. Personal goods and travel companies were among the biggest gainers in the Stoxx Europe 600 Index as most sectors turned higher following a directionless start.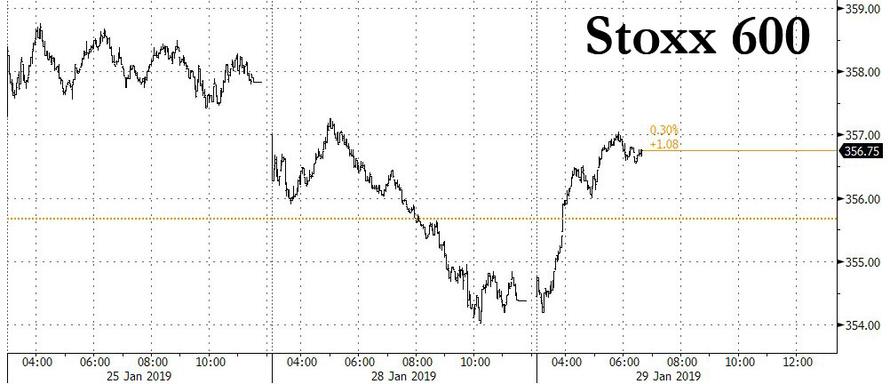 Meanwhile, in the US, Dow Jones, S&P 500 and Nasdaq futures all showed U.S. stocks were heading for a lackluster open especially after poor guidance by 3M and Pfizer, as focus turned to Apple's earnings report. PG&E tumbled in pre-market trading after the U.S. utility sought bankruptcy protection with $52 billion in debt.
Markets will have more catalysts this week with over 100 of the S&P500 companies reporting results, including Amazon, Apple and Facebook. Overnight on Wall Street, the Dow and S&P 500 each closed down 0.8 percent and the Nasdaq was off more than 1 percent. The losses came after Caterpillar and Nvidia Corp joined a growing list of companies cautioning about the crippling effects of softening Chinese demand.
In Asia, shares were mixed, with losses for Australia and New Zealand, with their benchmark indices down 0.5 percent and 1.2 percent respectively. Japanese and Chinese stocks both recovered from early wobbles to finish in the green. Technology stocks underperformed after American prosecutors filed criminal charges against Huawei. Worryingly, earnings at China's industrial firms shrank in December, pointing to more troubles for the country's vast manufacturing sector, which are already struggling with a decline in orders, job layoffs and factory closures.
China Foreign Ministry expressed serious concern regarding US charges on Huawei and its CFO, whilst strongly urging the US to halt unreasonable suppression of Chinese companies and asked US to withdraw arrest order for Huawei's CFO. China Minister of Industry and Information Technology Miao said China will continue to lower taxes and fees for SMEs, while China will also significantly reduce the investment negative list.
As Bloomberg notes, after a robust start to the year for equities, investors are looking for reasons to chase the rally in a corporate earnings season that's been mixed so far. Against the backdrop of U.S.-China stress and geopolitical tensions in Venezuela they also need to navigate the Federal Reserve rate decision, developments in the U.K.'s Brexit process and a potential slew of American economic data that was delayed by the government shutdown.
"Even though this has been a good start of the year,'' investors now "want to be kind of defensive,'' Ben Emons, managing director of global macro strategy at Medley Global Advisors, said on Bloomberg TV. "Earnings will not grow strongly, and we still deal with leverage in the corporate sector that has not been unwound in any way.''
Most European government bond yields were little changed. Weaker economic data and unknowns like the trade feuds and Brexit have all boosted expectations that interest rates will stay low. European yields little changed to 2bps higher across core and periphery, 10-year gilt yield 1bp higher, 10-year UST yield 1bp lower.
New debt deals from Greece, Belgium and Austria were also in the pipeline. The slide in rates has also encouraged governments to launch new bond deals. Even Angola, which has just taken IMF aid, said it was eyeing a bond sale.
The U.S.-Sino moves, as well as bets that the U.S. Fed will sound more cautious on Wednesday, kept the dollar near a two-week low and heightened the safe-haven appeal of the Japanese yen and the Swiss franc. The Bloomberg USD index also little changed within a tight range, with NZD leading G-10 gains and GBP lagging, although sterling off its worst session level ahead of key parliamentary Brexit votes after the London close.
Sterling held at $1.3166 and 86.88 pence to the euro before crucial votes later in the day aimed at breaking a deadlock in the UK parliament over Brexit. The pound has rallied 6 percent from Jan. 4 lows, but further gains may be limited unless lawmakers emerge with a big majority on the votes.
In commodities, WTI and Brent trade 1.1% and 1.3% higher respectively. West Texas crude edged higher as the U.S. slapped a de facto ban on oil from Venezuela. Emerging-market shares and their currencies were steady. Gold rose to highest level since June.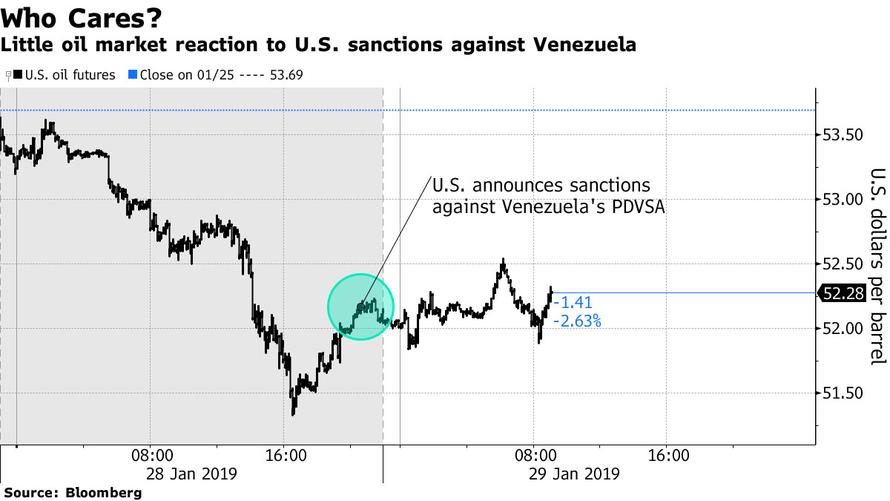 Expected data include Conference Board Consumer Confidence, while the government shutdown will delay some reports yet this week and next. Apple, Danaher, Harley-Davidson, Lockheed, Pfizer, and Verizon are among companies reporting earnings.