Market Talk - Thursday, Jan. 3
The USD was the figure of attention overnight for Asia as it surged against the Turkish Lira, Euro, Sterling, and the A$, but saw short-covering stops taken on the Yen. The warning heard from Apple over its Asian sales forecast and growing concerns for global growth triggered the sudden safe-haven flurry into the Yen. Obviously, the Nikkei has not had a chance to react as it remains closed for national holidays, but interesting that they are bidding up volatility making it more expensive to hedge long exposure. The Shanghai (-0.05%), Hang Seng (-0.3%) and SENSEX (-1%) all returned early gains as this news weighed on momentum. Most currencies have rallied back against the US Dollar in late US trading, as the Yen retains its ground.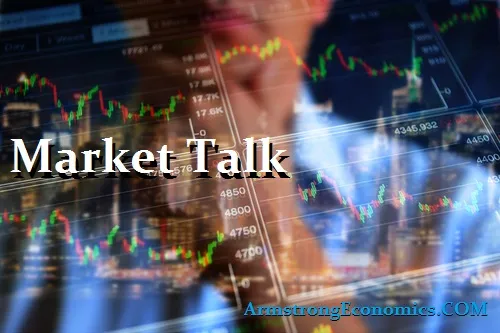 Europe too suffered from the Apple announcement, as tech stocks were sold and global growth fears spread. Both the DAX and CAC lost 1.5% and the only thing that eased the UK FTSE's decline (-0.6%) was the then -0.5% loss on the currency. Worth keeping an eye on currency movements against the domestic stock markets. As many will be very happy to see the end of 2018's stock market returns, worth noting that investing in the DOW would have resulted in a 6% decline in USD terms, but a +2% and a flat return in Sterling and Euro respectively. Conversely, a US investor buying either the FTSE or DAX would have lost 18% and -24% respectively. Italian FTSE MIB closed lower again today down -0.6% but it was the Italian bonds (BTP's) that added 17bp to its 10yr yield to close at 2.86% as the tensions persist. Still quiet on the BREXIT front, but as we know it only takes one headline to spark that debate yet again.
US cash was again expected to open lower as they waited for more information on the Apple Sales warning announcement. Shares were halted in early trading after Tim Cook's letter but opened down 8% upon reopening. Sentiment remained heavy for much of the trading day with bounces short and sharp yet rejected. The ISM data release just added to the slowdown fears and as a result, saw large falls for Copper and Treasury Bond yields. The market has quickly re-priced the forward curve with now no hikes due for 2019. Worth noting the yield spread between Treasuries and European government bonds – as an indication of what the market sees as safety! The Dow finished the day off 616 points (-2.64%), S+P -2.5% and the Nasdaq down over 3%. Tomorrow we will hear the next installment from the FED and also know the final employment number to close 2018.