Market Talk - Thursday, Dec. 27
Although dealing desk will still be on skeleton staff until January 2nd, all will be receiving calls and checking levels today after the scare following the Christmas Eve scare. Markets globally, drop from 2% – 4% Monday, but with volumes extremely thin. From Asia to the US, fears were spreading as talks of regulators being called to explain this global bias. The weakness of US markets has been blamed partly between ETF derivatives, the lack of players and thin seasonal trading conditions. However, what we are have seen is that both Asia and Europe suffer heavy losses, but are not seeing the size of recovery seen in US markets. The Nikkei is seeing 5%+ daily swings, but then so are the US markets with the one difference being the currency theme.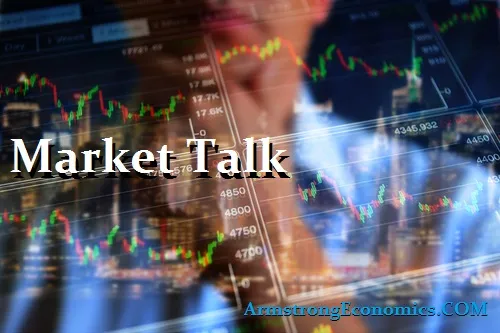 Europe continues to suffer from some key names still under significant declines even raising questions of continuity! Deutsche Bank shares fell to 6.68 today a decline of 58% YTD. Lots of talk of European names liquidating US paper not as a trading strategy but for survival. Financials and autos have had a combined effect on the DAX this year and have resulted in one of its worst years in history. Declining over 20% year to date results in many questioning long-term pensions and portfolio returns for growth. On the day, core Europe was showing signs of improvement in morning trade, but the declines seen when US markets turned proved far too influential.
Overnight we saw Dow futures rally over 1000 points on stalk US was to restrict Chinese imports whilst promoting domestic goods. US cash, however, saw another wild day with an 800 point trading range. Many are searching for a reason to explain these moves, but when volumes are so low and large players are side-lined, markets just move from order to order. This volatility is having a knock-on effect on margins calls, market-makers and risk models. Fortunately, buyers were found for the Dow and we saw a 650 point decline result in a 250 points higher close. Another repercussion is the steepening of the Treasury curve, with 2/10's now out to +19bp). In late trading, we are seeing selling in the Yen as the Nikkei futures rally.