Market Talk - Friday, Sept. 21
A solid day for Asia following record highs for the Dow and S+P. The Shanghai wasn't too sure at the opening, but then mid-morning managed to find a bid and accelerated into the weekend. This acceleration did not stop until it recorded a 2.5% rally for the day. Talks are that both China and the US are nearing the point they will discuss the trade issue, but that could be more wishful thinking and that is certainly the way the Shanghai index reflected it. The Hang Seng also added 1.73% helped by confidence numbers released in Japan during the day. The hot topic, however, was the FX move after what is normally a quiet pair, saw a 0.6% appreciation within minutes. Lots of talk looking for a reason, but it was a large move with little news so expect more next week because it can! The Nikkei helped by economic release added 0.82% but continues to watch the Yen lose ground. This evening we watch as it trades high 112's, could be vulnerable into quarter end. A quiet day for India, but the trend remains the same – stronger SENSEX, weaker currency.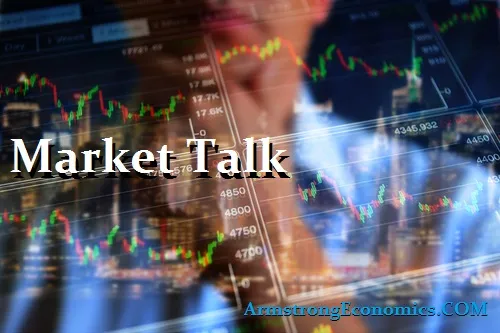 Core Europe saw both the CAC and DAX move +0.8% ahead today, but the big news was surrounding BREXIT again. UK PM Theresa May said that the UK and EU may be at an 'impasse' and that was all that was needed to wipe much of this week's gains off of Sterling. By the close this evening we had seen the Pound down around 1.5% and struggling to remain above the psychological 1.30 level. FTSE was the seesaw for this trade as it closed up 1.67% on the day. The big buyer was in helping European fixed-income with spreads narrowing across peripheral and maturity. Europe is having a difficult time, especially as economic data cannot be relied upon to support recent enthusiasm. Today PMI weaker than anticipated at a time when they could do with some of the optimism the USA is seeing. Very much a poor reflection of US markets, but with the indices nowhere near their 52week highs, money should continue to leave for the Dollar.