E

Market Briefing For Monday, June 10
The 'balance of power' in this market does not depend so much on more Fed moves; though that's been telegraphed for some time based primarily on sluggish 'real world' economic activity; not political or Wall Street 'masks' that attribute everything to Jobs or the Fed paying attention to pressures.
This goes well-beyond the traditional leading indicators or influencers of markets; and points to what happens when 'supply chains' to this Country are seriously disrupted; or (as was the case today); it increasingly looks likely the risk of that will be mitigated.
The potential consequences of the 'trade war' are understood (and that's particularly likely the 'actual' not 'perceived' case for Trump too); and that's why President Xi's remarks Friday meant far more than rising belief the Fed has indeed (or will formally have) pivoted; or even the jobs numbers influence (which were soft enough to give the Fed cover to cut rates).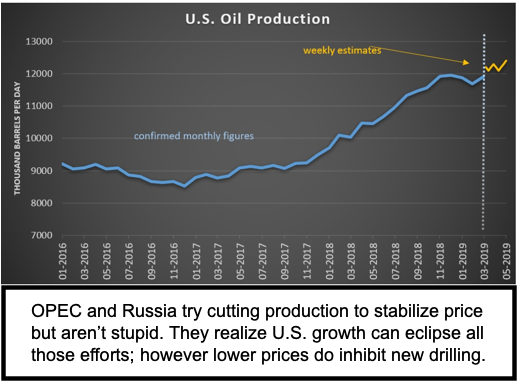 You have an ongoing contraction (housing and autos ebbing while credit card debt rose) for over a year since I warned 'nuances of recession' evident as far back as Spring of 'last' year. Now that others embrace that, and if we get a 'formal' declaration of Recession; it should be near an end. Not to mention how that would set-up 2020 for a pre-Election advance in the stock market (few seem to recognize this possibility).
Full House
Seriously; a couple days ago I outlined a 'less bearish' prospect (actually it's a bullish alternative); which would exist technically if we moved forward prior to the next S&P correction (and we are); and if we had hints of progress (of course so far shy of a deal) on Trade, especially with China. And we do. As for Mexico; that progress persists, and is sort of like a poker game; where at some point everyone will show their hands, and the game will be 'called'.