March Payrolls Preview: Big Data Hints At Blowout Numbers
The March nonfarm Payroll Report will be released at 8:30 am today, on Good Friday, when most markets will be shut, and those that are open - like US cash Treasurys, which close at noon - will suffer from thin liquidity conditions, and therefore, potentially choppy price action. As noted earlier, amid expectations of potentially blockbuster payrolls report where consensus is 660K but whisper numbers are at or above 1 million...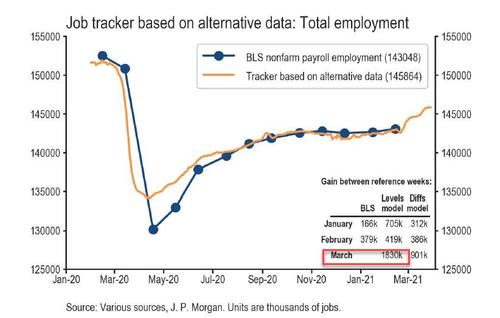 ... due to much stronger "big and/or alternative data" reads (see below), JPM warned that markets should expect extra treasury volatility should the jobs number emerge as a big upside (or downside) surprise due to the lack of liquidity in the bond market. As the bank warned, "our work in the past has shown that Treasury yields are sensitive to payroll surprises and that these moves can be amplified when employment data are released on holiday-shortened trading sessions."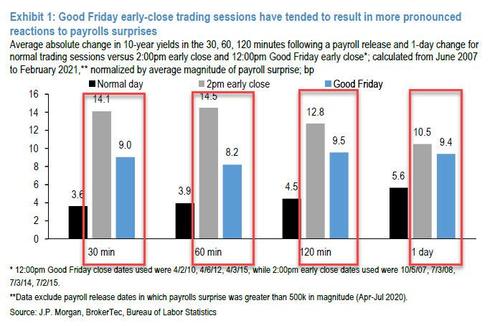 The chart above shows the average absolute change in 10-year yields over various periods around payrolls releases, normalized by the average size of payrolls surprise, during various types of trading sessions. The data show that in the hours following payrolls releases on Good Friday 12 pm early-close sessions, Treasury markets appear to be approximately 2 times more volatile than observed during a normal session, for a given magnitude of surprise, and in 2 pm early close sessions, they are roughly 3 times more volatile than that of a full session following releases. Looking ahead, JPM concludes that "these results suggest that Treasury yields could exhibit greater volatility in response to a surprise in the employment report on Friday."
Blockbuster surprise - and fireworks in the bond market - aside, current expectations are as follows:
Change in non-farm payrolls +660k in March from the 379k printed in Feb;

Change in private non-farm payrolls +643K, up from 465K

Unemployment rate 6.1% from 6.2%.
Average hourly earnings M/M +0.1%, from 0.2%

Average hourly earnings Y/Y +4.5%, from 5.3%

Labor force participation rate 61.5%, from 61.4%
Disclaimer: Copyright ©2009-2021 ZeroHedge.com/ABC Media, LTD; All Rights Reserved. Zero Hedge is intended for Mature Audiences. Familiarize yourself with our legal and use policies every time ...
more