Manufacturing Recession And Gold
Second, outsourcing makes the service economy look larger in national accounts, although nothing changes in economic reality. Let's imagine a factory which produces widgets. In the good old days, all activities related to the production and sale of widgets were conducted by one or another department of one big company. But now, a lot of services are outsourced. For example, the security and cleaning services are commonly provided by external companies. The same applies to accounting, advertising, retailing, logistics, business services, etc. Instead of one giant company responsible for everything, we have now one small industrial firm, which only manufactures widgets, and several service companies around it.
This is why manufacturing is still a very important sector in the economy. According to the National Association of Manufacturers, every dollar spent in manufacturing adds $1.89 in business growth in other supporting sectors. Moreover, manufacturers perform 64 percent of all private-sector R&D in the U.S., being the main driver of innovation, which is the ultimate engine of economic growth.
For all these reasons, we should not ignore the manufacturing slump. After all, the industrial production is one of a few recessionary indicators used by the NBER to determine the busts. And, indeed, all recessions in the last 50 years were accompanied by contraction in the industrial production, as one can see in the chart below.
Chart 1: Industrial production as a percentage change from year ago from January 1969 to August 2019.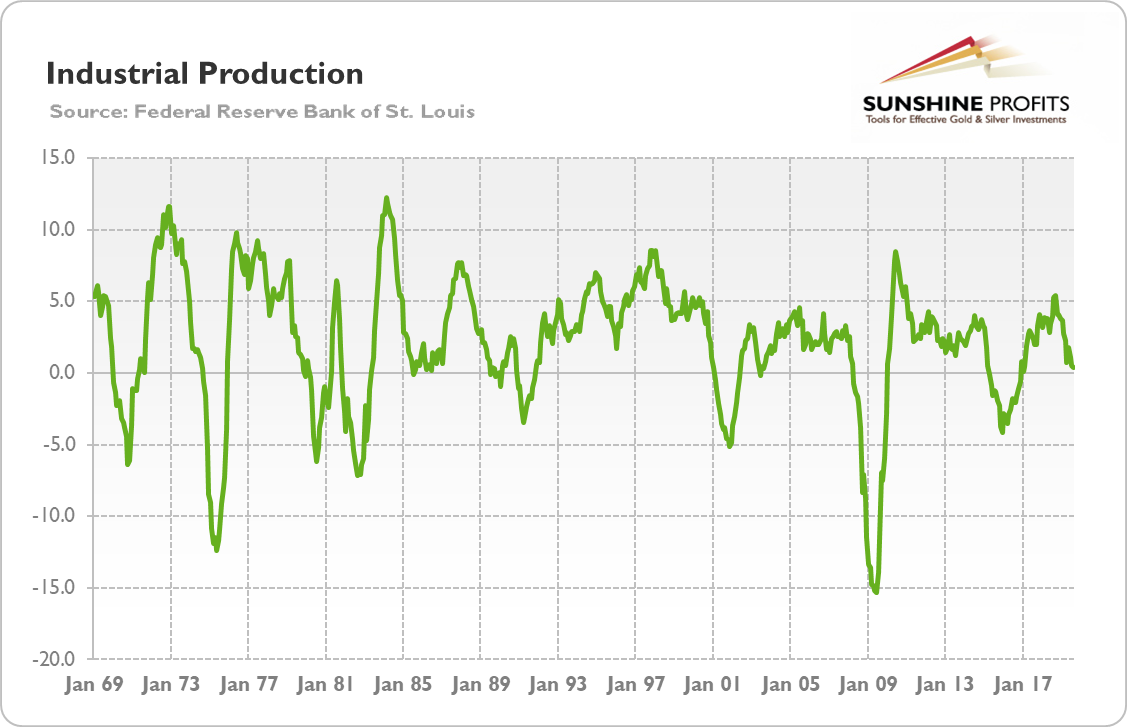 Hence, the current slowdown in the industrial production, if prolonged and transformed into a contraction, could be a harbinger the recession in the overall economy. However, it does not have to. As the chart above shows, industrial production sometimes sends false signals. The best example is 2015-2016, when a correction in energy exploration contributed to declines in industrial production. The overall economy slowed down, but it did not enter a recession. This time, the downturn in industrial production is broader, but it partially results not from cyclical factors, but from the U.S. - China trade war and increased tariffs that are raising costs and disrupting supply chains.
If you enjoyed the above analysis and would you like to know more about the most important macroeconomic factors influencing the U.S. dollar value and the price of gold, we invite you to read the ...
more