Macro Chart Review – March 2019
We are still playing catch up on the economic data releases due to the government shutdown so a lot of the data released in the last month is from November and December. It isn't really news anymore but some of it is interesting. Overall, the data supports what we've been reporting and expecting for months – the economy is slowing but does not look recessionary. We continue to expect the economy to slow back to the long term trend of around 2% growth. It is possible, maybe even likely, that there will be an overshoot to the downside so a GDP print with a one handle shouldn't be a cause for alarm.
Economic Reports
Economic Growth & Investment
(Click on image to enlarge)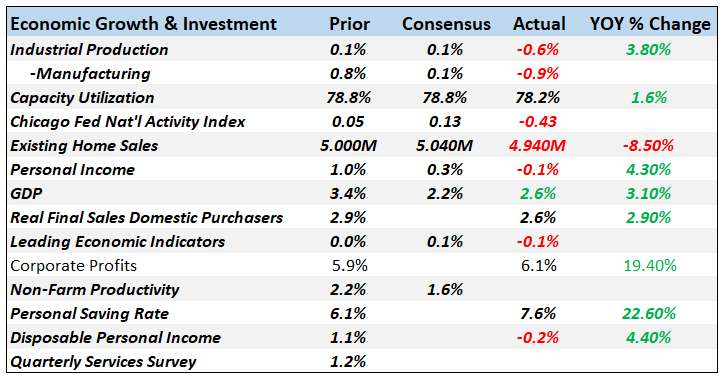 Several items stand out in this section. Industrial production was down 0.6% in January with manufacturing leading the way down. But that comes after a nice gain in manufacturing for December. The big swing was in vehicles, down 8.8% in January after being up 4.3% in December. No, I don't have an explanation for the swings but lots of weird things happen at year end. In any case, IP looked lousy but at 3.8% year over year change that is about average for this expansion and way above anything that is cause for concern.
(Click on image to enlarge)
Personal income was down 0.1% in January but that comes after a full 1% rise in December. Again, there is no big change here. Income growth this cycle has been less than previous cycles but it has also been steady.
(Click on image to enlarge)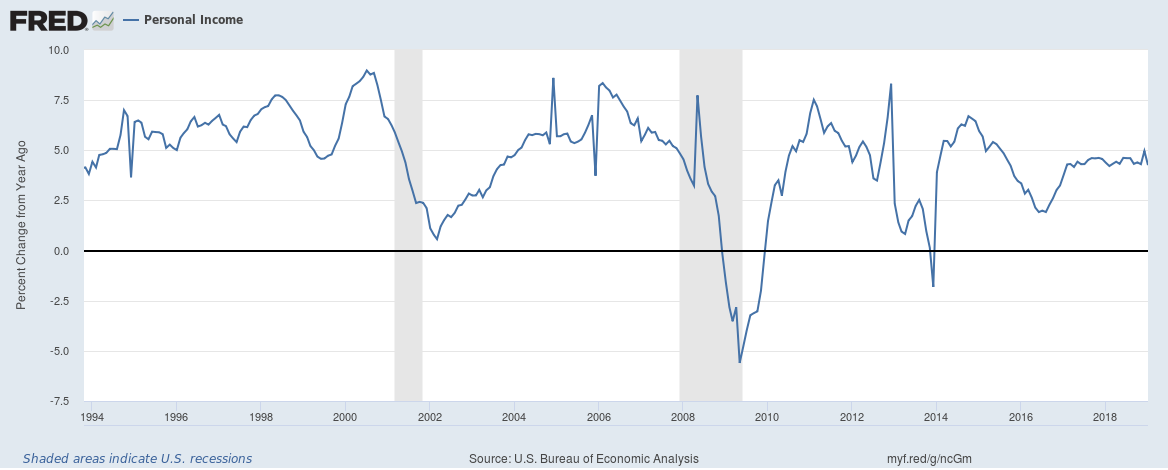 You'll notice too that the savings rate was up quite a bit, a remainder from higher income and lower consumption. I think that is primarily an artifact of the stock market correction and the government shutdown. Based on the spike in the savings rate and the fall in consumer sentiment, it appears individuals were quite concerned with things in December.
The GDP report for Q4 was pretty solid and better than I expected. Some of that was inventory building – unintentional I think – but there was also a nice jump in investment spending. Residential investment though was negative again and the real estate markets continue to be an area of concern. Existing home sales were down 8.5% year over year in January and inventory is rising. Median prices were down as well, another indication of weak demand. As I've said before though, the housing market is a lot smaller than it once was and has a smaller impact on the overall economy.
Disclosure: This material has been distributed for informational purposes only. It is the opinion of the author and should not be considered as investment advice or a recommendation of any ...
more