Loss Of Licensed Content Is An Underrated Crisis For Netflix
Ever since Netflix (NFLX: $354/share) launched its first original series with House of Cards in 2013, the streaming service has put its original content front and center. Executives cherry pick impressive stats for their originals (without giving access to comprehensive viewing data), and their quarterly reports now regularly feature charts showing the Instagram followers of young actors launched to fame through Netflix originals.
Given all this emphasis on originals, it might come as a surprise that licensed content accounts for nearly 2/3 of viewing hours on Netflix. Despite spending billions of dollars on original content, Netflix still relies heavily on classic shows like The Office, Friends, and Grey's Anatomy.
Figure 1: Licensed Content Use Dominates Netflix Originals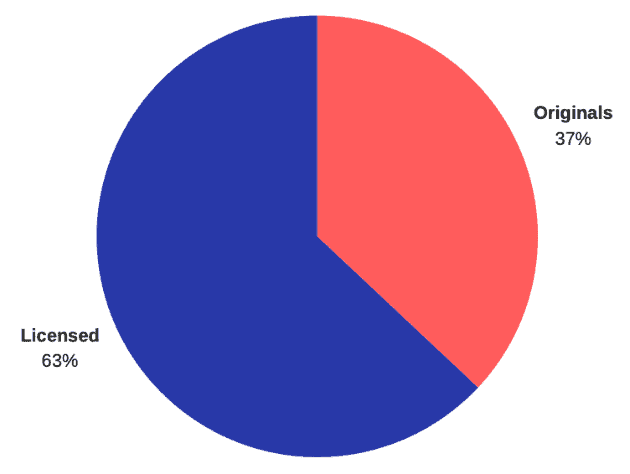 Source: 7Park Data
As legacy media companies pull these shows to launch their own streaming services, Netflix could lose much of its value to consumers just as the competition heats up.
The Value of Licensed Content
Netflix has been preparing for the loss of its licensed content for years. As the company's Chief Content Officer, Ted Sarandos, said on the company's Q4 2018 earnings call:
"Our early investment in doing original content more than six years ago was betting that… there would come a day when the studios and networks may opt not to license us content in favor of maybe creating their own services."
However, the company's push into original content hasn't ended its reliance on licensed content. As Figure 2 shows, licensed TV shows accounted for 3 of the top 4 streaming series on Netflix for November 2018.
Figure 2: Most Streamed Shows on Netflix in the U.S. for November 2018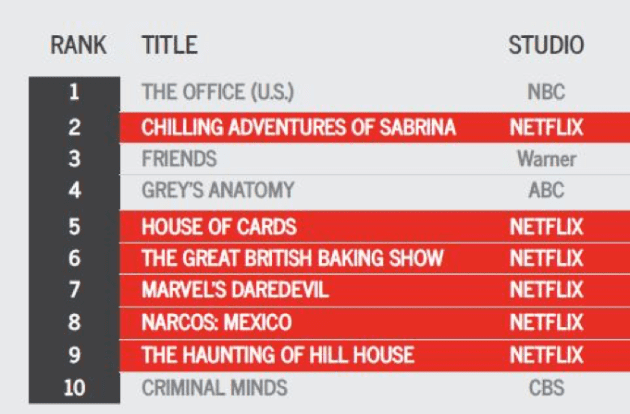 Source: 7Park Data
Netflix reportedly paid $100 million to keep Friends on its service for 2019, more than triple its previous licensing fee of $30 million. While that's a hefty price tag, Figure 2 shows just how critical the classic sitcom is to Netflix's subscriber base. Even though it's been off the air almost 15 years, it still gets watched more than the vast majority of Netflix's new releases.
Disclosure: David Trainer, Sam McBride and Kyle Guske II receive no compensation to write about any specific stock, sector, style, or theme.