Looking At Market Capitalization: 1975 And 2019
In gold's step sum table below, its 15 count fell from +5s down to a -1 at the close of this week. Well, gold has seen plenty of down days since January 4th. But its step sum is unchanged at 249, as the price of gold itself has advanced in the past month regardless of all those down days. All and all very constructive market action at a time when gold and silver are regarded as something less than desirable assets by most investors.
As for the Dow Jones and its step sum, both are going up nicely, though since the end of January the venerable Dow is taking a well-deserved break.
I was in the Navy for 20 years; been out of it for the best part of three decades. Still, when I dream at night I usually dream of my days at sea. I expect that's true for most people; their dreams are of the familiar. Familiar fears, familiar pleasures and circumstances set in the context of the world as they know it.
Art is a bit like our dreams. The Renaissance masters never painted a city with skyscrapers because such a thing was unknown to them in life or in their dreams.
So, where did concepts like an Assyrian Genius, satyrs and centaurs come from at the time when humanity first constructed what we today call ancient civilizations? And why would the ancient Sumerian texts say strange creatures, a combination of human and beast taught them how to organize their lives to facilitate the creation of their civilization? This is true for many cultures.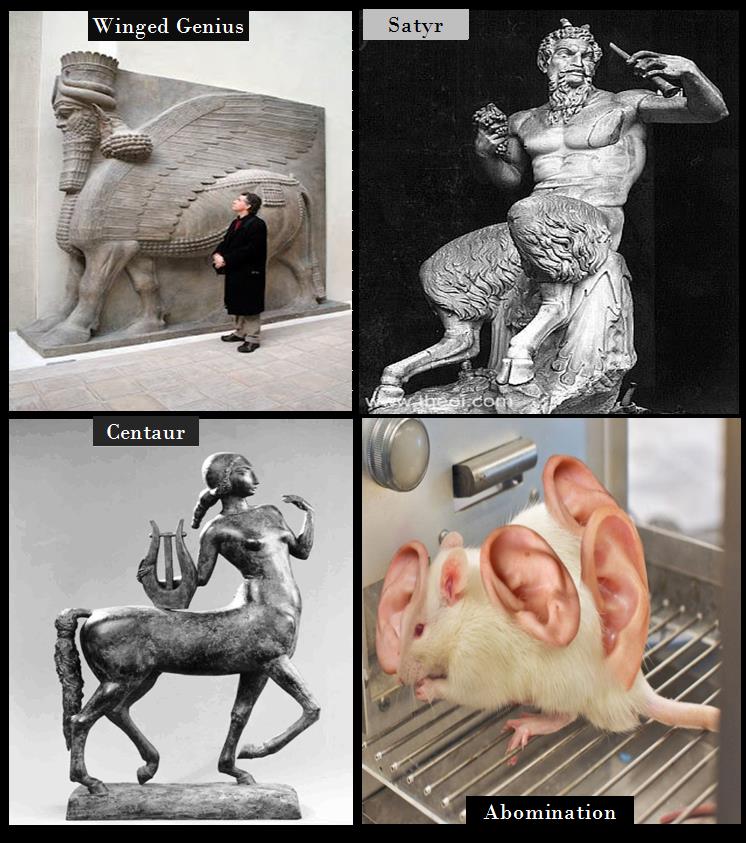 I'm no archeologist, or linguist specializing in Sumerian script, however, I'm widely read and history is a favorite subject of mine. It seems very odd a human king would give credit for such a feat, as lifting a tribe of hunter-gatherers from such a state to one of agriculture supporting cities to a mythical creature crowned with a human head rather than to himself. Who in 5000BC would believe such nonsense when they were there to witness these events? We in 2019AD don't.
It's a big world. The older I've grown the more I've come to appreciate not only how little of it I really know, but also how much of what I know is most likely false.
The first act of Satan in the Garden of Eden was to lie to Eve. He told her that by eating the forbidden fruit from the tree of the knowledge of good and evil her eyes would be opened; that she would never die and become like God. It was a lie, and by eating the forbidden fruit, death and sorrow entered the world.
Looking at the mouse covered in human ears in the graphic above, it appears once again someone had taken Satan's lie to heart. These geneticists always claim they are doing their research for the benefit of humanity. Don't believe them for a second. They want what Eve wanted: to live forever and become like God. Human ears on rats today, living forever for them and their colleagues tomorrow. You and me? Useless mouths to feed, a global burden the Earth would be much better off without.
It's no secret eternal life is one of the goals of the best and brightest in technology, and they see transhumanism as a pathway to achieve this. Keeping that in mind the following passage from the last book from the Bible is very interesting:
"During those days people will seek death but will not find it; they will long to die but death will elude them."
Revelation Chapter 9, verse 6
Until humanity began unlocking the secrets in the DNA molecule in the 1960s, this biblical prophecy from the first century AD was ridiculous. Not so in 2019.
As far as what is being created today by geneticists, I believe my Lord Jesus had something to say directly about that, and it's not good:
"Men's hearts failing them for fear, and for looking after those things which are coming on the earth: for the powers of heaven shall be shaken."
Luke Chapter 21, verse 26
This passage makes me wonder exactly what is being done in secret by geneticists today. I may not live to see it, but the day is coming when their creations will have a coming out party that will be a day to be remembered.
Disclaimer: If ever a website needed a Disclaimer, this is it. Indeed, your very presence at any page within this Domain which is www.deMeadville.com has already bound you in the ...
more