Looking At Market Capitalization: 1975 And 2019
And look at who are the big boys on Wall Street are then and are now. The top five in 1975 were companies that produced what we call today "hardware" – real stuff for sale in the market place.
Today's top five deal primarily with "information", mostly information on the lives of private citizens, and I suspect members of Congress and the Supreme Court too for sale to entities unknown, but most likely hostile to the American Constitution. Apple gave the Chinese Communist Party (CCP) the keys to its cloud. Do you believe the CCP doesn't use them?
Alphabet Inc (the old Google) is creating a search engine for the CCP to spy on its citizens for the purpose of creating a social scoring system which would give the "authorities" hard data on exactly who is being naughty and nice. Don't think the best and brightest in Washington aren't going to expect less from Google than they gave China.
Amazon is creating a giant surveillance network from which there will be no escape.
And Twitter's Jack Dorsey, as well as the global banking system and all too many members of Congress are working for the elimination of cash money. This would force all economic activity to pass through the banking system where all economic activity can be monitored.
For all the many billions in market cap we see in today's big blue-chip stocks, I think it's accurate saying it isn't just market caps that have been inflated. The vile egos of Silicon-Valley magnates have also been grossly inflated as their private net worth have ballooned ever larger.
Anyway, a quick comparison of market caps then and now tells us the inflationary consequences of freeing the dollar from its $35 gold peg many decades ago. As I remember, IBM was the largest company in the world in 1975, a time when $30 billion dollars was an enormous sum. Today in 2019, how many private citizens have $30 billion for their net worth? More than a hand full!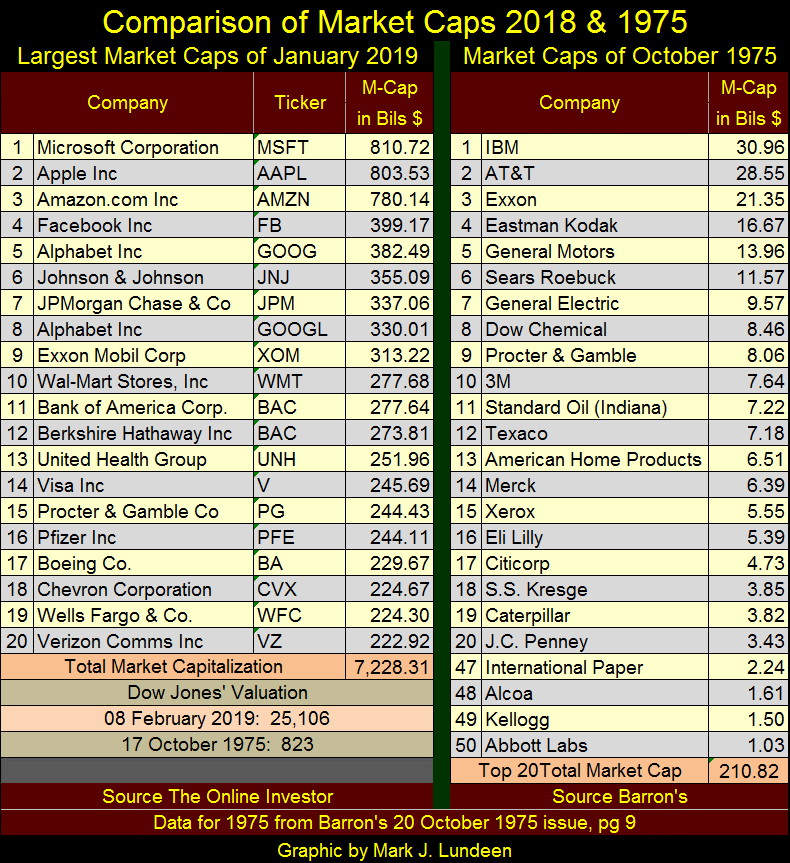 And it's not just stock market valuations that have become inflated since the US Government decoupled the dollar from the Bretton Woods $35 gold peg. King World News last week published a chart of price changes since 1997, and except for wages, it's just shocking how expensive things have become.
Notice college expenses are at the top. "Education" under the administration of leftist academics has become a real racket. Colleges and universities charge the big bucks for little in return to most of their students who graduate with economically worthless degrees. These inflated educational expenses would not have been possible had BIG Ed not tapped directly into the flow of monetary inflation from the Federal Reserve via the school loan program.
It's time to shut down these leftist-flimflam artists and terminate the school loan program.
Moving on to the Dow Jones and its 200 count (the number of Dow Jones 2% days in a moving 200 day sample), the current count is at sixteen. Don't expect much change in the Dow's 200 count until the stock market once again feels the hot breadth of Mr Bear on the back of its neck, or until July when the days of extreme volatility from last October begin to expire in the count.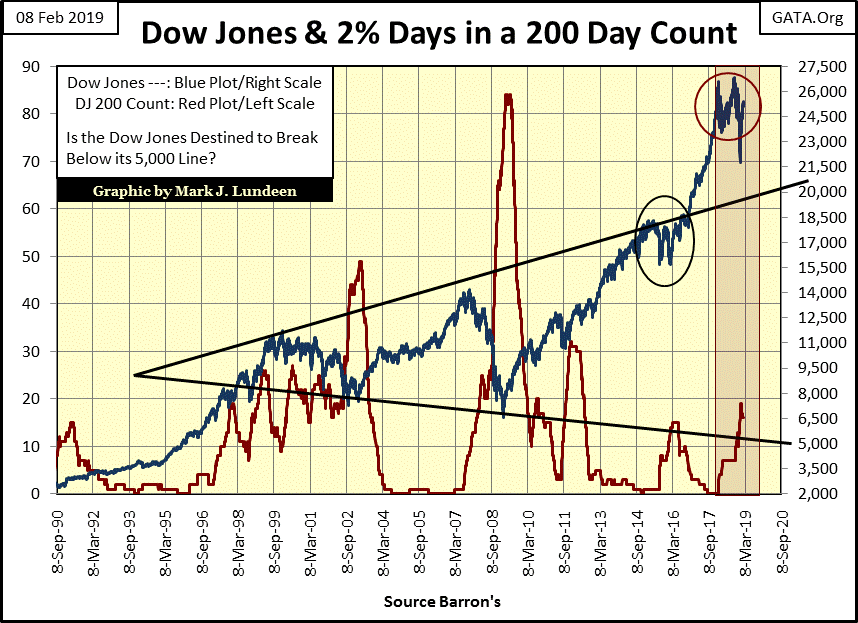 So which is it to be for 2019? More volatility (deflating market valuations) or continuing low volatility (inflating market valuations)? You should have asked that question to someone who is really smart. But since you asked me, I'm going to show you a chart of the Fed Funds Rate and the yields for the Treasury's long bond below.
This is not a good chart for the bulls, which market history shows they make their big money when the gap between the Fed Funds Rate and Treasury yields is widening – not contracting as they have since 2016. Take a look at the chart. Does the gap (spread) between these two interest rates appear to be widening or contracting? That's my answer whether or not being a bull in the stock market has much of a future.
And what happens when the Fed Funds Rate is increased to something above the yields for long-term Treasury bonds? When that happened in 2000 the Dow Jones saw a bear-market decline of 38% in October 2002. In 2007 a tiny yield inversion between these two rates resulted in monster 54% decline in the Dow Jones as the global financial system came within inches of melting down.
Recently, Fed Chair Powell announced he was going to slow down his program of stepping up the Fed Fund Rates. Exactly why can be seen in the chart below; he fears what Mr Bear may do should he continue increasing the Fed Funds Rate.
Disclaimer: If ever a website needed a Disclaimer, this is it. Indeed, your very presence at any page within this Domain which is www.deMeadville.com has already bound you in the ...
more