Looking At Market Capitalization: 1975 And 2019
Another week of nothing much happening with the Dow Jones; since last Friday it has advanced by only 42.44 points. What's to make of that? After the impressive advance that began after December 24th the market is taking a break. Don't be surprised should the coming weeks bring more of the same.
However, I remain short-term bullish, expecting the Dow Jones to make additional BEV Zeros in the BEV chart below come this spring or summer. These anticipated (but not guaranteed) new all-time highs will be the last hurrah of a monster bull market that began in August 1982. Following them come the deluge; a deflationary bear market that will claw back most of the inflationary gains seen since Ronald Reagan was president.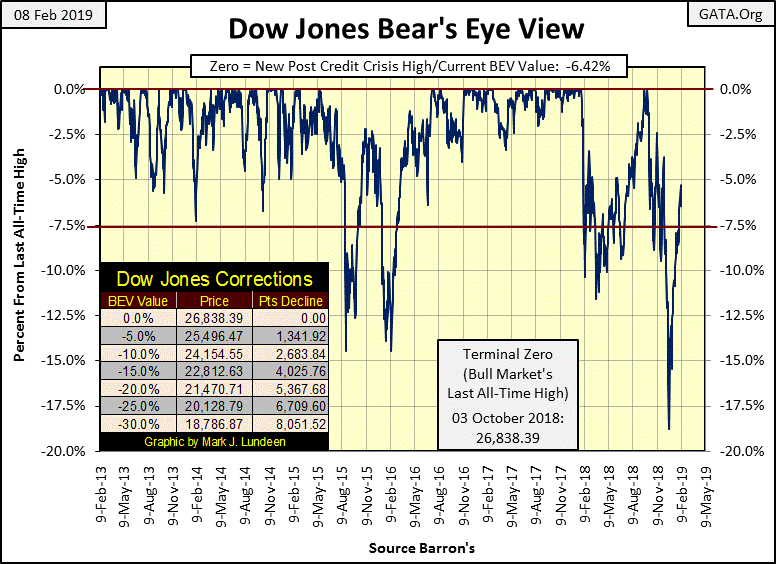 In my step sum chart for the Dow Jones Index further down in this article, there is a bear box I was ready to declare a failure. I used the declining trend line in the daily bar chart below as a trigger of when I was going to declare it a failure when the Dow Jones' rising trend cleared this line of resistance.
Looking at this chart one week later I can't say the Dow Jones has met this measure, so the bear box remains on life support.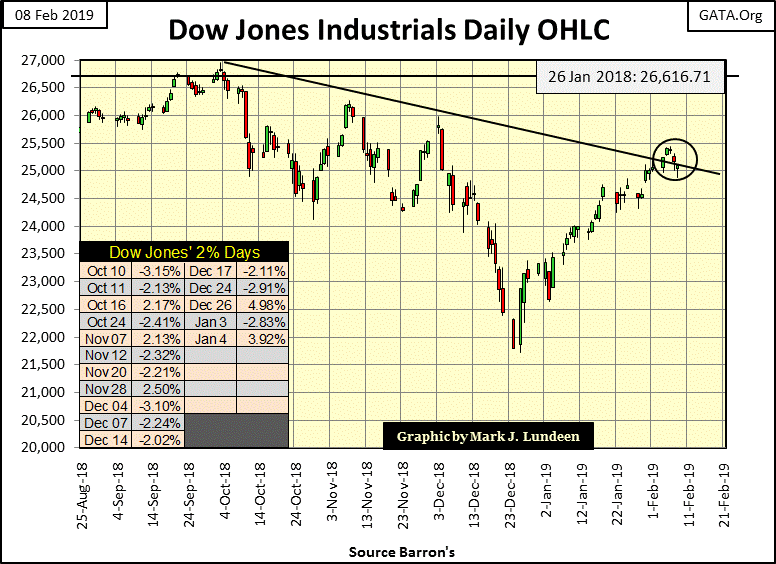 But looking at the bar chart above, there's good reason for expecting the Dow Jones to continue advancing to new all-time highs, primarily because daily volatility has been greatly reduced since early January.
To see the importance of this we only have to look at what happened after October 3rd, the last all-time high for the Dow Jones. On October 10th the Dow Jones saw its first day of extreme volatility, declining 3.15% from a previous day's closing price. It wasn't the last the Dow Jones saw. A further fifteen extreme days of volatility took place during this 18% market correction, with the last seen on January 4th.
Okay, daily volatility has been greatly reduced. What is there to be concerned about as we progress through 2019?
Here's what I'm looking at; the Dow Jones daily volatility's 200D M/A below. In November 2017 daily volatility declined to levels not seen since the mid-1940s. This was a historic market extreme, and it's not unusual for such extremes to be followed by a historic market reaction in the opposite direction.
But note that wasn't the case for the mid-1940s experience of low market volatility. After the one-two punch of the Great Depression 89.19% crash and burn, followed by the 1937-42, 52.20% bear market bottom, the American stock market was pretty much purged of inflationary excesses flowing from the Federal Reserve. Need I say that this is not the case for the Dow Jones in February 2019.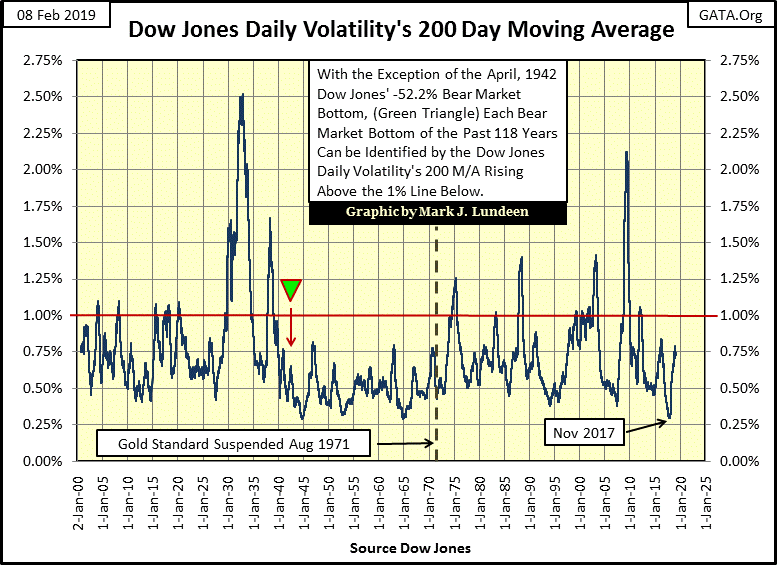 Post the November 2017 bottom (0.30%), daily volatility increased to 0.79% in early January but has declined to 0.73% at the close of this week. All that is true, but looking at the above long-term chart of daily volatility, all I see is rising daily volatility for the Dow Jones AND THAT ISN'T BULLISH. This is especially so when I consider how grossly over-inflated stock market valuations are today.
And exactly how grossly overinflated are our current market valuations? You have to consider how grossly inflated the financial system has become since the United States decoupled the US dollar from the Bretton Woods' $35 gold peg in August 1971.
In Barron's 20 October 1975 issue (page 9) they had an article on the 50 favorite blue chip stocks held by institutional money managers. They listed these holdings by how many billions of dollars these institutional investors had of them and what percentage of the public float that was. That's enough data for me to compute the market capitalization of these companies, which you see on the right side of the table below.
For today's market capitalization of the twenty largest blue chip stocks, I used data from The Online Investor.
Not many of the old blue chips made the new list; but Procter & Gamble did. In 1975 it had a market capitalization of a then whopping $8.06 billion. Forty-four years later its market capitalization has been inflated to $244.43 billion. That's a 30.32 fold increase in the market capitalization for P&G. By weight, does P&G sell 30.32 times the tonnage of soap and toothpaste in 2019 than it did in 1975? I doubt it, but I know it costs much more now than then.
And at the bottom of the table's left side I've given the market valuation for the Dow Jones, then and now; from 823 (not even a thousand) to over twenty-five thousand. The Dow Jones too saw a 30.5 factor advance.
Disclaimer: If ever a website needed a Disclaimer, this is it. Indeed, your very presence at any page within this Domain which is www.deMeadville.com has already bound you in the ...
more