Long Term Projections Shift Sharply
Many investors are worried about the American stock market because it takes up a large portion of global markets. In fact, the big tech firms are larger than many developed economies. Investors are also worried about the high CAPE ratio. We will discuss valuations in the next section. Let's not ignore the positives. There has been a major step-change in US economic growth expectations in relation to other economies.
As you can see from the chart below, 2025 US GDP expectations are 1.4% higher than they were in January 2020. That's compared to Mexico, Brazil, and India which have estimates that are 5.8%, 6.3%, and 8.5% lower. Investors believe the poor management of the COVID-19 crisis in many emerging markets is part of a broad trend which undermines the government's authority and support by the populace. The pandemic certainly isn't a one-off negative for countries that dealt with dramatic hardship. We're not picking a side. It's just easy to see leadership issues resulting from the poor management of the pandemic.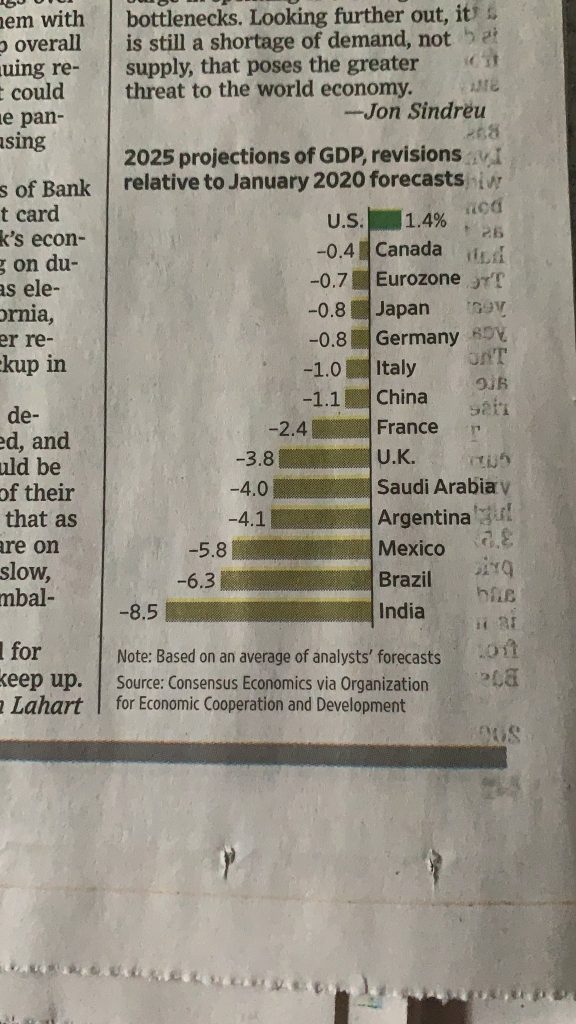 It's sometimes difficult to determine what the world will look like following the pandemic. It's key to avoid broad sweeping claims that either nothing will change or that everything is different. Of course, some claims are patently absurd, but many aren't. We won't know COVID-19's long-term impact on the global geopolitical environment for a couple of years. Even after we see the post-pandemic future, many will argue over what caused the changes. Of course, the cause won't matter to investors. The only thing that matters is what the future looks like.
Stock Valuations Make Sense?
The thesis that stocks are wildly expensive is pervasive. Many retail investors use the so-called expensive market to justify taking reckless risks. Extreme risks without fundamental backing can never be justified. Investors tend to make mistakes when they have the overarching thesis that the US market is overvalued. That's because they take untested alternative approaches.
Disclaimer: The content in this article is for general informational and entertainment purposes only and should not be construed as financial advice. You agree that any decision you make will be ...
more