Long Humanity
"At the end of the day" is a trite figure of speech, but it sometimes fits. It signals you've used all your time, and now you'll wrap up and begin thinking about tomorrow. This year's SIC closing day was a blockbuster. In this letter, I'll wrap up my conference reviews by wrapping that day for you.
Four Horsemen
In recent years, I've asked Mark Yusko to open the final day. That's partly because he is really good at waking a crowd which, at our live events, was probably up late the night before. His rapid-fire slide presentations are legendary. Any one of his points could take hours to unpack, and he always has dozens.
Another reason is that, in the range of topics Mark covers, he brings back to mind many of the points previous speakers made. This helps the audience remember what they heard in the last few days, often with a new twist. The twists are important, too.
Summarizing everything Mark said would take a dozen letters. You really had to be there. You can't characterize him as either bullish or bearish; his outlook varies by asset class and region.
Mark isn't optimistic for 2020's new crop of day traders or the (somewhat) less enthusiastic investors who have piled into the "FANG" stocks. He noted those four (Facebook, Amazon, Netflix and Google/Alphabet) represent less than 1% of S&P 500 revenues but account for 12% of the index… and 4X the rest of the index's gain since 2012 (FB, AMZN, NFLX, GOOGL).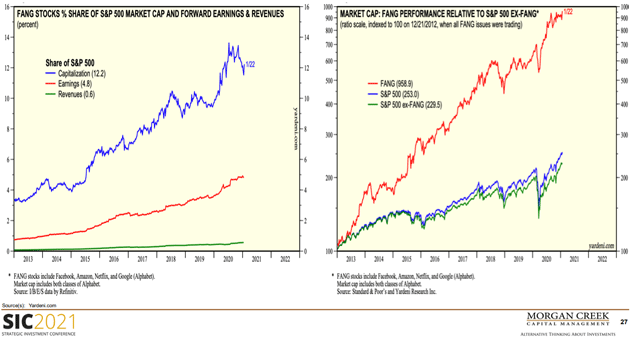 Source: Mark Yusko
Mark believes this results from central bank stimulus, not just last year but dating back to the financial crisis. Valuation bubbles historically don't end well, as he showed in this all-too-familiar illustration.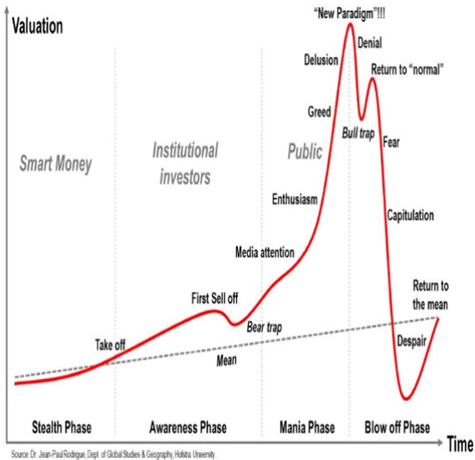 Source: Mark Yusko
The sad part is the kind of "mean" return shown in that dotted line is actually pretty good. It would suffice for most investors who have reasonable goals. But the allure of "more" entices them to expect too much and over time, they don't even reach the average.
From there, Mark went on to talk about energy, gold, China, Bitcoin, and more. While he thinks the economy could rally a bit more, that's not the same as a "return to normal." COVID-19 and its fallout will be headwinds for years (BITCOMP).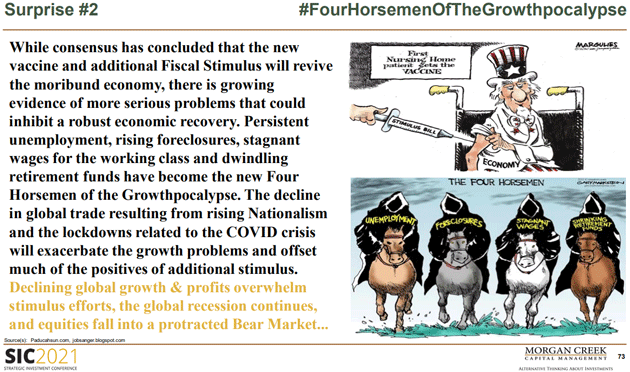 Source: Mark Yusko
If you can't see the cartoon above, the "Four Horsemen of the Growthpocalypse" are unemployment, foreclosures, stagnant wages, and shrinking retirement funds. To which I would add—millions of Americans, approximately 50%, have no retirement funds at all except for Social Security so there's nothing to shrink. Another 15 to 20% have less than $100,000.
That's not optimistic, but Mark didn't leave us with gloom and doom. He sees a lot of opportunity in Bitcoin and other cryptocurrency assets. But more interesting, he has a very different view of the current boom in Special Purpose Acquisition Companies, or SPACs. Many analysts see them as borderline shady "blank check" entities with no history or assets. But Mark thinks they are proving to be a useful end-run around an initial public offering process that has become slow, expensive, and unfair to both investors and company founders. It's why so many "unicorn" startups are remaining private far longer, and some may never go public. The result is less opportunity for small investors.
I have seen the SPAC space from both sides. I have several friends who have created what had become successful companies. I will soon be involved with a private company that will be using a SPAC to go public in a much more democratic and far less expensive way than an IPO.
Disclaimer: The Mauldin Economics website, Yield Shark, Thoughts from the Frontline, Patrick Cox's Tech Digest, Outside the Box, Over My Shoulder, World Money Analyst, Street Freak, Just One ...
more