Less Than Half Of S&P 500 Firms Beat Sales Estimates
The decline in the University of Michigan consumer sentiment index because of political uncertainty caused by the government shutdown and trade war as well as the stock market volatility means it's no surprise the buying conditions for houses and vehicles have fallen. The chart below shows the latest reading in the house buying conditions index. Because of strong wage growth, slowing housing price growth, and lower interest rates, the buying conditions should have improved.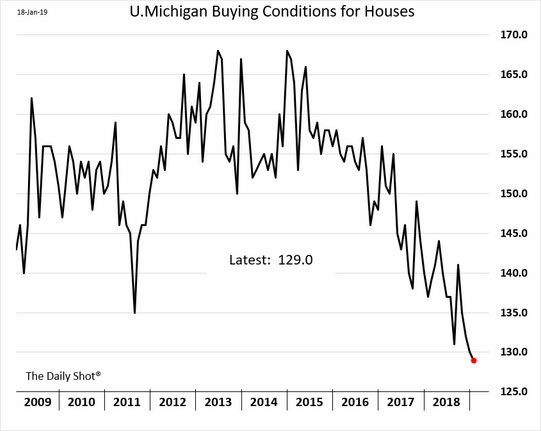 Source: The Daily Shot
However, sentiment isn't always driven by facts. This explains how the industrial production report was stronger than the soft data manufacturing surveys. The media is making the government shutdown and trade war appear as a bigger issue than it is to the recent economic deceleration. While these issues are not helping the economy, they are not the core reasons behind deceleration in the rate of change terms. The stock market crash in late 2018 is in the rear-view mirror, which was pricing in an economic slowdown. Furthermore, in the rate of change terms, we are seeing an economic deceleration in 2019 of which both the government shutdown and trade war are tiny components.
If overall consumer sentiment falls sharply (from 98.3 to 90.7), consumers aren't going to improve their interest in making a big purchase like a house or a car. However, the MBA mortgage applications index shows home purchase activity actually did improve in January. Unadjusted applications were up 13% year over year in the week of January 18th.
As the chart below shows, the vehicle buying conditions index fell to the lowest point since 2013.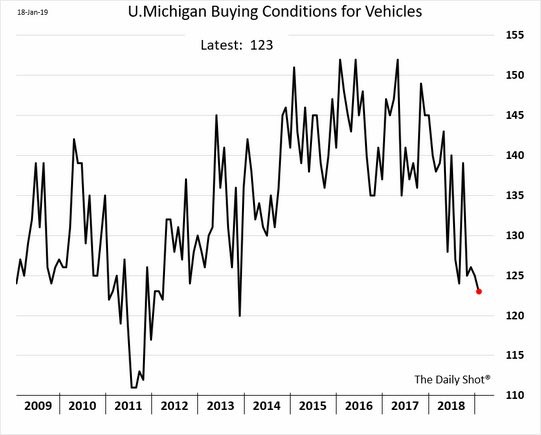 Source: The Daily Shot
That's different from the 4.7% jump in monthly vehicle production in December. To be clear, just because sentiment indexes can be manipulated doesn't mean we should ignore them. The weakness in housing buying conditions in 2018 helped forecast the 10.3% decline in existing home sales in December.
Disclaimer: Please familiarize yourself with our full disclaimer here.