Learning From The Past, Part 6 [Hopefully Final, But It Won't Be…]
<< Read Learning From The Past, Part 5b
<< Read Learning From The Past, Part 5a
<< Read Learning From The Past, Part 4
<< Read Learning From The Past, Part 3
<< Read Learning From The Past, Part 2
<< Read Learning From The Past, Part 1
This is the last article in this series… for now. The advantages of the modern era… I went back through my taxes over the last eleven years through a series of PDF files and pulled out all of the remaining companies where I lost more than half of the value of what I invested, 2004-2014. Here's the list:
Avon Products [AVP]
Avnet [AVT]
Charlotte Russe [Formerly CHIC — Bought out by Advent International]
Cimarex Energy [XEC]
Devon Energy [DVN]
Deerfield Triarc [formerly DFR, now merged with Commercial Industrial Finance Corp]
Jones Apparel Group [formerly JNY — Bought out by Sycamore Partners]
Valero Enery [VLO]
Vishay Intertechnology [VSH]
YRC Worldwide [YRCW]
The Collapse of Leverage
Take a look of the last nine of those companies. My losses all happened during the financial crisis. Here I was, writing for RealMoney.com, starting this blog, focused on risk control, and talking often about rising financial leverage and overvalued housing. Well, goes to show you that I needed to take more of my own medicine. Doctor David, heal yourself?
Sigh. My portfolios typically hold 30-40 stocks. You think you've screened out every weak balance sheet or too much operating leverage, but a few slip through… I mean, over the last 15 years running this strategy, I've owned over 200 stocks.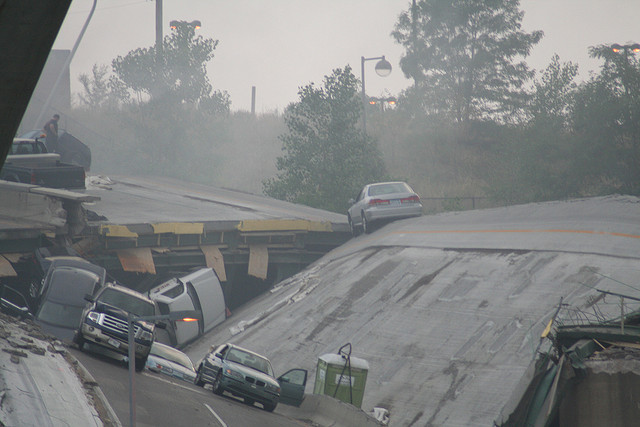 Photo Credit: Tony Webster || Bridges can collapse — so can leverage…
The really bad collapses happen when there is too much debt and operations fall apart — Deerfield Triarc was the worst of the bunch. Too much debt and assets with poor quality and/or repayment terms that could be adjusted in a negative way. YRC Worldwide — collapsing freight rates into a slowing economy with too much debt. (An investment is not safe if it has already fallen 80%.)
Disclosure: Long VLO — made those losses back and then some.
Disclaimer: David Merkel is an investment ...
more