Leading Scenes From The February Jobs Report
Let me catch up with some details from last Friday's employment report.
As a preliminary matter, the overwhelming take was that the poor +20,000 gain was "nothing to see here, just an outlier." The problem with that take is that, for all of 2018, the average monthly gain in jobs was just over +200,000 a month. January came in more than 100,000 above that, at +311,000 jobs, and yet I don't recall anyone taking the same position, that it was just an "outlier" to the positive side then! Here's a graph, from which the 2018 average of 204,500 monthly jobs gain has been subtracted so that the variance from that average shows as positive or negative: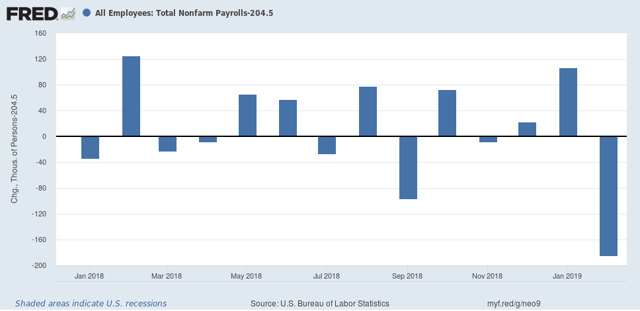 So, yes, it's true that February was a bigger outlier, to the downside, than January was, to the upside, but both were outliers. If you average the two months together, you get +165,500 jobs per month, a significant downdraft from the 2018 average.
Moving on, last week I said to pay attention to three leading sectors of jobs: temporary jobs, construction, and manufacturing. In the past, I've shown that at least 2 of the 3 sectors contract for a number of months before any recession begins. Here's what all three sectors look like from January 2018 to the present: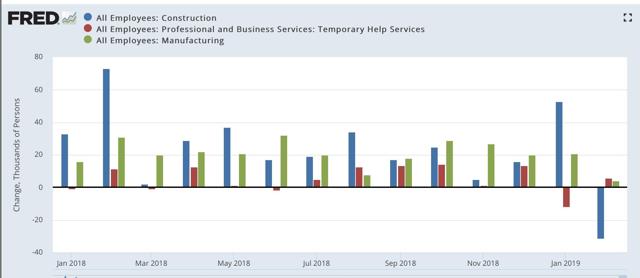 We had a contraction in temp jobs in January, from revisions, and a contraction in construction in February, after an outsized January gain. Manufacturing hung on with a small gain.
Here's the same information graphed as the YoY% change, first over the past 8 years: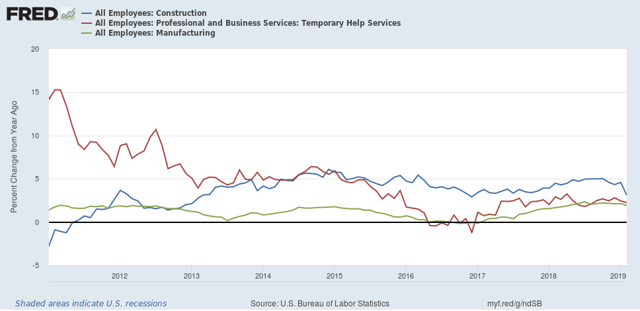 The 2015-16 "shallow industrial recession" clearly stands out as a pocket of weakness.
Now here's a close-up since the beginning of 2018: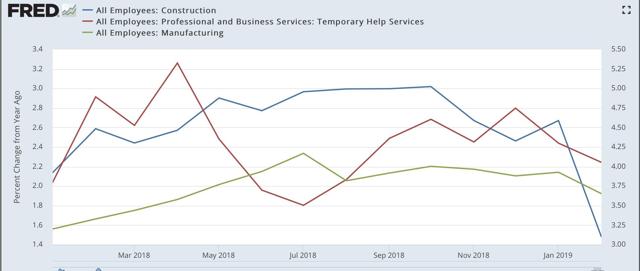 All three show decelerating YoY gains since roughly the beginning of last autumn.
Last week I also said that I expected the YoY pace of job gains to start decelerating. Only one month, of course, but it did do that: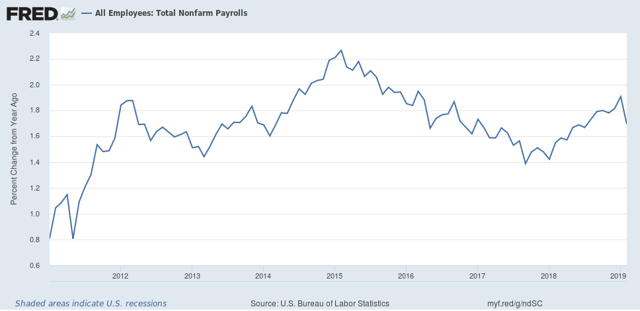 YoY job gains are at the lowest in over 6 months.