Largest Junk Bond Since 2017 Set To Price As Investors Flood Back In (With One Exception)
After a 40 day hiatus in December and part of January when not a single high yield bond was sold due to "market conditions", the longest such stretch since 2008...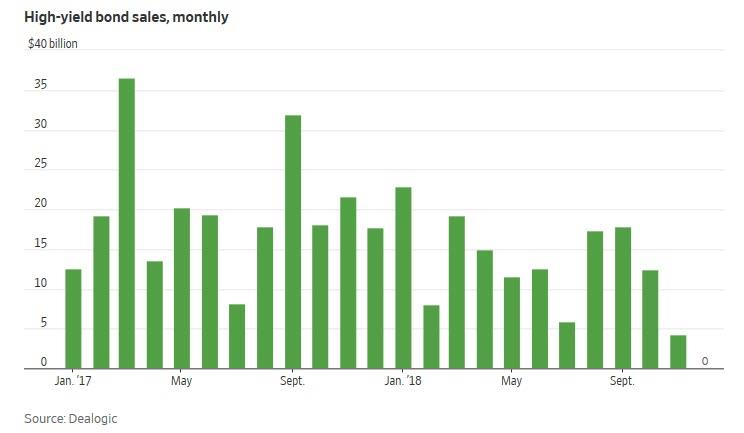 ... the junk bond market is on fire again, with CommScope Holding in the market with the largest U.S. high-yield bond sale in more than a year, the latest sign that the recent rebound in prices is enticing more issuers.
The wireless network provider, through its CommScope Finance LLC unit, is set to borrow $3 billion to help fund its acquisition of Arris International, according to a filing Monday, Bloomberg reports. The proceeds of three series of notes, which are expected to price next week, follow a $3.869 billion term loan offering last week to help back the $7.4 billion deal.
According to Bloomberg, at $3 billion, this would be the largest junk bond sale since Avantor's $3.5 billion offering in Sept. 2017. It's the latest example of a thawing junk-debt market, where collapsing spreads and plunging yields have led to a flood of issuance in both junk and IG, after weeks of hiatus.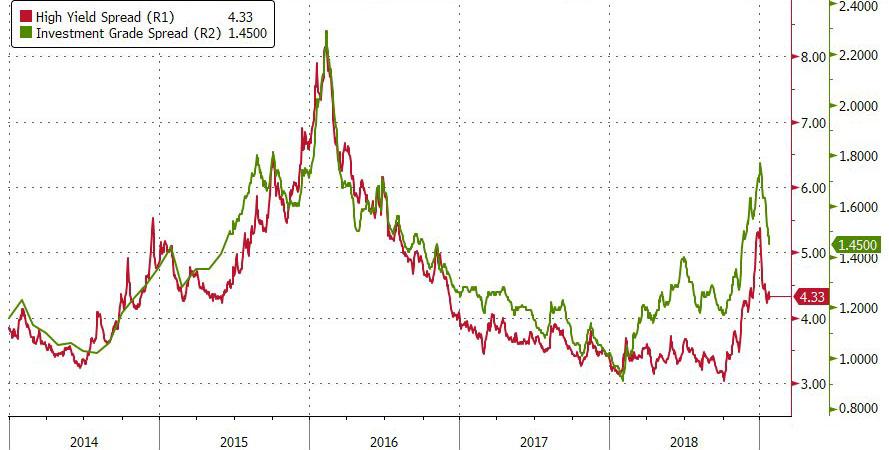 As shown in the chart above, high-yield spreads have narrowed 100 basis points since the start of the year as issuance-starved investors came out in force for new supply and risk sentiment soared, thanks to the recent sharp rebound in stocks ever since Steven Mnuchin summoned the plunge protection team.
Courtesy of Bloomberg, here are some other deals in the junk-bond and leveraged-loan markets this week:
Colfax Corp. is in the market with another large deal at $1 billion for its acquisition of DJO Global Inc. from Blackstone
Dun & Bradstreet's $1.35 billion sale is expected to price later this week, in what would be the first CCC rated offering since November. It's also borrowing $2.63 billion in term loans for acquisition purposes
Studio City is expected to price a $425 million bond offering to help fund a tender offer
In leveraged loans, BrightSpring Health and PF Chang's are holding lender meetings Monday