Just Two Companies Accounted For Nearly 20% Of The Market's Entire 2019 Return
Two weeks ago, when looking back at 2019, Morgan Stanley concluded that the observed market action was indicative of one of the most bizarre years ever, because while the S&P ended up returning a whopping 29% in 2019, just shy of 2013's 29.3% and the second best year for the market since 1997, earnings actually dropped, which means that all the market upside came from multiple expansion. There was another bizarre aspect to 2019: it was a year when despite the blockbuster overall return of the S&P, "bullish" strategies actually underperformed.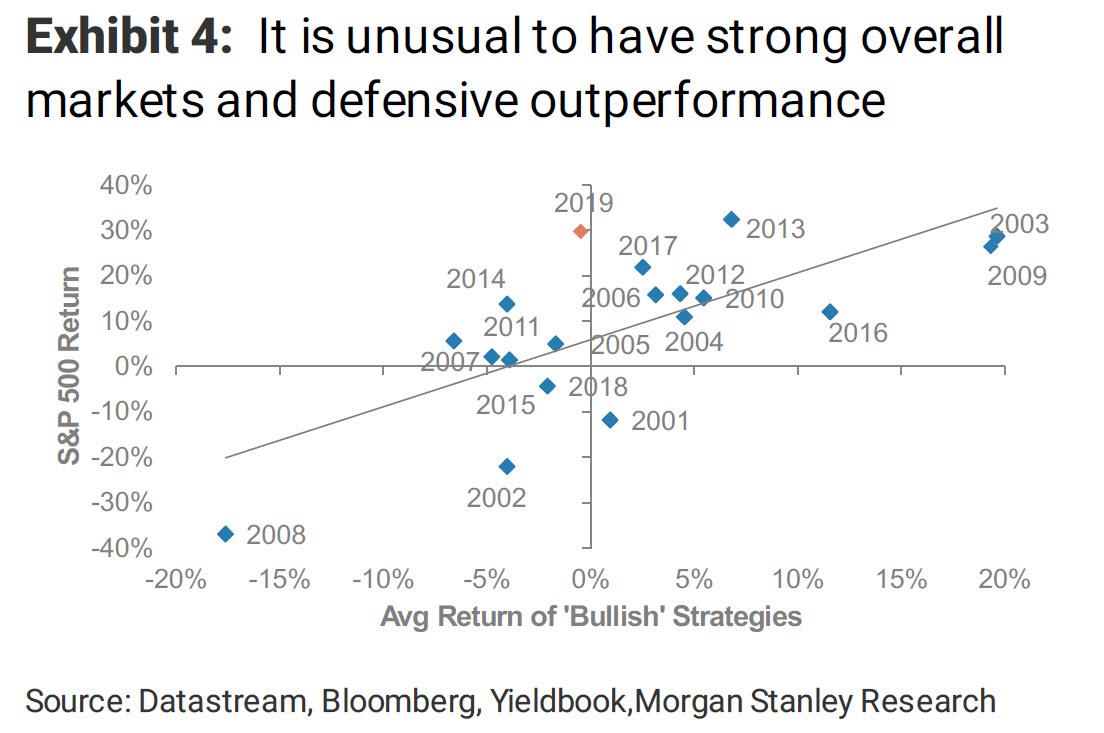 Now, in his year in review weekly, Goldman's David Kostin makes some observations of his own, and reaches a similar conclusion to that from Morgan Stanley.
For one the S&P 500, which soared started in early October, just around the time the Fed launched QE4, reached 35 new all-time highs last year, with 20 of those days coming in the last two months. US equities also bested other major global markets, outperforming Japan (15%), Europe (23%), and emerging markets (15%).

So far so good, yet what is more notable is how the market reached its impressive returns, and here Goldman confirms what we already knew, namely that valuation expansion drove nearly all of the S&P 500 return in 2019. To wit, according to Goldman earnings growth explains just 8% of the S&P 500 return last year (others disagree, and Morgan Stanley for example observes that earnings were actually negative in 2019 meaning earnings growth subtracted from total returns). Instead, as Kostin notes, "three 25 bp Fed cuts helped lift company valuations. The S&P 500 forward P/E expanded from 14x to 19x and accounted for 92% of the index price gain."
But while it was largely known that the entire market gain was on the back of multiple expansion (and record buybacks), where things get far more interesting is the sectoral composition of the upside: here as Goldman notes, just one sector, Information Technology, posted a 50% total return and accounted for 32% of the S&P 500 index return. Financials contributed 14% to the index return, followed by Communication Services at 11%.
Disclosure: Copyright ©2009-2020 ZeroHedge.com/ABC Media, LTD; All Rights Reserved. Zero Hedge is intended for Mature Audiences. Familiarize yourself with our legal and ...
more